Main Content Starts Here
Confessions of a Mixologist: Ramos Gin Fizz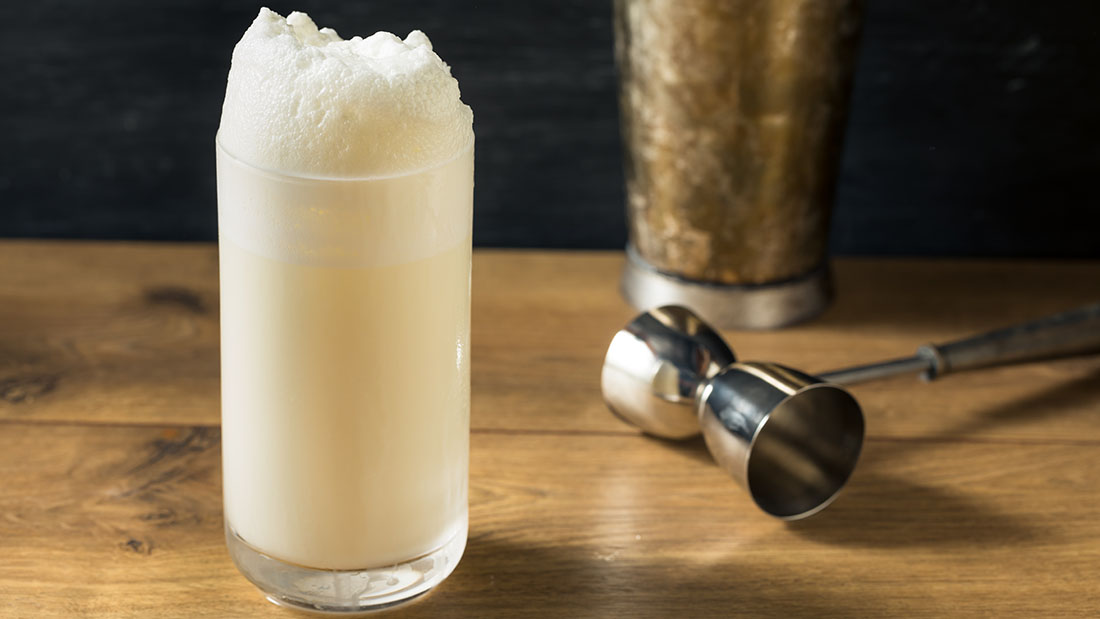 As Dick Buckley1 used to say just before he slapped a platter of New Orleans trad. jazz on the turntable, something like Louis Armstrong's Struttin' with Some Barbeque or Big Butter and Egg Man - "Here's a good old good one." Since Mardi Gras is right around the corner; let's make a New Orleans classic, the Ramos Gin Fizz.
The Ramos Gin Fizz is certainly old, dating back to 1888 New Orleans. Invented by Henry Charles "Carl" Ramos at the Imperial Cabinet Saloon this magnificently creamy fizz was originally known as the New Orleans Fizz and maintained a rabid fan base up until prohibition. The original recipe was so labor intensive, requiring up to fifteen minutes of vigorous shaking, that a group of "shaker men" was employed to spread the shaking around and keep the barman's hands from freezing. It has been noted that during Mardi Gras 1915, 35 shaker men were employed at Ramos' second bar, The Stag Saloon. Even so, the drink was so popular that there was no way to keep pace with the flood of orders.
All the fanaticism that surrounded the Ramos Gin Fizz back in the day was certainly justified. This creamy, citrusy delight is like drinking silk when properly prepared, making the effort absolutely worth your time. This mixologist must confess to cutting way down on the shaking time, but with a good initial dry shake (shaking all ingredients without ice to create a foamy protein matrix with the egg white) the results are excellent2.
While we have saved you from a little extra labor, one thing you can't avoid here is the egg white. Unlike some drinks, say a whiskey sour, that can be made successfully with or without egg white, it is essential in the Ramos Gin Fizz. If this concerns you, seek out pasteurized eggs, but whatever you do, don't omit the egg white.
Just in case you think we have forgotten something, this drink is served up in a Collins glass or an elegant Champagne flute, no ice. In the end you should have a beautifully textured cocktail with a high frothy head redolent of citrus and orange blossom. It's truly wonderful! A good old good one, indeed!
Laissez les bons temps rouler, Bin-landia!
Ramos Gin Fizz
Ingredients:
Simple Steps:
Add the gin, egg white, cream, simple syrup, juices and orange blossom water to a shaker and dry shake vigorously for about 30 seconds.
Add ice and shake for two minutes.
Strain most of contents into a Collins glass. Let rest for 30 seconds.
Simultaneously top with remaining contents of shaker and club soda (about 1 –1½ oz.) to raise a thick foamy head.
Garnish with a quarter orange wheel.
Longtime Chicago area residents may remember Buckley's deep, raspy voice from the decades he spent spinning traditional jazz and big band swing on WBEZ.
The recommended shaking time is more than sufficient for an excellent drink but try challenging yourself to see how long you can go. Use a towel or your hands will start frosting over along with the shaker. The cocktail will get silkier and you will realize quickly that the life of a Ramos Gin Fizz shaker was a tough one indeed.