Main Content Starts Here
Binny's Home Bartender: Queen's Park Swizzle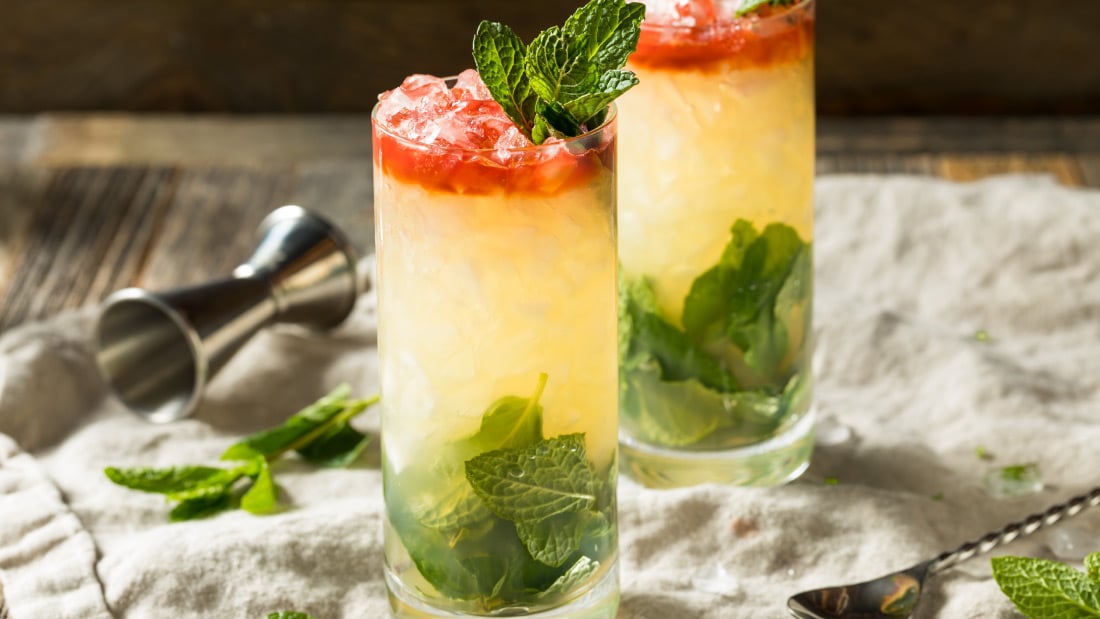 This boozy but ice-cold and indescribably refreshing cocktail was the signature drink at Trinidad's luxurious Queen's Park Hotel from the 1920s until its eventual demise a few decades later. Thankfully, the cocktail lives on as the epitome of the Caribbean cocktail aesthetic. Built on a Rum and lime base like so many of the broader region's classics including the Daiquiri, Ti' Punch, and Mojito; the QPS is not only stiff and wonderfully aromatic it is also visually striking. When made properly, mint, Aged Rum and a heavy-handed dose of Trinidad's own Angostura Bitters create a gorgeously layered appearance of green, gold and orange in a tall frosty glass filled to overflowing with crushed ice. Yet the focus remains on the Aged Demerara Rum.
A few notes on technique that will result in a perfect Swizzle -
A genuine Caribbean swizzle stick is a fun tool, but a bar spoon will work if you don't have one. The key to a well-made swizzle is a lot of crushed ice and proper swizzling. When it comes time to swizzle, insert the stick or spoon through the ice all the way to the bottom of the glass. Holding the handle between your palms start swizzling, rolling the handle back and forth, using a motion as if you were trying to start a fire. The entire column of ice and liquid should move in the glass as you swizzle. Be vigorous but keep the stick on the bottom trying not to disturb the layers. Lastly, do not stop until a thick layer of frost has formed on the outside of the glass. Now you have a properly swizzled and ice-cold drink, easy!
Queen's Park Swizzle
INGREDIENTS:
SIMPLE STEPS:
In a Collins or Hurricane glass, gently muddle mint leaves with simple syrup.
Add lime juice and Rum then fill glass with crushed ice.
Swizzle with a swizzle stick or bar spoon until frost forms on the glass.
Dash bitters over the top.
Mound more crushed ice above the rim of the glass and garnish with a mint sprig.