Main Content Starts Here
Binny's Home Bartender: Pink Squirrel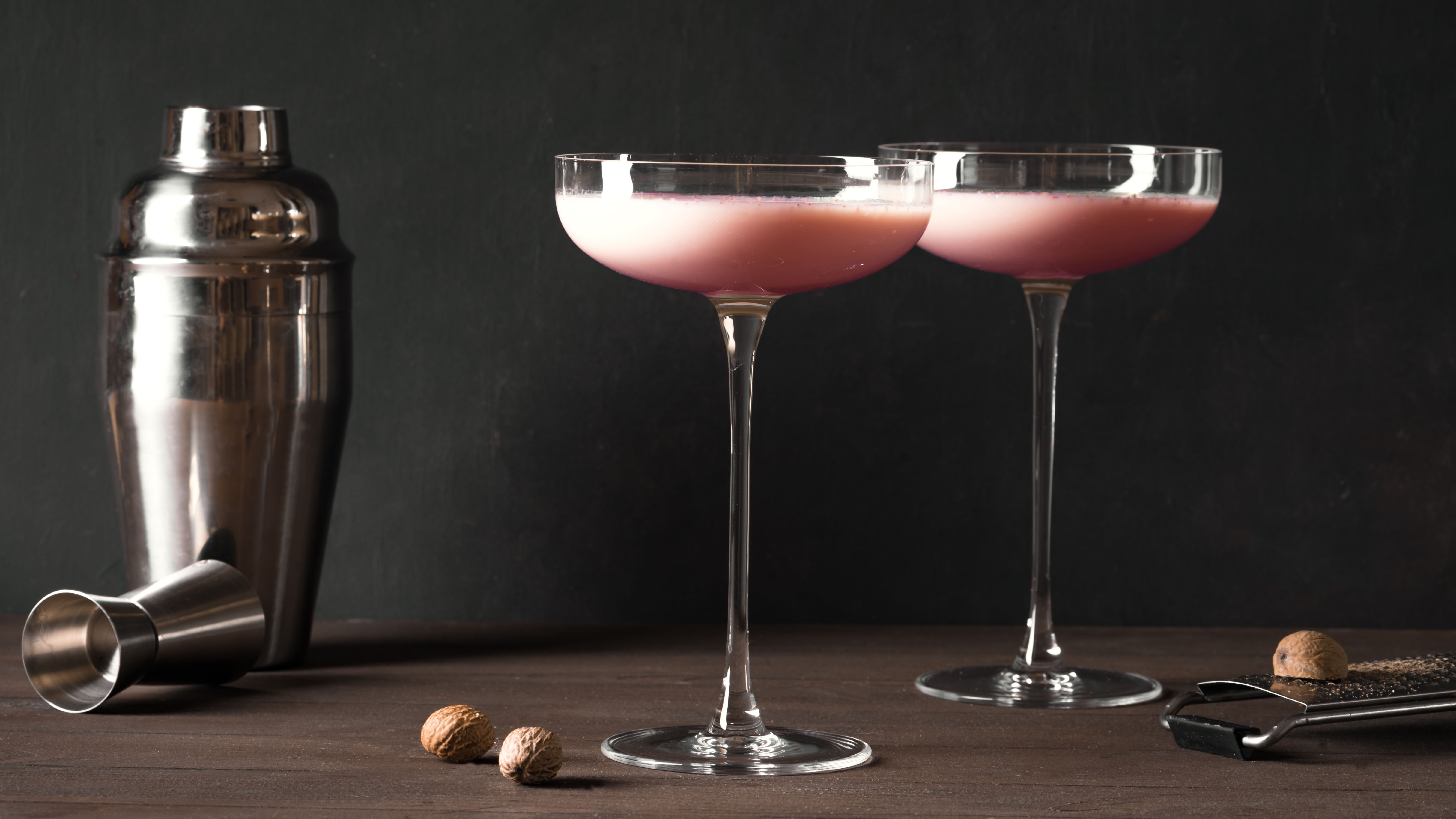 There are a lot of squirrels out there. Gray squirrels, red squirrels, black squirrels, Olney, Illinois' famous white squirrels; but have you ever seen a pink squirrel? They are a rare species, largely isolated to Wisconsin and closely associated with supper clubs and the odd hipster bar in Milwaukee or Madison.
The Pink Squirrel cocktail, in fact, came into being at Bryant's Cocktail Lounge in Milwaukee sometime in the early 1940's. There is some evidence to suggest that it started life, in fine Wisconsin fashion, as a spiked milkshake but it is also commonly made with heavy cream.
The Pink Squirrel is a deliciously hedonistic vehicle for the relatively obscure Crème de Noyaux; a blood red (sometimes) liqueur, redolent of floral almond and ethereal orchard fruit nuances, that haunts the edges of mainstream mixology. Like its better-known cousin, Amaretto, good examples are made by macerating the kernels (in the almond this means the "nut") of members of the Prunus genus which includes apricots, peaches, cherries and of course almonds. You may have noticed the striking resemblance between the pit of a peach and an almond, but the resemblance isn't purely visual, any of the aforementioned pits will supply the signature almond profile that is so prominently on display in Crème de Noyaux. In fact, most almondy liqueurs contain no almond at all.
This mixologist must confess to having tasted precious few examples of Crème de Noyaux worth writing home about until we had a nip of Tempus Fugit's stellar offering. Now, every second drags until we can get our next little sip. This is a truly exceptional revival of old-style Crème de Noyaux made with apricot and cherry pits along with real bitter almond, giving it the intense floral almond attributes of excellent marzipan or a frangipane tart being pulled from the oven, highlighted with notions of cherry. The added plus is the flashy red color provided by the traditional addition of cochineal that is so essential to the Pink Squirrel.
Combine that with Tempus Fugit's deeply chocolatey Crème de Cacao (the equal of their Noyaux in meticulous artisanship and character), heavy cream and a subtle dusting of freshly grated nutmeg for aromatic intrigue and you are living a dream. Replace the cream with a couple scoops of high quality vanilla ice cream, blend and you have a next level dessert worthy of the swankiest supper club.
This is a must try for lovers of the classic interplay between almond, cherry and chocolate that lures many of us into candy shops and bakeries. It also makes for an over the top pairing with the Demo Kitchen's recipe for the chewiest, chocolate dipped and almond scented coconut macaroons.
By the way, actual pink squirrels really exist, and it should come as no surprise that they were discovered in Wisconsin just a few years ago. It turns out that three species of flying squirrel luminesce a brilliant shocking pink when viewed under ultraviolet light. The adaptive benefit is, as yet, unknown. But how cool is that?
We are still waiting for confirmation of the existence of pink elephants despite this mixologists firm belief that we once saw them, trunk to tail, parading down Milwaukee's Ninth Street. We confess, however, it was after a long afternoon at Bryant's.

Pink Squirrel
INGREDIENTS:
1½ oz. heavy cream
Garnish: freshly grated nutmeg
SIMPLE STEPS:
Add the Crème de Noyaux, Crème de Cacao and heavy cream to a shaker filled with ice. Shake until well-chilled.
Strain into a chilled cocktail coupe.
Garnish with freshly grated nutmeg.