Main Content Starts Here
Confessions of a Mixologist: Piña Colada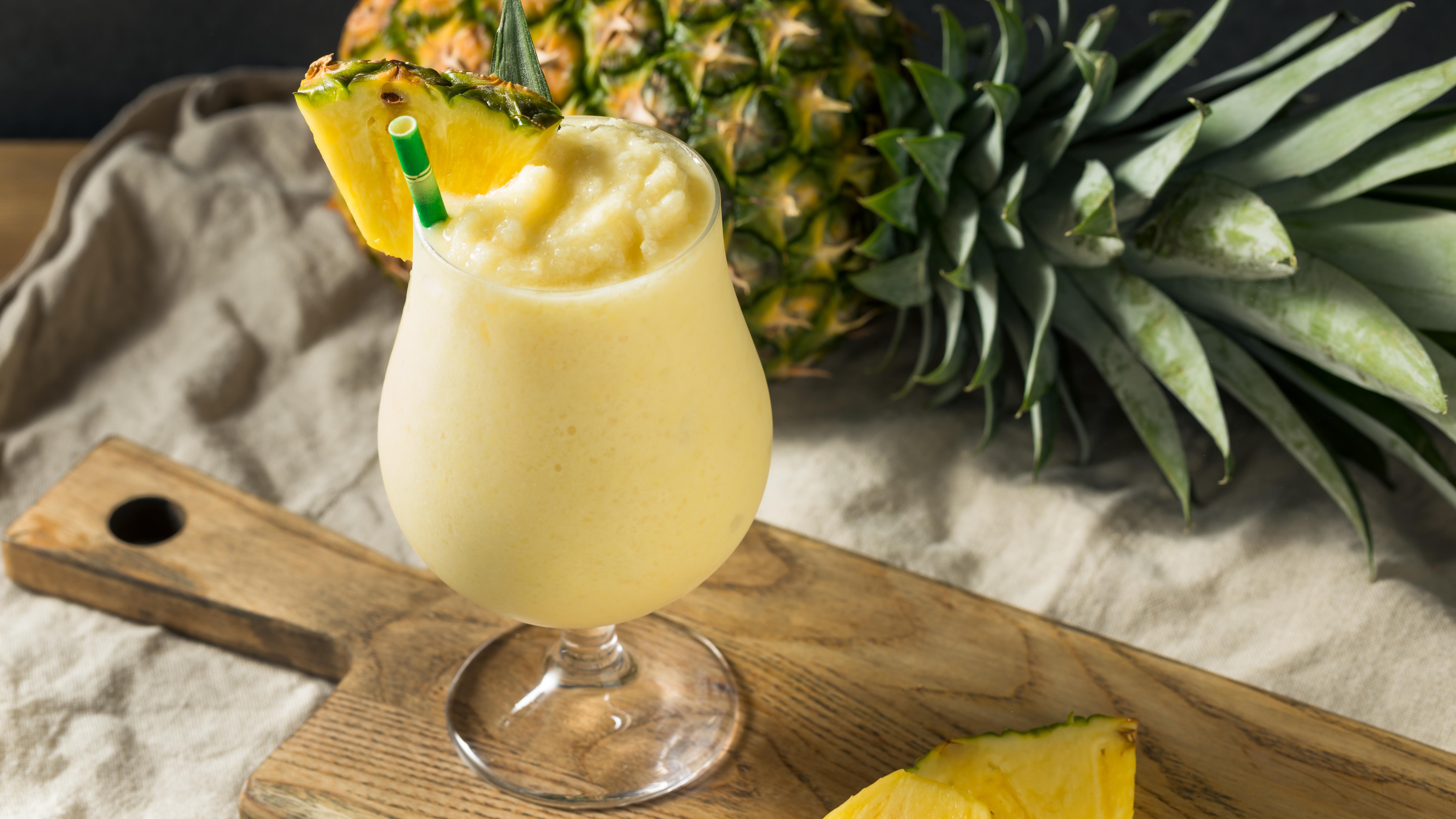 This mixologist confesses - We like piña coladas and getting caught in the rain. We are also most emphatically into Champagne. And if we had to tally up how many times we have been accused of having half a brain, well, it would likely take the computing power of a full one to figure it out.
Yes, on paper we surely look like the perfect match for Rupert Holmes in his cheesy 1979 story song, Escape (The Piña Colada Song)1, about looking for love in the newspaper. But we can't escape the fact that the respondent was predestined, and we never had a chance.
This cocktail centric song reveals a shocking twist big enough for a ridiculously oversized martini at the end when we find out who is on the other end of Rupert's communiques. It's intended to blow your mind, at least the first time you hear it. The piña colada itself does not call for a twist but a good one can still blow your mind, and give you a killer brain freeze2 if you're not careful.
That's okay, Rupert is fine but Bad Sneakers3 (if 30 year old Chuck Taylor's count) and a piña colada are more our speed anyway. So, excuse us briefly while we slip into the old high-tops and break out the blender. Okay, let's get at it; the piña colada.
Some claim this tripartite tropical delight has beginnings dating back to the days of Caribbean pirates mixing rum, pineapple and coconut together, but the modern and most accepted tale has bartender Ramón "Monchito" Marrero of the San Juan, Puerto Rico Caribe Hilton "inventing" the drink in 1954. It soon became inextricably linked to sunny beach vacations in Puerto Rico and then the broader Caribbean region. By the 1970s it was famous worldwide and in 1978 the piña colada became Puerto Rico's official cocktail. As with so many fine things, that popularity brought on a nadir of quality. Forget the bad sneakers, it was all about bad mixes endlessly churning away in the dreaded slushy machine4.
Well, we can do better. That's right folks, this is the third instalment of "Binny's Summer of GOOD Frozen Cocktails", a passion project to bring quality back to this maligned category of ice cold and potentially delicious drinks.
This post is well timed as both the Fourth of July and National Piña Colada Day (07/10) are right around the corner. You may wonder why a piña colada is particularly appropriate for the 4th, other than the fact that it will keep you cool on this hottest of holidays. So, for the politically and geographically challenged and the full-fledged members of the Half Brain Society (this mixologist's people, collectively known as DENSA5) we will simply remind you that the Commonwealth of Puerto Rico has been an American Territory since the Spanish-American War and Puerto Ricans were granted U.S. citizenship in 1917. So, the piña colada is not just Puerto Rico's official drink it is also an all American cocktail.
Bacardi Carta Blanca is probably the historically correct rum choice, even though it was originally a Cuban brand. Bacardi opened its first distillery on Puerto Rico in 1936 so they were well established there by the advent of the cocktail. If you want a deeper rum note, Bacardi Gold is an option or go way back with Ron Barrilito 2 Star from Puerto Rico's oldest operating distillery. Lime juice is not traditional, but we like to add a little to cut the classic version's frank sweetness. Coco Lopez is recommended for the coconut component but using unsweetened coconut cream meant for culinary purposes can also cut the sweetness way back, in which case the lime isn't necessary. Fresh pineapple juice can only improve things but it's not an absolute necessity for a good drink, especially if you have frozen your own fresh pineapple chunks. Otherwise, it's just a straightforward spin in the blender standing between you and tropical cocktail Nirvana.
Happy Fourth of July, Americans! Wherever you are6.
Piña Colada
INGREDIENTS:
DIRECTIONS:
Pour into a chilled hurricane glass.
Garnish with a wedge of pineapple and a couple pineapple leaves.
Footnotes:
Gather round, youngins, for a story about ancient times. Not only did people suffer for days waiting for letters posted via snail mail, people purchased personal ads in the paper to find a partner. Generally, this Turtle Tinder was a slow back and forth of paid postings, full of likes and dislikes, until it became clear that the match was a good one (mainly based on a shared love of a certain cocktail) and a meeting place could be set. The lyrics for Escape portray such an exchange along with commentary. Listen to the song, you'll get it. "What's a paper?" you ask. Never mind.
We lost the other half of our brain in a tragic piña colada brain freeze incident many years ago.
From Steely Dan's 1975 release, Katy Lied.
There is really nothing wrong with these but, you know, garbage in, garbage out.
Always accepting applications.
We're looking at you, Guam! What's your signature cocktail?