Main Content Starts Here
Binny's Home Bartender: Pimm's Cup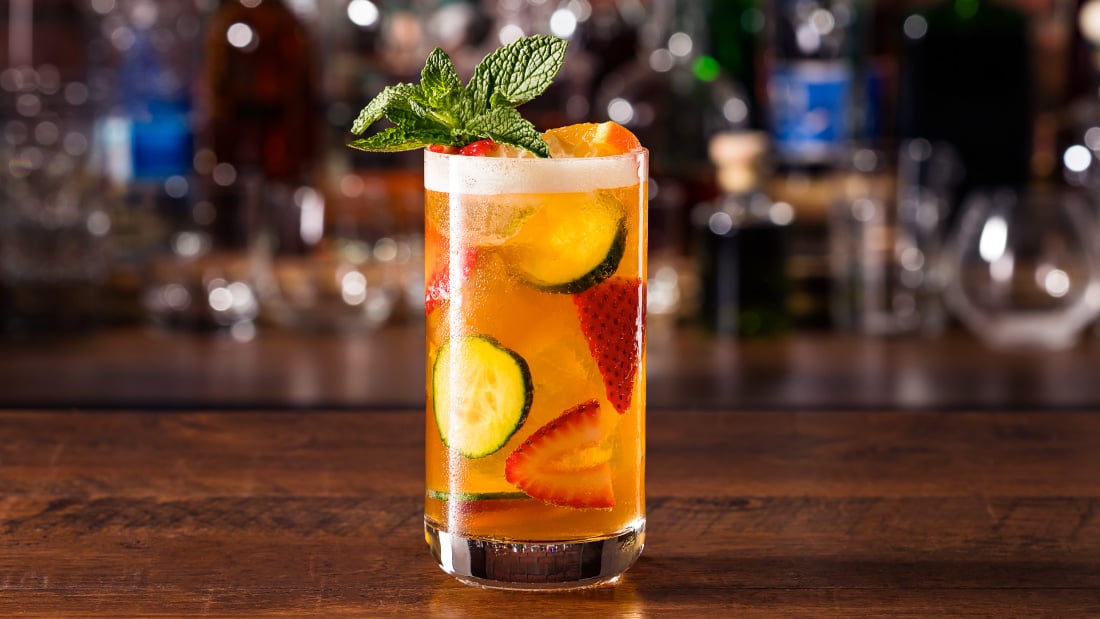 Along with endless bowls of strawberries in thick, decadent cream, devastating dropshots, blistering aces, and the signature "Pock!" of a tennis ball echoed by the popping of Champagne corks, the Pimm's Cup is inseparable from Wimbledon. This year is, in fact, the fiftieth anniversary of Britain's great grass court Grand Slam's enduring marriage to Pimm's.
That is as it should be, since the Pimm's Cup is a quintessentially British summer cocktail. The key ingredient is, of course, Pimm's No. 1 Cup; the original premixed gin sling, which should impress anyone who is enjoying the new wave of ready to drink cocktails. Pimm's was one hundred and sixty years ahead of its time and is still a delightfully complex, slightly sweet, and caramelized fruit-based liqueur. It's also complicated by an array of spices and botanicals that bring verve, cut and a subtle bitter edge to the party.
With the simple addition of ginger ale, sparkling lemonade or even lemon-lime soda and a veritable fruit salad of garnishes you have yourself a supremely quenching low ABV cocktail well-suited for countryside picnics, garden parties, poolside imbibing, getting a tan standing in the English rain... In other words, it is perfect for day drinking and dainty cucumber sandwiches.
Of course, we couldn't leave well enough alone, so we upped the strength with a little splash of Gin. It can be omitted, just don't skimp on the fruit.
So, join the Pimm's party this summer, watch Wimbledon or mix up a batch after your own game of tennis (by all means, multiply this recipe for a pitcher-full of refreshment). In any case the Pimm's Cup is guaranteed to win you over - game, set, and match. You're definitely going to love-love it!
Pimm's Cup
INGREDIENTS:
SIMPLE STEPS:
Add all fruits and cucumber to a Collins glass.
Add Pimm's, Gin and lemon juice. Fill glass with ice.
Top with Ginger Ale, give a quick stir and garnish with mint.