Main Content Starts Here
Binny's Home Bartender: Patsy Fagan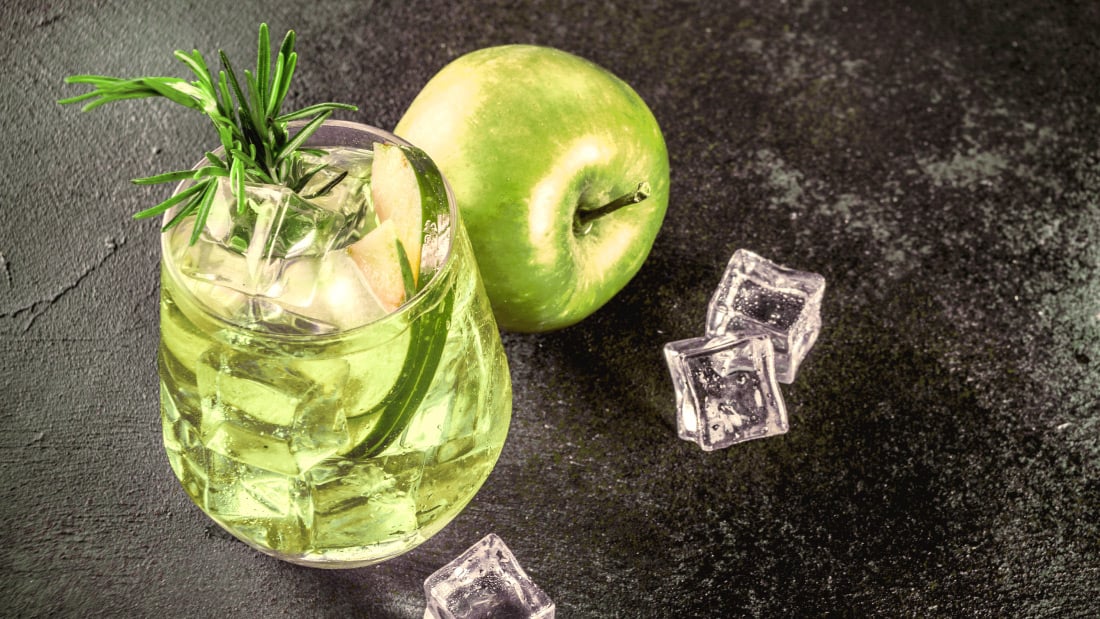 "Hello Patsy Fagan" you can hear the girls all cry
"Hello Patsy Fagan, you're the apple of me eye
You're a decent boy from Ireland, there's no one can deny
You're a rare'm tare'm devil may car'm decent Irish boy"
- The Irish Rovers
There is no long, winding, circuitous tale flowing through this post like the River Liffey meandering through Dublin. This mixologist must confess that one simple goal was our guide this week; make a stereotypically green cocktail for St Patrick's Day that also tastes delicious. How did we do? It's definitely green and it is definitely delicious. It's a fruity, yet complex blend of emerald green melon liqueur (the antidote to Mellon Collie and the prescription for fun), the fascinating Glendalough Wild Botanical Irish Gin and Magner's Irish Hard Cider making for a sweet, tart and refreshing alternative to green beer.
We considered calling this the Anna Livia Plurabelle or ALP Cocktail for James Joyce's famous character who simultaneously embodies the universal woman and personifies the River Liffey. Joycean themes are dense, however, and any exploration of the dream-like stream of obscure wordplay that begins midsentence and ends with the beginning of the very same sentence, snaking around like a literary ouroboros to swallow its own tail, known as Finnegan's Wake, is more than likely to wander off course. To paraphrase Bruce Springsteen – Like a river that don't know where it's flowin', it will probably take a wrong turn and just keep going. Besides if we were going for a river theme, why not just go with Something like: Chicago River 03/17?
Instead, we settled on Patsy Fagan, another Irish character with a much simpler and very relatable story from the classic Irish Rovers song of the same name. It seems Patsy is a desirable young lad who has left Ireland to find work but longs to settle down with one of his many admirers and live an honest life. In the song Patsy has gone off to Glasgow but as many Irish American families can attest, this is a universal story of Irish immigrants and nowhere in the world boasts a population like the States. There are now many more Irish Americans than there are people living in Ireland itself.
Irish immigrants weren't welcomed with open arms back in the day, quite to the contrary, but like immigrants to America from all over the world they have prospered through hard work. So, let's all raise a glass to (and of) Patsy Fagan and to hard working immigrants everywhere, you are the apple of our eye.
It's often said that we are all Irish on St Patrick's Day and, with the obvious exception of indigenous peoples, we are all immigrants or descended from immigrants who arrived on these shores from elsewhere. As the song says - "But since I left old Ireland, it's always been my plan, to let you people see that I'm a decent Irishman." Insert any ethnicity into that line and it still rings true.
Well, it seems there was a story there after all. We just had to turn off our mind, relax and float downstream to find it.
Sláinte, Bin-landia!

Patsy Fagan
INGREDIENTS:
SIMPLE STEPS:
Fill a highball glass with ice.
Add Midori, gin and lime juice. Top with apple cider.
Garnish with apple slices and rosemary.