Main Content Starts Here
Confessions of a Mixologist: Martini & Rossi NAperitivo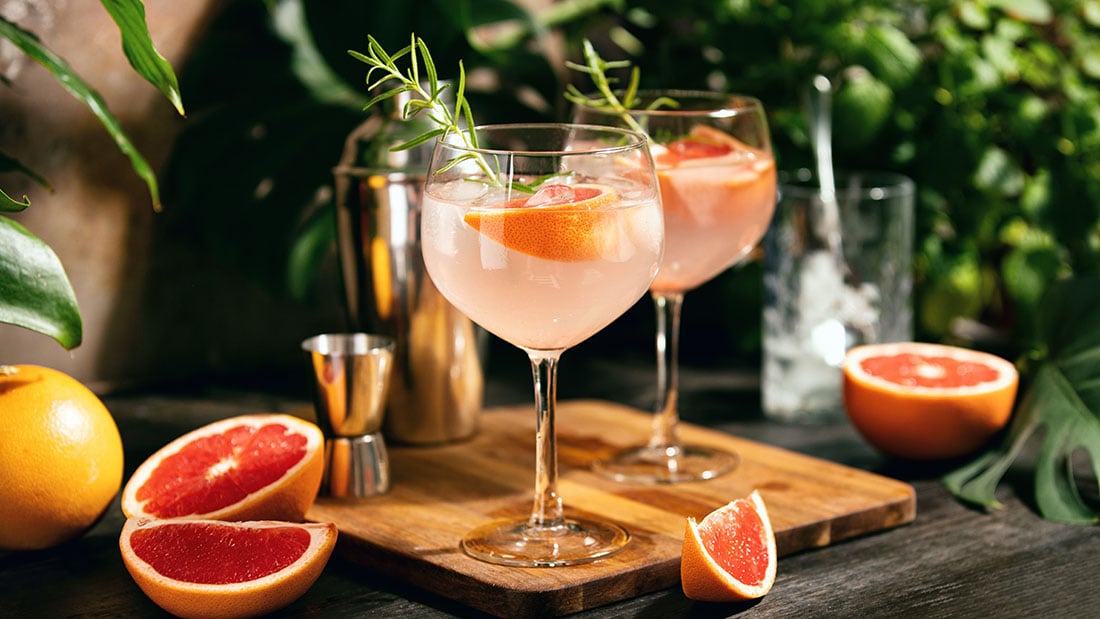 When six o'clock rolls around many Italians have their hearts firmly set on a leisurely cocktail and maybe a nibble or two before dinner. It's Aperitivo time and most will opt for something a bit bitter to stimulate the appetite. Negronis, Garibaldis and Americanos abound as do iced glasses of complexly aromatic Vermouth and all manner of spritzes. But what are devotees of the cocktail hour, the ranks of which include countless Americans, to do during Dry January?
This Mixologist confesses to taking the road most traveled by carrying on as per usual during January, but we also support the choice to take part in Dry January. So, when we heard the venerable producer Martini & Rossi was releasing NA Vermouths our mission was clear. We had to help Dry Januarians whet their appetites in a deliciously familiar way, without the alcohol.
M&R has done their part by changing their methods as little as possible. These tasty NA Vermouths are still made with a premium wine base, albeit dealcoholized, and dozens of carefully selected botanicals and the results are satisfying and multifaceted. We confess that both offerings, Floreale (Bianco) and Vibrante (Rosso) may be at their best in a simple 1 to 1 ratio with soda water, allowing the many tiers of flavor to shine unobstructed, but we also found success blending them with various high quality Fever Tree mixers.
Having whipped up some successfully tantalizing tipples our mind began to wander over what sort of sober sophisticate might savor these NAperitivos. Somehow, we landed on an image of the recently departed Charlie Watts, rock and roll's best dressed man1 and the very heartbeat of the Rolling Stones for nearly six decades. In addition to being one of rock's most subtle and sophisticated servants of the song and keeping time like a human metronome while still managing to swing like few others, Charlie somehow thrived as a reserved family man in one of the world's most debauched bands. Did Charlie run into some trouble along the way2? Sure, but Charlie always returned to the staid and relatively strait-laced dedicated follower of fashion3 and jazz drummer that he was at heart.
It is easy to imagine Charlie in a perfectly tailored4 Armani suit sipping a NAperitivo in Milano but don't feel bad if you would prefer to do the same in sweatpants on the comfort of your own sofa, that's cool. If you do, we suggest you up your game by listening to the Stones or some of Charlie's jazz recordings in a belated tribute to this quiet giant of rock and roll, therefore we have named both of our cocktails for great Rolling Stones recordings5.
We chose Dead Flowers6 for the delightfully rose-pink Cadillac colored cocktail made with Floreale and Fever Tree Pink Grapefruit Soda. Thyme Is on My Side7 is garnished with a sprig of thyme to complement the bright flavors of Fever Tree Lemon Tonic and the oregano and citrus centric Vibrante. Both of these new wave mocktails8 are guaranteed to rock your world with their firm botanical backbeat whether you are dressed to the nines or lolling around in your underwear.
Farewell, Charlie!
Cheers, Dry Januarians!


DEAD FLOWERS
INGREDIENTS:
grapefruit peel
sprig of rosemary
SIMPLE STEPS:
Add Floreale to a highball glass filled with ice.
Top with Grapefruit Soda, stir gently.
Garnish with grapefruit peel and rosemary sprig.

THYME IS ON MY SIDE
INGREDIENTS:
SIMPLE STEPS:
Add Vibrante to a highball glass filled with ice.
Top with Lemon Tonic, stir gently.
Garnish with lemon peel and thyme.

Footnotes:
Arguments can surely be made for a leather jacket clad Elvis (definitely not jumpsuit Elvis), Gene Simmons in full bat-lizard regalia, Bowie at any stage of his chameleon-like career or Iggy wearing a smear of peanut butter and shards of glass in lieu of a shirt, depending on point of view, but by any conventional standards Charlie had no competition for his sharp buttoned down couture.
We imagine he knocked back his fair share of Tequila Sunrises on the legendary 1972 American tour, among other things on other tours.
Charlie certainly wasn't one of the trend chasing fashionistas Ray Davies was so derisively addressing in this 1966 Kinks hit but he was absolutely dedicated to classic style.
Charlie didn't have a freaky old lady who embroidered on his jeans (not his style) and when the band did have its own (Mick) Taylor he was too busy laying down the tastiest guitar licks in Rolling Stones' history to attend to Charlie's clothing. We are sure someone knows where Charlie shopped but, in this mixologist's besotted imagination he frequented a retired Nigel Tufnel's Savile Row Haberdashery. "Sorry Charlie! We're all out, do you wear black?"
Perhaps not the best choices to highlight Charlie's brilliance but his laid back western swing on Dead Flowers and the steady back beat accented by solid tambourine work on Time Is On My Side certainly underscore his dedication to perfectly serving the needs of the song without excess flash.
Chosen primarily because M&R built Floreale around Roman chamomile, literally dead flowers, but also because it is straight up brilliant.
Like many early Stones hits this was a cover not an original. If you listen to Irma Thomas's 1964 version, you will quickly realize that the Stones laid down (also in '64) a virtual note for note copy, including those iconic guitar licks. This in no way diminishes the Stones' effort, both takes are great and Irma was in fact covering a tune that was originally written as a jazz number. A fact jazz obsessed Charlie surely enjoyed.
Unfortunately, it wasn't Charlie but his counterpart in the Beatles, Ringo, who so hilariously quipped to the question "Are you a mod or a rocker?" with "I'm a mocker".