Main Content Starts Here
Confessions of a Mixologist: Maracuyá Margarita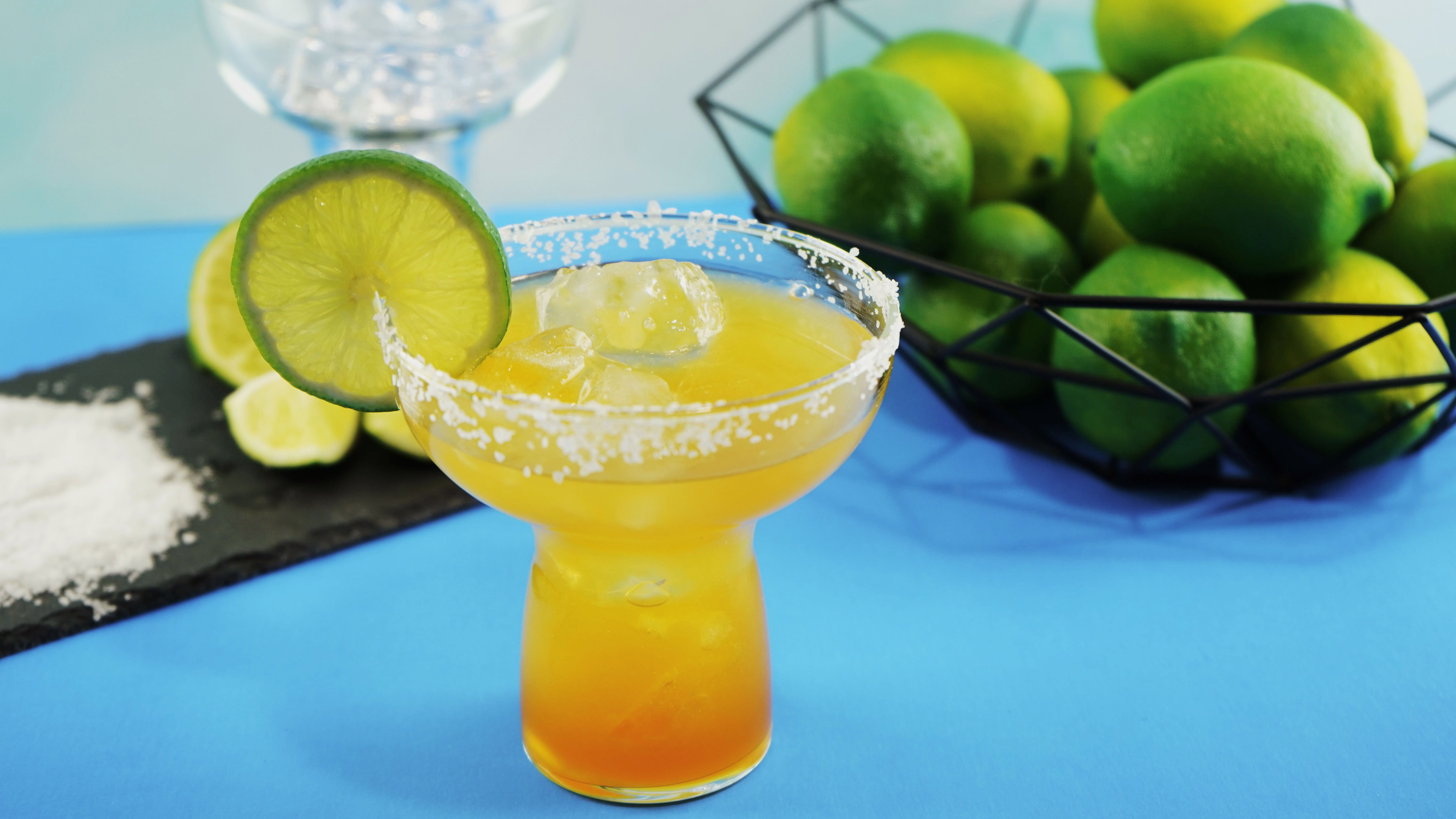 Maracuyá Margarita
or
The Cocktail Lounge
at the Passionflower Hotel
When is a Daisy not a Daisy? Some might say- When it's a Margarita. We say- When it's a passionflower.
Although the Margarita's origins are shrouded in mystery, the stories of its advent are numerous. As we are on the cusp of Cinco de Mayo, the (largely American1) celebration of Mexico's victory over France at the Battle of Puebla in 1862, it seems appropriate to mention at least one. The simple story goes like this - the manager of the Garci Crespo Hotel in Puebla (see the connection?) invented the Margarita in 1936 for his salt-loving girlfriend of the same name.
That brief tale is probably apocryphal, but it's just as likely to be true as the other stories involving bartenders, restaurateurs, Tequila distributors and even celebrities inventing the Margarita. However, this mixologist must confess to being on the leading edge of Occam's razor when it comes to our thinking on the origin of the Margarita.
Margarita translates from Spanish to daisy and since Daisies, a class of sour cocktails that rely on the addition of orange liqueur to define them, predate any claim to the introduction of the Margarita, we can say (although not conclusively) that the Margarita is simply a Tequila Daisy. Daisies are often stretched with a bit of soda water and the Margarita is not. So, when is a Daisy not a Daisy? When it's a Margarita? Maybe.
Enter Passiflora edulis. In a remarkable feat of straightforward Linnaean binomial nomenclature P. edulis2 translates from the Latin to "edible passionflower". It is, of course, the fruit of the passionflower with its intensely fragrant, tart, yet tropical flavor that is edible. The seed-ridden and pulpy interior of this thick-skinned berry can be eaten out of hand or juiced for use in food and drink. It goes by many names: lilikoi in Hawaiian, grenadille in French, maracujá in Portuguese (Brazil is its likely place of origin), chinola in the Dominican Republic and maracuyá in Mexico. It is exotic and delicious in any language and slips into the classic Margarita profile seamlessly.
While a daisy is the epitome of the simplest form of floral beauty, the passionflower is a study in ornate structure with a beauty all its own. When we take the Margarita from a perfect three ingredient cocktail to one embellished with the fabulous passion fruit liqueur, Chinola3, a similar blossoming of complex beauty occurs.
While the tart, citric nature of passion fruit plays right into the flavors of lime and orange found in the classic Margarita, layers of subtle tropical fruit notes like kiwi and pineapple emerge in this cocktail as well. Never fear, the effect is additive rather than obscuring, allowing the character of a fine Tequila to shine through.
We have chosen el Mayor, (We use the Reposado. Use the Blanco for a brighter, cleaner profile.) a fourth-generation family-owned brand known for high-quality, high elevation Tequila at an absurdly reasonable price for that duty. It is at their new palenque in the Jalisco highlands where Master Distiller Rodolfo González transforms Weber Blue Agave, grown at 7,500 feet above sea level, into an appropriately fruity, floral, and fragrant style of Tequila, perfect for this cocktail.
Add THE classic triple sec, Cointreau, fresh lime juice and a bit of agave syrup and you will have yourself a fantastic cocktail in full bloom. If you want to add a little heat-induced blush to that bloom, hit it with a little Cholula hot sauce4, you'll be glad you did.
So, when is a Daisy not a Daisy? When it's a passion fruit Margarita? Definitely!
Salud!
Maracuyá Margarita
INGREDIENTS:
SIMPLE STEPS:
Run a wedge of lime around the rim of a rocks glass. Dip the outside of the rim in coarse salt. Fill with ice.
Add Tequila, Chinola, Cointreau, lime juice, agave syrup and Cholula (if using) to a shaker with ice. Shake until well chilled.
Strain into prepared glass. Garnish with lime wheel.


Footnotes:
While Cinco de Mayo is an important date in Mexico, it was Mexicans in California who really got the party started when they heard that the French had been defeated exactly 160 years ago. It gained status as a day of Mexican American pride in the 20th century, but it really wasn't until the 1980s that Cinco de Mayo became a big party in the U.S. fueled by, you guessed it, Mexican beer advertising.
Mushroom lovers may recognize this species name from one of the choicest edibles, Boletus edulis. Aka the porcini or cep.
See, also, the Bigger Bamboo
Like a lot of fresh fruits and vegetables, passion fruit is often enjoyed with lime juice and the spicy kick of powdered chile or Tajín.