Main Content Starts Here
Confessions of a Mixologist: Laird's A-Leaping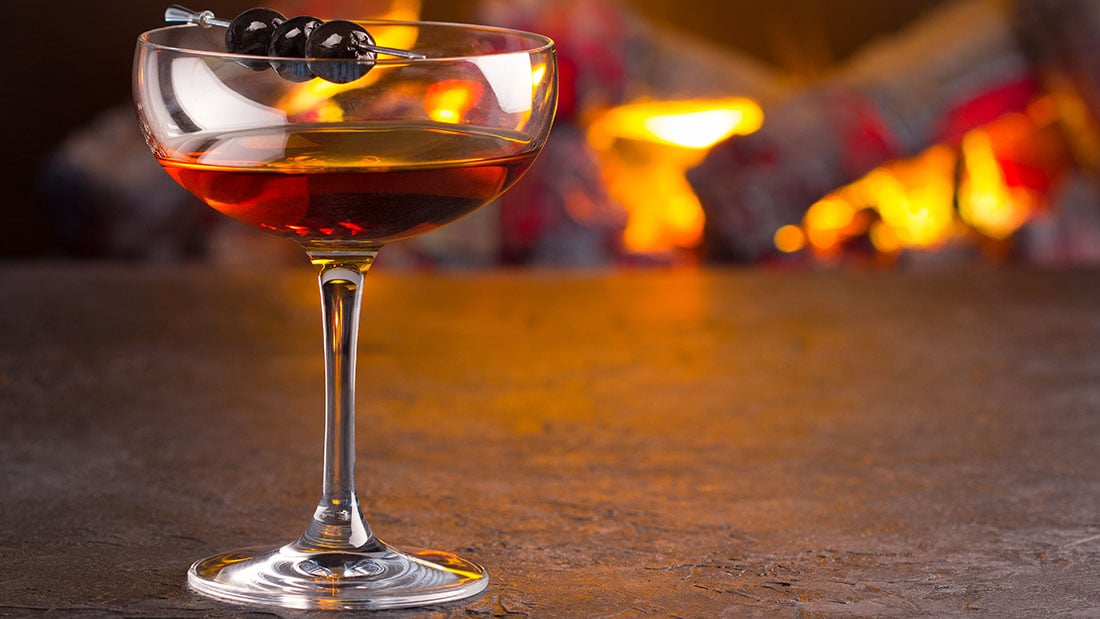 You've been good all year long and finally that special time has arrived. Time to collect your hard-earned holiday bonus, which is why we are bringing you not one, but two cocktail recipes worth their weight in gold (or coal, if your behavior has, in fact, been less than exemplary).
First, let's unwrap a pre-prohibition classic known as the Saratoga Cocktail. Like so many classic cocktails this gift was passed down to us by the legendary Jerry Thomas in his 1887 edition of The Bar-tenders Guide. Named for one of the era's vacation hot spots, Saratoga Springs, New York, it is a cocktail at the crossroads of the Manhattan and the Metropolitan consisting of equal parts, whiskey, brandy and sweet vermouth. Hit it with a couple dashes of aromatic bitters, stir, garnish with a cherry and there you have it, the Saratoga.
Now for your holiday bonus, Laird's A-Leaping. For this riff on the Saratoga, we turned away from Cognac and other grape-based Brandies and toward America's great Apple Brandy, Laird's. After all, Laird is the Scots word for the title of Lord.
Once the Laird's had leapt into the mixing glass it seemed logical that the whisky should be Scotch. Enter the influence of Rob Roy, that roguish Scotch-based Highland cousin of the Manhattan (Rob Roy was himself the Laird of Inversnaid).
This mixologist confesses to making a few versions (research, we do it all for you, dear reader) and we landed on Famous Grouse as our Scotch, with honorable mentions going to the smokier Johnnie Walker Black and Wild Turkey 101 Rye Whiskey, which resulted in a fabulous drink but didn't make the cut for the sin of not being Scotch. Off to the confessional with you Wild Turkey! Cocchi Vermouth di Torino, Angostura Bitters, and a Luxardo Cherry round things out, and voilà, Laird's A-Leaping. For a little extra holiday flare, a light grating of nutmeg over the top is a nice addition.
One of these will undoubtedly put a spring in your step, and two are guaranteed to make even the most curmudgeonly of Lairds leap. Just do not drink ten in succession – you're likely to feel like all ten Lords are mercilessly leaping around in your head!
A final thought: The Saratoga itself is an excellent libation but unlike many pre-prohibition elixirs, it has failed to strike a chord with a new generation of cocktail enthusiasts. Overshadowed by the Manhattan, it has been largely relegated to a life on the Island of Misfit Cocktails. This is a fate that should not befall Laird's A-Leaping. But what to do? Maybe we hire a slew of social media influencers and come up with a memorable catch phrase like "Saratoga Springs but Lairds Leap!" Yeah, that should do it.
Laird's A-Leaping
INGREDIENTS
SIMPLE STEPS:
Add Brandy, Scotch, Vermouth and Bitters to a mixing glass and stir with ice until well chilled.
Strain into a cocktail coupe and garnish with a cherry. Grate a little nutmeg on top, if desired.