Main Content Starts Here
Binny's Home Bartender: Kentucky Kringle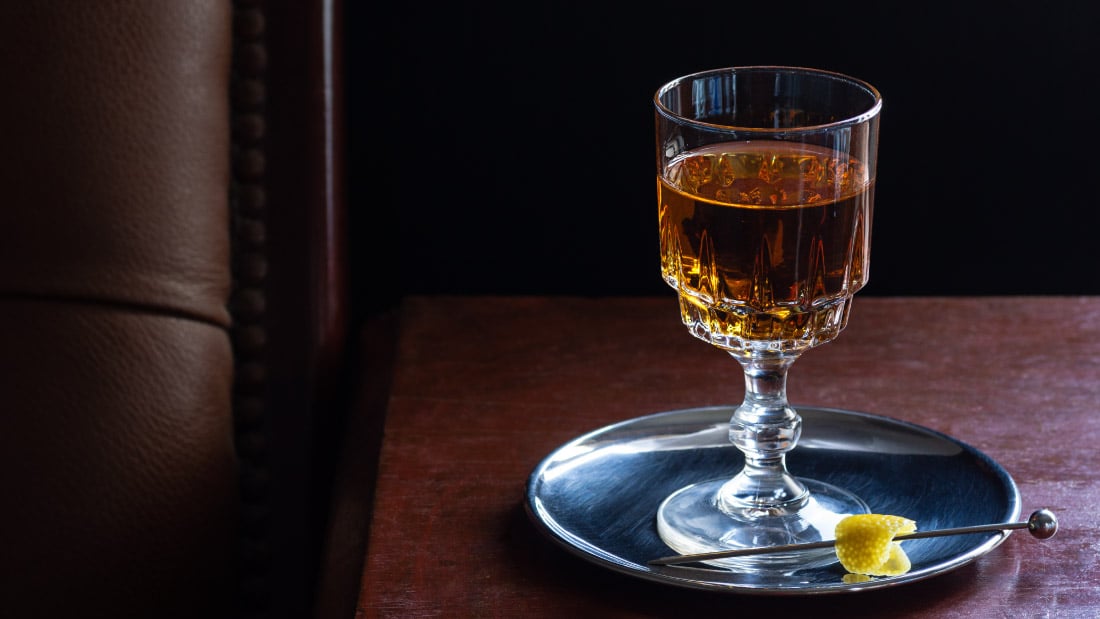 (skip to recipe)

Binny's is going absolutely nuts for Danish Kringle, that ultra-sweet and buttery oval of filled and frosted pastry. Kringle was made famous in the Midwest by Danish immigrants to Racine, Wisconsin and if you've ever ventured across Illinois' northern border you likely know that they come in a full array of tempting fruit and nut flavors. This mixologist willingly confesses to feeling somehow incomplete when crossing back into Illinois without at least one cherry and one pecan kringle1 in tow.
What inspired this sudden fascination with kringle, especially the nutty ones? Beer. Like so many of the best things in life the inspiration was beer. Namely Central Waters Bourbon Pecan Kringle Stout, a big, bold, impeccably crafted liquid homage to a pecan kringle that we are featuring in this week's Beer Buzz.
Certainly worth celebrating but, we thought, why let beer have all the fun? So, the Demo Kitchen set out to create a recipe for pecan kringle to pair with that beer, appeal to Bourbon lovers2 and make Wisconsin Danes proud.
This mixologist wanted in on the action too, so we mixed up an original we are calling the Kentucky Kringle3. Not unlike a nutty kringle this drink leans sweet and rich with just enough lemony cut to keep it honest. Our inclination was to stir on ice, but we are recommending shaking instead, only because the richness of this cocktail demands the extra dilution shaking provides. If you do stir, give it a little extra time under the spoon or add a splash of water.
The result is a sweet, nutty, spicy, and potent concoction that not only tastes like but goes down as easily as a big slice of nutty kringle. It also has the comforting, warming, Bourbon forward profile of a perfect fall or winter sipper.
This drink is so delicious that we'll go out on a limb and say that if, for some reason, Kris Kringle's milk and cookies were replaced this year by a slice of Bourbon Pecan Kringle and a cold Kentucky Kringle cocktail, "Santa" would be very pleased, indeed.
Kentucky Kringle
INGREDIENTS:
SIMPLE STEPS:
Add all ingredients to a shaker with ice.
Shake until well chilled.
Strain into a chilled cocktail glass.
Garnish with lemon twist.

Footnotes
Not to mention, cheese, wursts, Braunschweiger, Landjäger, smoked chubs and a beer or two that Wisconsin stubbornly refuses to share.
Yes, that lily is laced with Bourbon, infinitely better than gold gilding in this case.
Although the kringle die was cast, we were torn about ignoring the Chicago Sky's historic triumph in the WNBA finals. Sky, you deserve better than a footnote and we will make good on that someday. In the meantime, we realized if we went through some minimal contortions, this cocktail could serve as the signature drink for this momentous occasion. So, here's to you Chicago Sky! Now follow us down the rabbit hole. Whiskey, Nocello, Benedictine, maple syrup (made from the sap of the Sugar Maple – Acer saccharum), Squeezed lemon, Cocktail - The WNBASC, AKA the WNBA Sky Championship cocktail. Chicago is Proud! Go, Sky!