Main Content Starts Here
Binny's Home Bartender: Frozen Watermelon Margarita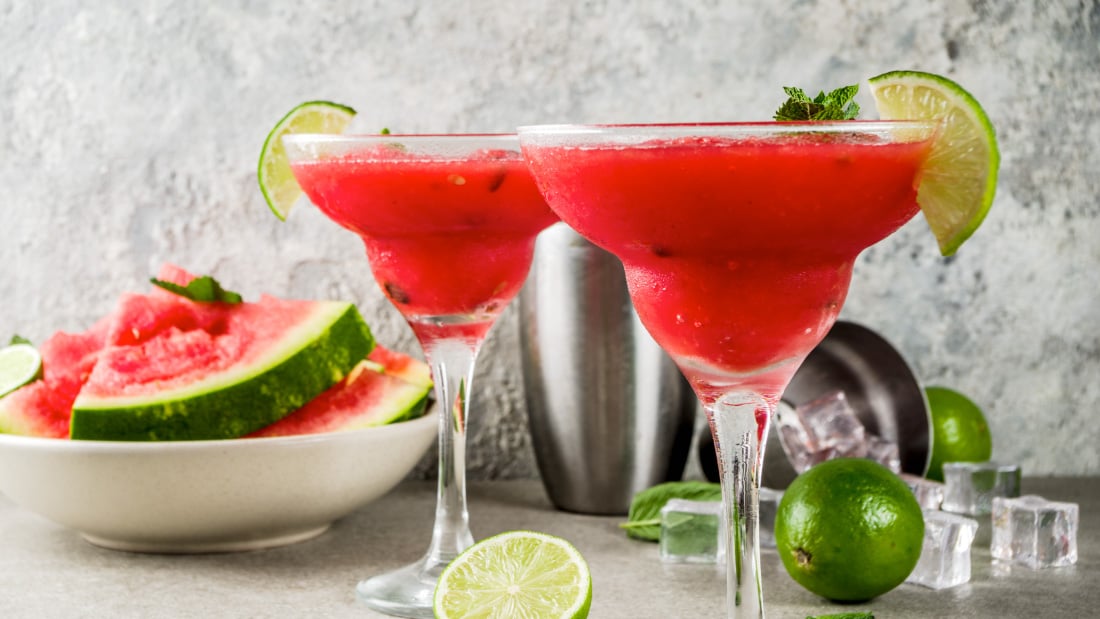 In Watermelon Sugar
Frozen Watermelon Margarita
It's the summer of GOOD frozen cocktails, or at least we proclaimed it so a couple of weeks back and here we go with our second installment in the series. Only one super summery frozen cocktail designed to combat the heat was the goal at the outset of this post, but this mixologist must confess that we really went down a rabbit hole, opened a big old can of worms; it's a real kettle of fish.
Whenever one follows the white rabbit, things are bound to get weird and the only proper thing to do with an open can of worms is to go Trout Fishing in America, resulting in a full kettle. We have really woven a tangled web, working In Watermelon Sugar to create the sweetest of Gordian knots, so let's get to work on untying it.1
For starters we have a recipe for watermelon agua fresca that conveys the very essence of ultra-ripe watermelon. Try it once and you will be back for more. It's a perfect NA summer drink for the whole family, but it also serves as a jumping off point for countless summer cocktails.
Contained within that one recipe are directions for a big batch of agua fresca, a richer version to serve as a cocktail base and watermelon ice cubes that can chill a cocktail or be used to make the real subject of this post, a Frozen Watermelon Margarita. It sounds a tad convoluted but it's easy and tasty as long as you get a very ripe melon. In fact, this is the perfect use for overripe melons. Not only do they give the sweetest, most flavorful juice, melons that taste great but have an unpleasant texture that may preclude them from being eaten result in fab agua fresca.
Once the agua fresca is made, a cool cocktail is just a couple of ounces of your favorite Rum, Tequila or Vodka away. Chill it with watermelon ice cubes and the opposite of dilution will occur and the cocktail will become fruitier as they melt.
To make our Watermelon Rosé Spritzer and Watermelon Cooler, the rich agua fresca (no or very little water added) is recommended. Wine spritzers, being a simple combo of wine and soda, are low in alcohol, light and refreshing but are open to criticism for coming off as a bit diluted. We solve this issue by supporting the watermelon and red berry character inherent in Clark & Sheffield Rosé with a slug of rich agua fresca. Our Watermelon Cooler, a more potent highball made with our own crisp, clean Clark & Sheffield Vodka, is also beyond refreshing on a hot summer day.
However, extreme heat may require extreme measures and that is the very reason that this must be the summer of Good frozen cocktails. It's time to pull out the blender for a quintessential poolside sipper, a Watermelon Margarita. Many recipes will call for freezing cubes of watermelon, and that works fine, but our recipe utilizes ice cubes made from rich agua fresca for a more intense watermelon flavor and ice cold slushy texture. We use Clark & Sheffield Tequila Blanco to add layers of agave based nuance and the result is fun and fruity yet unfolds with a subtlety that Tequila lovers will surely appreciate.
Crank up the blender and don't forget to stay hydrated.
Cheers!
One final word for Brautigan fans – Mayonnaise2.
Watermelon Agua Fresca / Watermelon Ice Cubes
INGREDIENTS:
8 cups cubed seedless watermelon

¼ cup lime juice, freshly squeezed

¼ cup sugar

6 cups water
INSTRUCTIONS:
Add 4 cups of watermelon cubes to a blender with half of the lime juice and sugar. Blend until smooth. Add a little water if necessary.

Strain through a fine mesh sieve, discard solids. If making watermelon ice cubes, pour into ice cube trays and transfer to freezer. If not, set aside.

To continue with agua fresca, repeat with remaining watermelon, lime juice and sugar. Add to first batch. Stop here if a rich base for cocktails is desired.

To complete agua fresca, stir in water. If ice cubes were made with first batch, use only 3 cups of water.

Refrigerate until cold. Serve over ice with a lime wheel garnish.
Watermelon Cooler
INGREDIENTS:
2 oz.

Clark & Sheffield Vodka

½ oz. lime juice, freshly squeezed

4 oz. rich agua fresca, chilled

Splash of chilled

club soda

to top

Garnish: 3 thin slices of lime, sprig of mint
SIMPLE STEPS:
Add Vodka, lime juice and agua fresca to a highball glass or poco grande filled with crushed ice. Give it a quick stir.

Slip in lime wheels.

Top with soda.

Add more ice to mound above the rim of the glass and garnish with mint.
Note: You can employ some watermelon ice cubes instead of crushed ice if you like.
Watermelon Rosé Spritzer
INGREDIENTS:
SIMPLE STEPS:
Add Rosé and agua fresca to an ice filled highball or balloon wine glass.

Top with soda.

Garnish with strawberry and lime.
Frozen Watermelon Margarita
INGREDIENTS:
½ oz.

Cointreau

1 oz. lime juice, freshly squeezed

1 cup watermelon ice cubes

Garnish:

coarse salt

for rim

Garnish: lime wheel
SIMPLE STEPS:
Rub the rim of a chilled Margarita glass with a lime wedge. Roll the outer lip in salt and set aside.




Add the Tequila, Cointreau, lime juice and watermelon ice cubes to a blender. Blend until smooth.

Pour into prepared Margarita glass.

Garnish with a lime wheel or small wedge of watermelon.
Footnotes:
Although separated by a century, Richard Brautigan and Lewis Carroll seem to be cut from the same literary cloth, even if it is a hatter's mercury tainted felt.

R.B. claimed at one point that he aspired to write a novel that ended with the word mayonnaise.