Main Content Starts Here
Confessions of a Mixologist: Immortal 8 and Golden Sichuan Tiger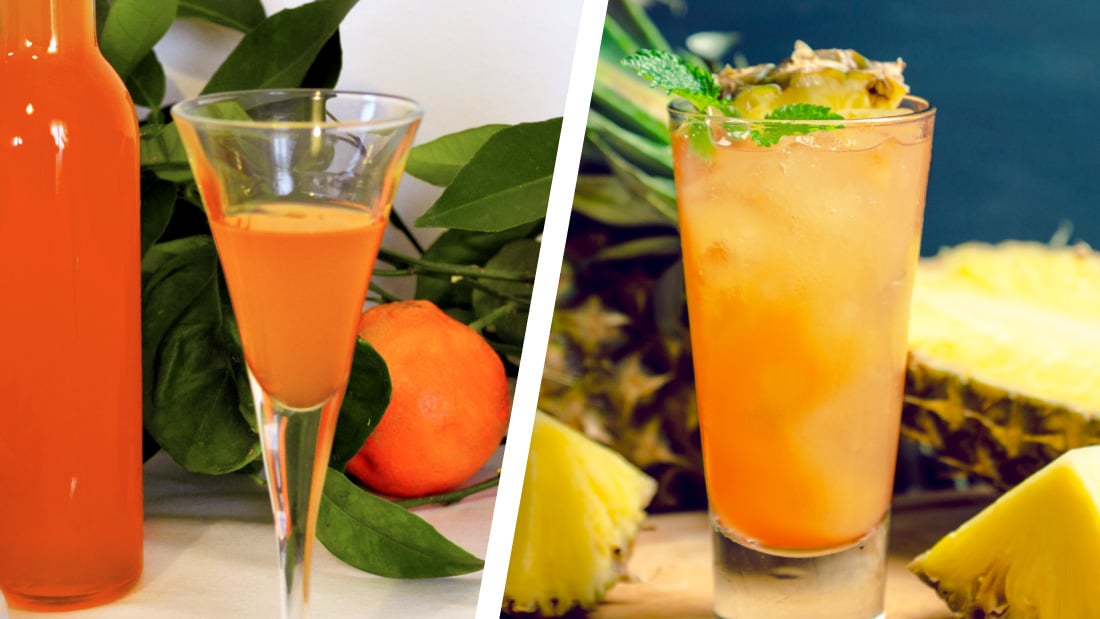 As for Li Bai, give him a jugful,
He will write one hundred poems.
He drowses in a wine shop
On a city street in Chang-an1.
- From Eight Immortals of the Wine Cup – Du Fu
On Tuesday, February 1, 2022, a billion and half people around the world, including millions of Asian Americans, will greet the new moon with feasting, family, and friends. With zero illumination, the new moon may go unnoticed by many but according to the Chinese Lunar Calendar it marks the beginning of a new year. In this case, the Year of the Tiger, and all hope it will bring good luck, prosperity, and longevity.
That makes Monday New Year's Eve2, when families will gather to kick off the celebrations with a feast of reunion, filled with traditional food and drink. The party continues for another two weeks concluding, this year, on February 15 with lantern festivals, dumplings, and fireworks. On the 16th the first full moon of the new year will rise.
Chinese New Year is full of symbolism and ritual. So full, in fact, that it would be folly to even attempt an overview here, but this mixologist must confess to creating two drinks loaded with Chinese tradition for both new year celebrations and the impending Winter Olympics in Beijing.
The first is a shooter called the Immortal 8, after the Eight Immortals of Taoist tradition. More particularly, it refers to the poetic parody featuring the Tang Dynasty's most famous drunken poets. That's right, one of oldest drinking cultures on the planet had its own Hemingway, Joyce and Thomas, of course. The stanza above was written by Du Fu as part of his poem,Eight Immortals of the Wine Cup. It features Du Fu's friend and drinking companion, Li Bai, the most prolific and famous of China's ancient, pickled poets. Such a drunken romantic was Li Bai that legend says he drowned while trying to touch the light of the moon. His mistake; he was in a boat and gazing at the moon's reflection in the water.
The Immortal 8 is an infusion based on Baijiu3, China's hugely popular grain spirit. A total of eight ingredients were used for good luck, including oranges, a symbol of good fortune and prosperity. Combined with a thoughtful selection of popular Sichuan ingredients, the result is a sweet and spicy profile familiar to lovers of Sichuan cuisine. Believe us when we say that this Year of the Tiger shooter has a serious bite from chili, ginger, cinnamon and the signature numbing electricity of Sichuan peppercorn. Toast your dining companions throughout your NYE dinner with shots of this exhilaratingly intense little number (8), it's perfect with Sichuan dishes.
Next, we took Immortal 8 and built a highball full of fruity and spicy flavors that we call the Golden Sichuan Tiger. Feel free to drink this throughout the new year celebrations, especially while watching the Beijing Winter Olympics.
The Olympic games are no stranger to signature drinks dating back to the earliest days when victors were given Calabria's Cirò wine. The Olympic cocktail that is on most minds these days, however, is the Lonkero or Finnish Long Drink. Invented for the 1952 summer games in Helsinki, Long Drink is a simple highball of gin and grapefruit soda that everyone in the U.S. is suddenly enamored with 70 years after its introduction. Finland has, of course, been knocking back these delicious ready-to-drink cocktails all along.
Anyway, we thought these Olympic games needed a long drink of their own. Again, we loaded it up with symbolism. The Immortal 8 is joined by 7 other ingredients for a double-eight cocktail. We slip in pineapple and orange juice for luck and prosperity, and garnish with a long orange peel, winding around the glass like a spiraling orange tiger tail. Both the "long" drink itself and the long peel symbolize longevity. The result is a sweet, spicy, tiki-esque cocktail with the reverberating buzz of Sichuan peppercorn, intended to mimic the thrill of Olympic victory on your very own tongue.
Ganbei, Bin-landia!
Immortal 8
INGREDIENTS:
750 ml Baijiu (we like Ming River Sichuan Baijiu)
8 oz. orange blossom honey
peel from 8 large oranges, no pith
2" knob fresh ginger, sliced
3 tbsp. Sichuan peppercorns
2 star anise
1 cinnamon stick
1 red Sichuan or Thai bird chili, split in half
SIMPLE STEPS:
Add all ingredients to a clean jar with a tight-fitting lid.
Shake vigorously to dissolve honey.
Macerate for at least three days in a cool dark place. Shake occasionally.
Strain through fine mesh and serve well-chilled shots with your Lunar New Year feast (especially Sichuan), along with or in place of plain Baijiu to toast your dining companions.
Golden Sichuan Tiger
INGREDIENTS:
SIMPLE STEPS:
Wind orange peel around the inside of a highball glass to create a barber pole or "horse neck" effect. Fill glass with crushed ice.
Add Immortal 8, pineapple juice, orange juice, lime juice and orgeat to a shaker with ice. Shake briefly to combine. Add soda. Strain into prepared glass.
Garnish with a sprig of cilantro.
We are claiming Chang-an as an unofficial sister city for Chicago. Time for another Binny's to open! JK.
Déjà vu? No, just one of the many benefits of multicultural society. One can find good reasons to party all year round.
Baijiu is traditionally consumed in shots to toast fellow diners throughout business and celebratory meals, among other occasions. Immortal 8 is a souped-up version designed to fill this role on NYE.