Main Content Starts Here
Confessions of a Mixologist: Frozen Strawberry Daiquiri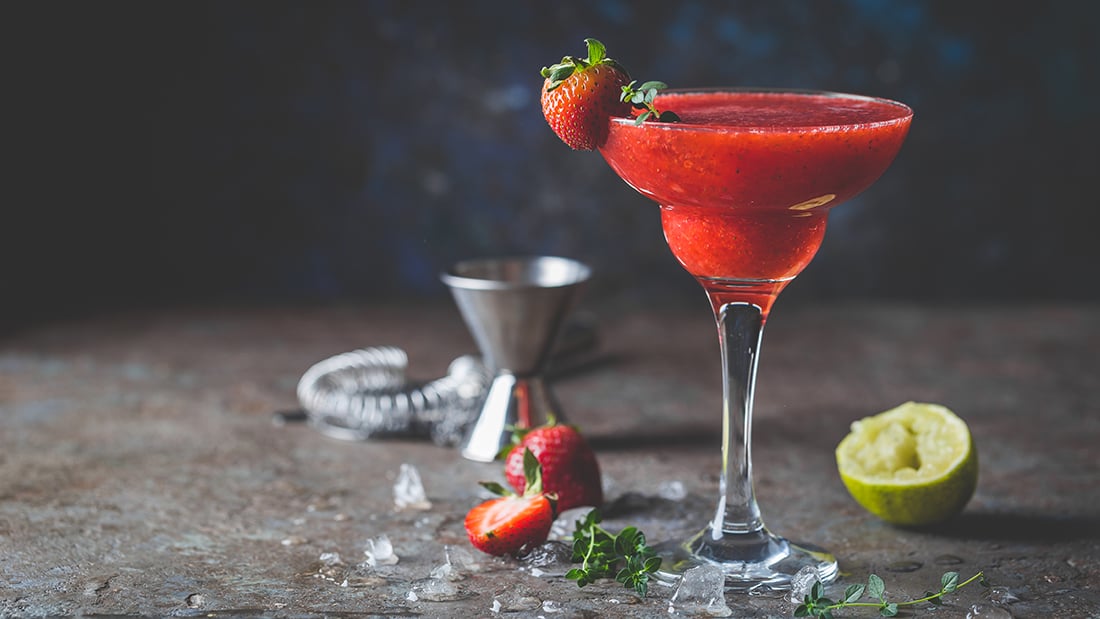 Are you ready for the heat of summer in Illinois? Whether it's welcome or not, it's coming and we must be prepared. To that end, this mixologist is declaring the summer of 2022 the summer of GOOD frozen cocktails.
We emphasize good because many may not believe that such a creature exists. The frozen cocktail has been dragged through the mud, dumbed down, sweetened to within an inch of its life, made with cheap ingredients or less than stellar mixes and generally put through the wringer – aka the dreaded slushy machine. It doesn't have to be this way, my friends. Fresh fruit, good liquor, freshly squeezed juices and a blender will turn your head around. If you have never made frozen drinks this way, prepare to be converted. To paraphrase Warren Zevon - it'll put you through some changes, sort of like a Waring blender.
The root of today's recipe is, of course, the Daiquiri, a perfect and perfectly simple three ingredient cocktail of rum, lime juice and sugar. It dates back 120 some odd years to a Cuban mining town of the same name, not some tourist resort. In fact, the whole history of the Daiquiri is a bit rough around the edges for a drink of such elegant sophistication, being rooted in Naval Grog traditions. But this basic template is also the jumping off point for endless delicious variations, including much of the Tiki canon. So, let's kick this party off with the Frozen Strawberry Daquiri.
The trick, as with all cocktails, is maintaining balance. Not easy but not impossible either. Given the variable sweetness of seasonal fruit, tasting is important to dial in in the sweet-sour balance. Our recipe is the result of a leaky air conditioner and the late spring heatwave of a few weeks back. This mixologist was forced to jump straight into frozen drinks just to keep cool. We honed our proportions while sweating it out, but if your strawberries are more or less ripe you may need to adjust the simple syrup slightly. If you aren't quite that persnickety, this recipe is tantamount to perfect. All one needs is a fine White Rum, we highly recommend the rich and complex El Dorado 3-year-old Cask Aged White Rum, some ripe and fragrant strawberries, freshly squeezed lime juice and simple syrup (granulated sugar works well too). Oh, and a scoop of ice. If you want to add a little herbaceous complexity, we also endorse the use of Rhum Agricole. It will add a whole new dimension to your experience. That's it, that's all that stands between you and the ultimate poolside refresher.
You may not be gambling in Havana anytime soon, but you can dip your toes into the backyard kiddie pool, have a Strawberry Daiquiri and dream. It might be best. We can deliver on a great cocktail, but lawyers, guns and money aren't included.
Here's to you, kiddie pool nation! Cheers!
Frozen Strawberry Daiquiris
INGREDIENTS:
2 oz. White Rum (El Dorado)
1 oz. lime juice, freshly squeezed
1 oz. rich simple syrup (2:1)
6 large strawberries, hulled
1 cup ice
Garnish: Strawberry
SIMPLE STEPS:
Add rum, lime juice, simple syrup, strawberries and ice to a blender.
Blend until smooth.
Pour into a margarita or hurricane glass.
Garnish with a strawberry.