Main Content Starts Here
Confessions of a Mixologist: Fever Tree Ginger Ale & Jack Daniel's Rye Highball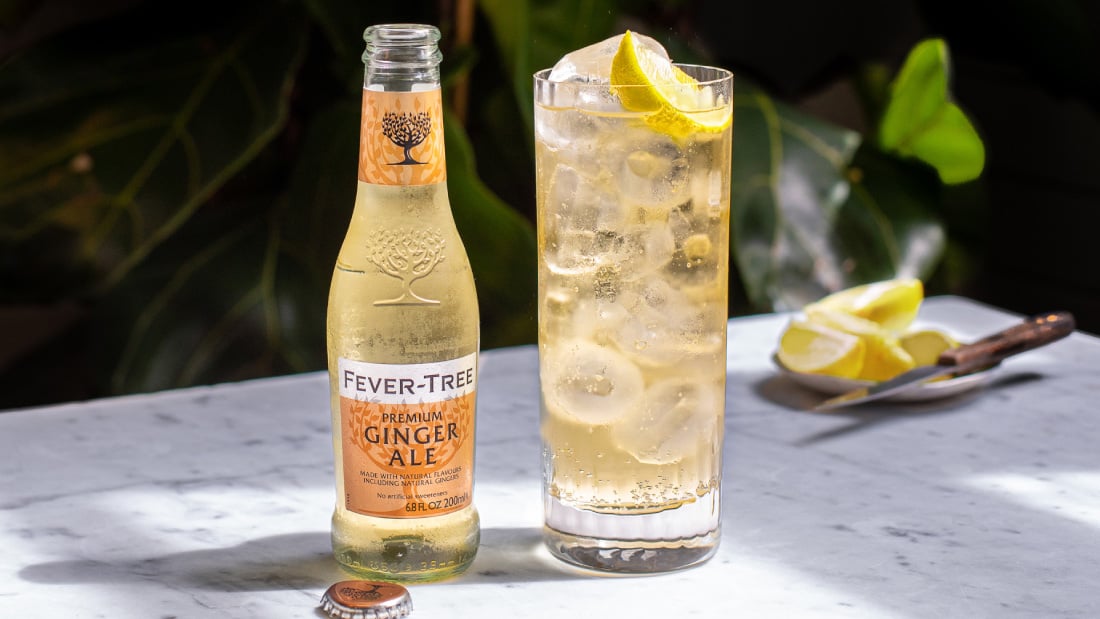 Fever Tree Ginger Ale & Jack Daniel's Rye Highball
aka "Ballin' the Jack"
This is, admittedly, an oddly named cocktail but as with so many things, once the background is revealed everything comes into focus.
Let's start with a very brief history of the highball cocktail, a summer refresher beyond compare that is all about speed, in name and practice.
Our journey begins at the crossing of old-time railroad slang, early twentieth century popular music and cocktail culture and ends with the ideal highball to serve dear old dad on Father's Day.
According to legend, the highball name for a simple, tall, iced cocktail harkens back to the time of glamorous steam powered rail travel. When an engine built up a full head of steam, the high pressure that provides power to the driving wheels was measured by a ball in a narrow glass tube. When the pressure was high, the ball was high in the tube and the train was running at top speed - highballing. Apparently, the connection was made between that narrow glass tube and the tall, elegant glasses that were used for cocktails in swanky dinning cars. So, there you have it, the measure of power provided by steam lent its name to a powerful measure of liquor in a tall cool drink.
The story doesn't end there. Another related bit of hip railroad slang made its way into popular culture through a dance craze, fueled by a song called "Ballin' the Jack" that was performed by everyone from Jelly Roll Morton to Danny Kaye to Judy Garland to Dean Martin.
In railroading parlance an engine was sometimes known as a "jack", a reference to its pulling power and the power of a jack ass. Put that notion together with highballing and out comes a phrase that describes an engineer pushing the engine at full throttle (highballing) or "Ballin' the Jack". The song and dance "Ballin' the Jack" is the bridge that made this obscure railroad term a common phrase denoting speed, maximum effort and going full out.
That brings us to the Jack Daniel's fueled highball we are calling "Ballin' the Jack" because it doesn't hold back as it flies down the rails toward refreshment. The secret to this ultimate Father's Day cocktail is Fever Tree's crisp, aromatic but not too sweet Ginger Ale blended with the fruity, spicy notes of Jack Daniel's Tennessee Rye and offset by a little citrusy zing. That's it, a few simple ingredients that will satisfy the whiskey lover in your dad and the need for a tall, cool drink on a hot summer's day at the same time.
So, this Father's Day put dad in a comfortable chair and mix up some of these lightning-fast highballs and have a good old-fashioned conversation. You may find yourself listening to a story full of the kind of profound wisdom only dads possess. Or you may just find yourself in a quiet moment, sharing a drink and listening to the whistle of the evening train (maybe it's the Old No. 7 highballing through town). Either way, this cocktail will have dad "Ballin' the Jack" back to Tennessee.
Ballin' the Jack
INGREDIENTS:
SIMPLE STEPS:
Fill a 12 oz. highball glass with clear ice cubes.
Add Rye, stir to chill. Top with Ginger Ale and give one gentle stir.
Garnish with citrus wedge.