Main Content Starts Here
Confessions of a Mixologist: Disaronno Florida Squeeze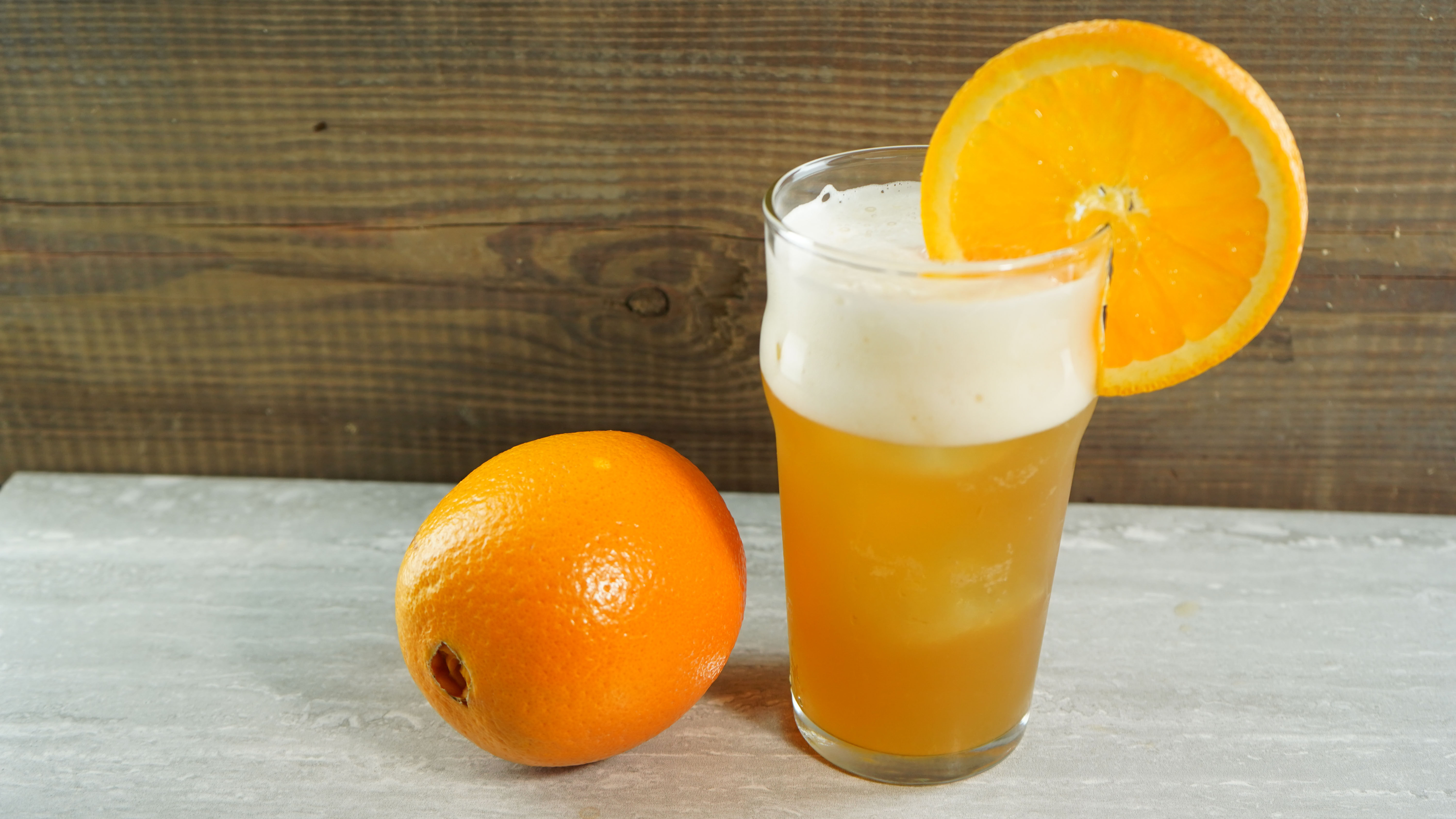 Every once in a while, things just fall into place. This was precisely the case for this week's cocktail recipe. Let us explain.
This mixologist must confess to obsessing over freshly squeezed orange juice of late (a yearly occurrence). As noted in last week's Orange Blossom cocktail post, Valencia juice oranges are in season, and squeezing out the sweetest juice of the year. With Easter and warmer weather quickly approaching, bringing the promise of leisurely brunches on sunny Sunday mornings, we knew we had to deliver a tasty orange informed cocktail recipe. But which one?
We have also been playing around with almondy liqueurs, as evidenced by our recent post on the creamy, chocolate, and almond flavored Pink Squirrel. So, it should come as no surprise that our first thought was an Amaretto Stone Sour, a very tasty riff on an Amaretto Sour that adds orange juice to the equation, of course. It's a delightful cocktail to drink at brunch so the story should have ended there, but our mind began to wander over the landscape of citrusy cocktails that had their heyday in the 1970s. Maybe we should do a Harvey Wallbanger or a Tequila Sunrise. Both are worthy cocktails that are rarely thought of amid the current cocktail climate. We were beginning to overthink it. But then we stumbled across the recipe we were looking for, without even knowing we were looking for it. The others would have to wait.
It was hiding in plain sight on the Disorranno website and featured the missing piece to the puzzle – beer. In particular, Hefe Weissbier, the famous Bavarian style of hazy wheat beer featuring a delicious sediment of yeast that brings estery aromas of banana and clove to the party. Given the spectacular price Binny's has on Weihenstephaner, surely the archetype of the style from the world's oldest brewery (dating to a mindboggling 1040), how could we resist?
Hefe Weiss is already a very brunch friendly beer with its signature crisp, grainy, wheat edge playing off sweet fruit and spice notes. It is, in fact, regularly consumed before noon in Bavaria, particularly with Weisswurst. So why alter what is already an excellent brunch beverage? The same reason we have little compunction when it comes to mixing up a Mimosa, it tastes good. It's also a very citrus friendly beer that is often served with a lemon or orange wheel for counterpoint, so orange juice is a natural fit. Add in Disaronno's complex almondy sweetness and you have a perfect brunch cocktail for beer and Mimosa drinkers alike.
Disaronno Originale, as it has been called since Amaretto was removed entirely from its name about twenty years ago, proclaims its status as the original Amaretto by eschewing the word itself, as if to say: We have no need to get dirty wrestling with competitors, Disaronno is the very definition of the category. The bottle proclaims "since 1525" and Amaretto from Saronno, Italy does, in fact, have a five hundred year history, but the Disaronno brand as we know it dates back a mere 120 years or so. While some brands use actual almonds, both bitter and sweet, Disaronno relies on the closely related apricot kernel to derive its signature almondy aromatics and flavors. As with many liqueurs, the recipe is enhanced by a host of secret ingredients including both fruits and herbs that add to the gentle caressing sweetness of this cocktail and give it a perfect profile for Easter brunch or really any brunch.
One note: Hefe Weiss is meant to be cloudy with yeast. The entire bottle is usually poured vigorously into a tall glass all at once to stir up the yeast that has settled to the bottom and create a big creamy head. Since you are only using a couple of ounces for each drink, be sure to roll the unopened bottle around gently on a flat surface. This will ensure that even your first pour will be hazy with aromatic yeast (this is a good practice in any case).
Try it with one of our many excellent brunch recipes provided by Binny's Demo Kitchen or your own favorite brunch dish. An incredible flexibility when it comes to food pairings makes the Florida Squeeze sure to please. Thanks for the recipe, Disaronno!
Here's to the people who brunch! Cheers!


Disaronno Florida Squeeze
INGREDIENTS:
1½ oz. Disaronno
1 oz. orange juice, freshly squeezed
Garnish: orange wheel
SIMPLE STEPS:
Add Disaronno and orange juice to an ice filled shaker. Shake until well chilled.
Strain into an ice filled glass.
Top with beer and garnish with an orange wheel.