Main Content Starts Here
Confessions of a Mixologist: Cranberry Ginger Snap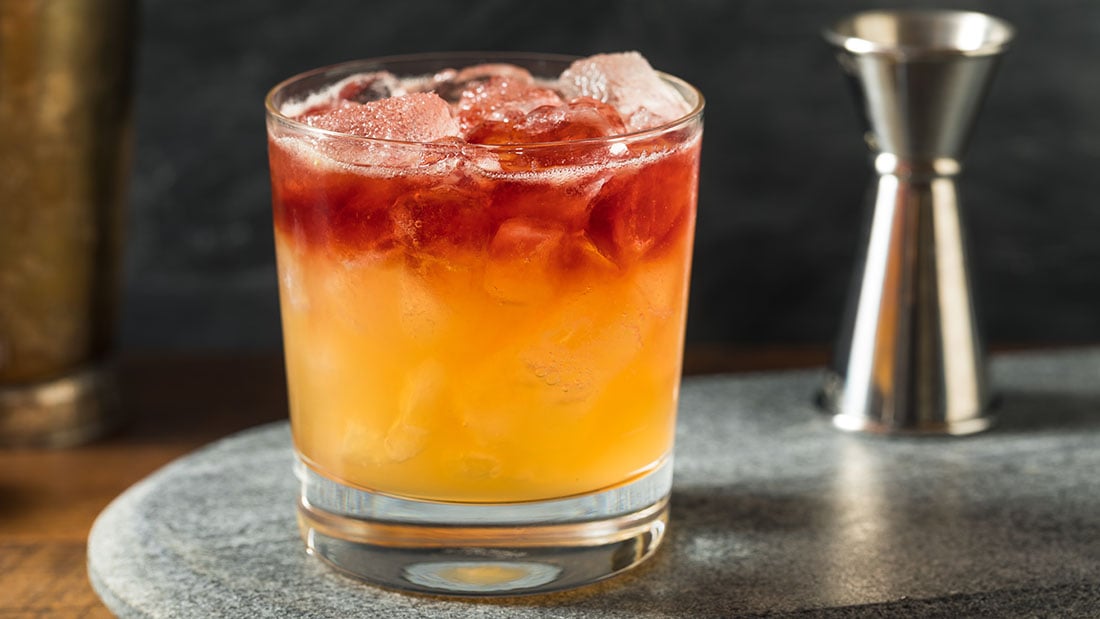 Cranberry Ginger Snap sounds like a delightful holiday cookie or maybe a cocktail based on a delightful holiday cookie; but really, it's neither. While this mixologist confesses to taking inspiration from pleasing pastry profiles1, the starting point for this riff is a long line of riffs2 on the Whiskey Sour. The first of which was the Chicago Sour.
According to cocktail lore, Chicago bartenders (perhaps one in particular) began adding what they called a claret snap to the standard Whiskey Sour way back in the 1880s. What was this mysterious claret snap? It was a layer of red wine floating atop the pre-shaken cocktail, adding a distinct visual appeal and a good deal of complexity to an already delicious drink.
The Chicago Sour turned out to have some serious legs and quickly made the rounds, becoming popular around the country under pseudonyms such as Continental Sour, Brunswick Sour, Southern Sour, Claret Snap and most famously, New York Sour. That's right, New York stripped the ball right out of Chicago's hands and ran all the way to a bibulous touchdown.
Well, we may be 130-some-odd years late, but we are bringing it on home for the holidays. Chicago, here's your cocktail, back where it belongs and, in the tradition of this particular drink, it's checking in under an assumed name. The Cranberry Ginger Snap is named in homage to the long-lost Chicago bartenders3 who first conceived of adding a claret snap to the Whiskey Sour.
So, what makes the Cranberry Ginger Snap a festive holiday all-star? First, we cut back a little on the simple syrup to make room for some gingery spice, provided by Canton Ginger Liqueur. We then swapped out the claret for cranberry wine (we used Lynfred for a little extra local flair), added a few frozen cranberries to the garnish and really that's it. That's all it took to bring an excellent fall/winter cocktail into the realm of holiday cocktail proper. This is so perfect for Thanksgiving that you may find yourself drinking it all the way through the meal. Just be mindful of your other choices, you don't want to miss that killer RRV Pinot Uncle Jim pulled out of the cellar.
We also took some time to consider the whiskey. We chose Wild Turkey 101 Bourbon for obvious reasons but also for its spicy high rye profile. We also found Woody Creek Rye, with its 100% rye mash bill, to be a wonderful choice for its fantastic baking spice notes. Either way those brown spice nuances really complete the holiday feel.


The prodigal cocktail has returned, Chicago! Time to roast the fatted turkey.
Happy Thanksgiving from everyone here at Binny's Beverage Depot!
CRANBERRY GINGER SNAP
INGREDIENTS:
SIMPLE STEPS:
Add the

Whiskey

, lemon juice, simple

syrup,

and

Canton

to a shaker with ice and shake

until well-chilled.

Strain into an old fashioned glass over fresh ice.

Slowly pour the Cranberry Wine over the back of a bar spoon so that the wine floats on top of the drink.

Garnish with an orange peel and a few frozen cranberries.
Footnotes
Exhibit #1 - Kentucky Kringle

One of our favorites is the

New York Port Sour

, featured on

Barrelto Bottle "Quarantinis Vol. 6". We use an Aged Tawny

for the float, making it a wonderful fall/winter drink for post prandial enjoyment. If you smoke cigars

a better cocktail accompaniment has yet to be devised.

We also raise a glass to Chicago's contemporary bartenders who are out there every day doing the hard work of slaking our collective thirst. We give thanks to all the service industry workers and our own wonderful employees for their intrepid and professional perseverance in the face of great difficulties. Cheers!