Main Content Starts Here
Binny's Home Bartender: Brown Derby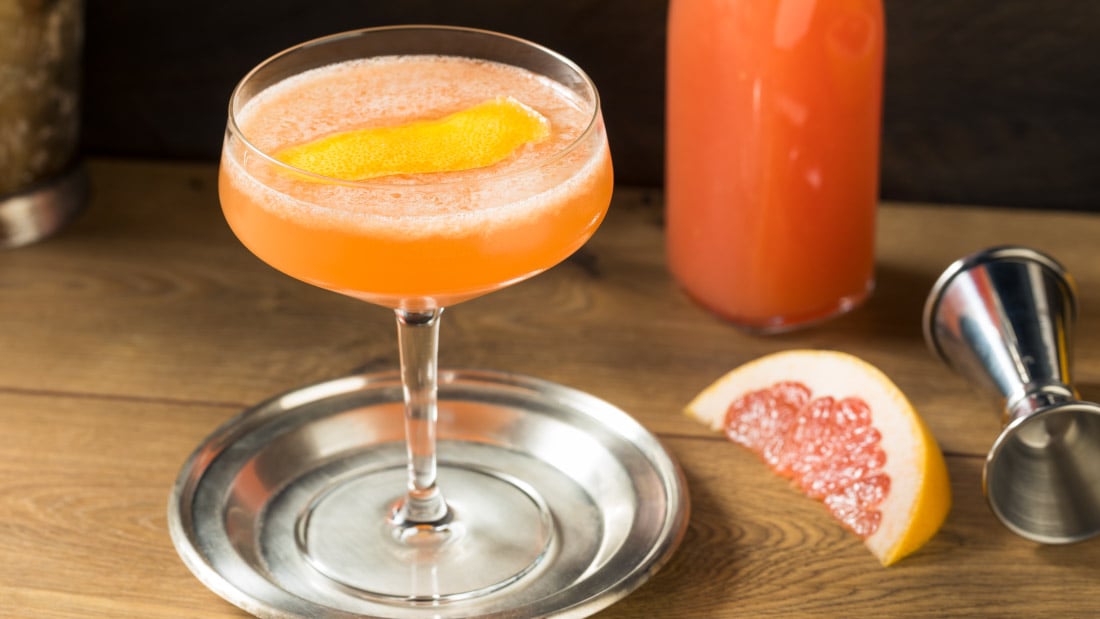 (skip to recipe)

How does one bridge the cocktail gap between the end of summer and the beginning of autumn? Any cocktail up to the task would need to have the deep flavors of a brown spirit to herald the arrival of cool weather and a refreshing cut of acidity to deal with the possibility of lingering heat. It would need to balance these competing notions, pirouetting on the head of a pin to create a heavenly nectar. How many ingredients can dance on the head of that pin? Three is the magic number, leaving plenty of room for angels to stage a modern revival of Swan Lake or something like that.
Taking inspiration from the intersection of Bourbon Heritage Month and the Bears opening their season in Los Angeles, we landed on the Brown Derby. It is Bourbon forward, refreshing and L.A. to the core.
This cocktail takes its name from the original Brown Derby restaurant, the famous but now defunct, hat-shaped L.A. diner. Strangely, it was not dubbed the Brown Derby at the diner itself but at the nearby Vendome Club in the 1930s, although the grapefruit and Bourbon combo was already de rigueur in certain circles. Both spots were hangouts for the stars and helped define the Golden Age of Hollywood. Incidentally, the Brown Derby was the likely birthplace of the boozeless Shirley Temple cocktail and where Bob Cobb first threw together his namesake salad.
The balance here is truly remarkable; rich, spicy oak and vanilla scented Bourbon is at the fore but in perfect harmony with the acidic cut and peppery, bitter edge of grapefruit, all rounded out and made velvety with honey syrup.
Drinking Brown Derbys on game day may seem like a friendly gesture toward L.A. and maybe it is. Afterall, Chicago fans are a friendly bunch unlike, say, Gritty Phillie Phanatics. (City chosen totally at random. Seriously, we're sure you are genuinely nice when opposing fans Swoop in Where Eagles Dare.) On the contrary, it's the perfect way for Bourbon loving Chicagoans to imbibe the power of the opposing team. Drink up!
Hmm...maybe rather than angels preforming Swan Lake, it should be the '85 Bears doing the Superbowl Shuffle on the head of a pin, while getting positively addlepated on Brown Derbys, of course.
Note: To make a cup of honey syrup just combine 3/4 cup honey with 1/4 cup hot water. Mix thoroughly, store in the fridge.
Brown Derby
INGREDIENTS:
SIMPLE STEPS:
Add the Bourbon, grapefruit juice and honey syrup to a shaker with ice and shake until well-chilled.
Strain into a cocktail glass.
Express the oil from a grapefruit twist over the cocktail and drop into drink to garnish.