Main Content Starts Here
Confessions of a Mixologist: Bourbon Peach Smash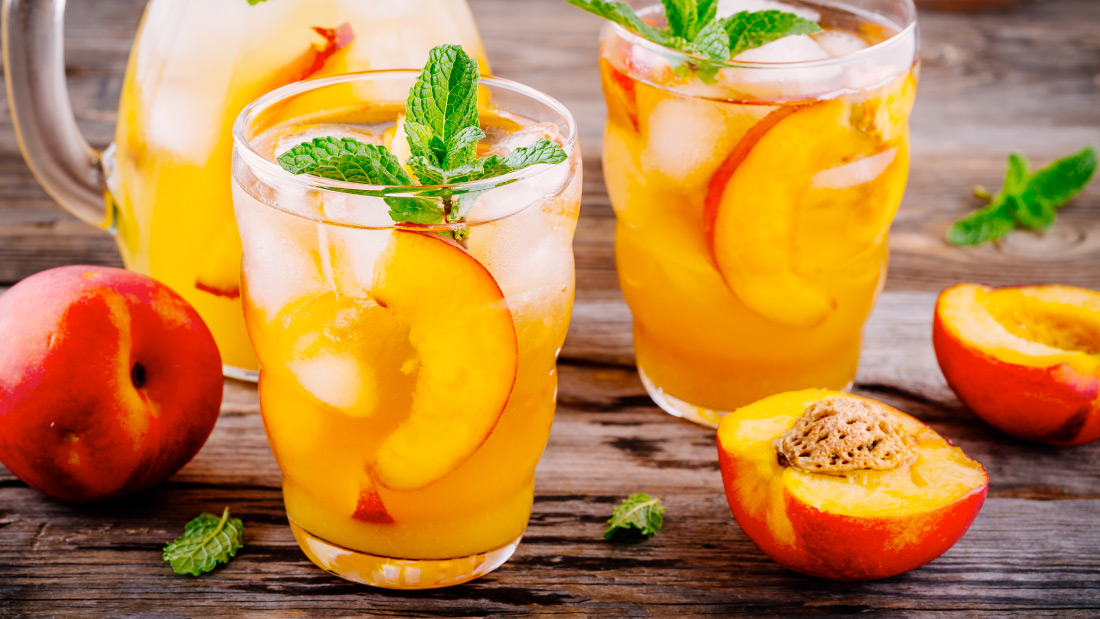 AKA
"Peaches & Herb" or "Shake Your Groove Thing"
It is difficult to write, but we have a very special confession to make this week. First, we confess; we are excited, as we are every year, that fresh Michigan Red Haven peaches are making their way to Chicago area farmer's markets. And although we have displayed an unwavering loyalty to these juicy delights, we confess, we do covet other peaches and we have had our dalliances over the years.
Finally, this year, after years of longing, the object of our desire - a peck of Calhoun County peaches, straight from the renowned Ringhausen Orchard appeared before us in all their juicy glory. So, now the real confession - We cheated on our beloved Red Havens and loved every minute of it. So, there it is in black and white, we did it and to make matters worse we are guessing some of you could have boiled that whole confession down to a brief string of well-chosen emoji.
Why are Calhoun County peaches so special? Simple put they are undoubtedly the biggest, juiciest (eat the same way you do an absolutely drenched Italian beef sandwich or have a change of shirt available), sweetest peaches that you are ever likely to set tooth to. The flesh is firm and dense but supple and yielding. The balance, spectacular.
Calhoun County orchardists speak of growing peaches in this tiny fishhook shaped region, sandwiched between the mighty Mississippi and Illinois Rivers, in the same way a Burgundian might speak of their vineyards. You will hear talk of meso and micro-climates, high limestone bluffs, hillside aspects with clay soils, hot days, and the cooling river influence at night. Do peaches display terroir? Most emphatically, yes!
Calhoun County peaches are so good, in fact, it almost seems a pity to do anything but eat them out of hand, but we took a cue from a recent episode of "Barrel to Bottle, The Binny's Podcast" that featured a few riffs on the Smash and muddled our way through our own version. Once we shook up a few cocktails, a sort of Bourbon Peach Smash mania ensued, as they proved to be irresistibly delicious (sorry pie, cobbler, and ice cream, you'll have to wait). We kept things Illinois centric by using the most excellent Whiskey Acres Bourbon and hyper-local mint (backyard terroir!) and the results were stunning.
Feel free to be promiscuous in your use of herbs. While mint is standard and delicious, we also found success with rosemary, lavender, basil, thyme, tarragon... That is, of course, why we call this summer refresher Peaches and Herb after the 70's vocal duo of the same name.
Some may remember that while punk rock was raging in New York, London, and L.A., Peaches and Herb had a huge disco hit with "Shake Your Groove Thing". There probably isn't a lot of overlap between those who do and the aforementioned emoji translators but we are all about inclusivity. Okay, Boomer?
That leaves just one question – Should you, in fact, shake your groove thing while shaking this cocktail, even if you are listening to the Ramones? Answer: "Yeah, Yeah!"
Oh, and don't worry Red Haven, baby, you know we always come home eventually.
Bourbon Peach Smash
INGREDIENTS:
SIMPLE STEPS:
Add simple syrup, lemon juice, mint, and peaches to a cocktail shaker, muddle well.
Add Bourbon, fill with ice, shake, and strain into an ice filled double old-fashioned glass.
Top with ginger beer, give a quick stir and garnish with mint sprig and a peach slice.