Main Content Starts Here
Binny's Home Bartender: Black Velvet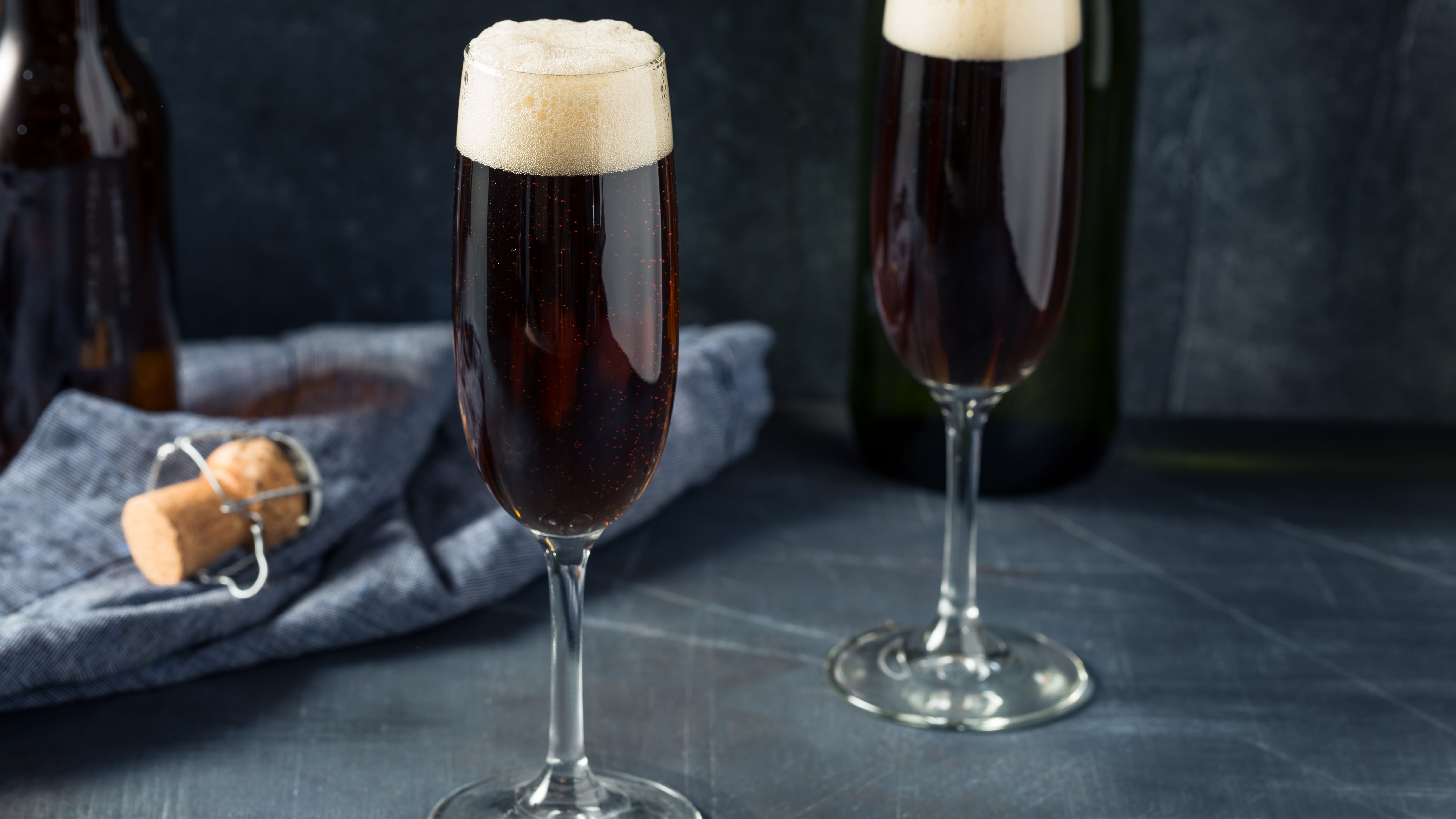 What a year it is for St. Patrick's Day revelry! The day itself has yet to arrive but we have already had a weekend full of celebrations with the dyeing of the Chicago River and accompanying parade, not to mention the legendary South Side Irish Parade. March 17 falling on Friday this year means an extended party lasting through the coming weekend. So, we thought we would keep the party going with a truly celebratory cocktail, the Black Velvet.
While this delightful two ingredient cocktail was born of mourning, as lore would have it, it is now an undeniably joyous celebration of life, and the "good life" at that. It is certainly more Irish wake than English mourning, at the very least.
It is said that Irish Stout and Champagne first came together at London's Brook's Club as a cocktail to express sorrow at the death of Prince Albert in 1861, although it seems similar concoctions preceded it. It was the fashion of the day for people to wear black armbands to signify the passing of a beloved figure and, as the story goes, even joyous Champagne should be adorned with its own black band of Stout to honor Prince Albert. Thirty years later that tradition remained strong enough that London was a sea of black arm bands when Sir Arthur Conan Doyle tried to kill off his most famous character Sherlock Holmes. We are guessing a few Black Velvets were knocked back on that occasion too.
While this mixologist must confess that we certainly have plenty to mourn in 2023, we also have plenty to celebrate, so let's drink Black Velvets for their intended purpose; to lift our spirits in troubled times and look forward to better days to come.
The Black Velvet is a simple 1 to 1 ratio of Champagne and Guinness. They can both be added to the glass and given a gentle stir, or the Guinness can be floated atop the Champagne by gently pouring the beer over the back of a spoon. Guinness has a low specific gravity allowing it to float on many other liquids resulting in a large body of two ingredient drinks like the Black and Tan (Guinness over Bass Ale, definitely not an Irish drink!), The Half and Half (Guiness over Harp) or the variation on the Snakebite that is sometimes known as the Poor Man's Black Velvet (Guinness over Hard Cider), to name a few.
The traditional choice is Guinness Extra Stout (highly recommended) but if you want to try the float, you may find it easier to accomplish with Guinness Draught. We also recommend a true Champagne, like Piper Heidsieck Brut but if your budget is tight try a great value in sparkling wine like St Hilaire Brut Blanquette de Limoux or perhaps a Spanish Cava.
Even, or especially, if you have already had your debauched St. Patrick's Day weekend it's time to take a more sophisticated approach to celebration with this wonderfully weird combo. Happy St Patrick's Day, part two!
Sláinte!

Black Velvet
INGREDIENTS:
SIMPLE STEPS:
Add Champagne to a Champagne flute.
Gently pour Guinness over the back of a spoon to float. Stir gently if a uniform drink is desired.