Main Content Starts Here
Confessions of a Mixologist: Binny's Big Bowl of Champagne Punch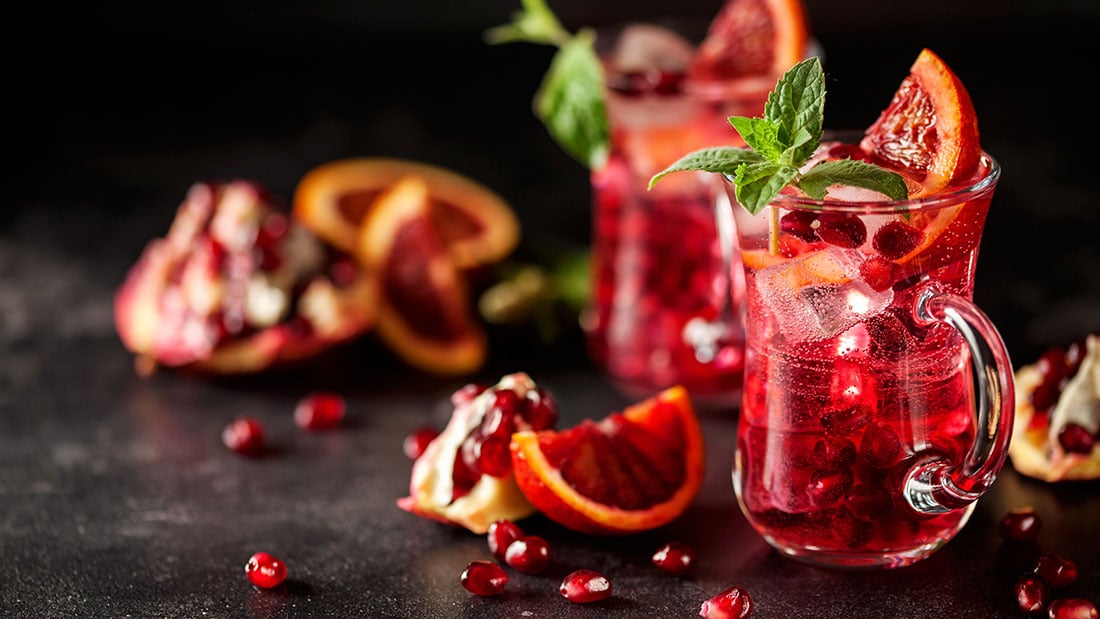 Punch, in some form, has been around for centuries, as evidenced by last week's recipe for a wickedly warming Wassail Bowl. Punch's long history has allowed for endless variations to arise, making it a diverse and many splendored thing that can be alcoholic or not, hot or cold, simple or complex1, but no matter the iteration it must always be festive.
Alcoholic punches are, invariably, purposefully potent potables designed for celebration and are therefore welcome at any gathering, party or special occasion where people have assembled to fête a person, place or thing. (This mixologist confesses to making this absurdly broad statement to encourage punch pounding anywhere two or more are gathered, including porches, patios, parlors, Punxsutawney...) To that end we have put together an original Champagne punch, fit for a New Year's Eve.
You will, of course, need a punch bowl, ladle and glasses. Silver or cut glass are nice options but punch has been mixed up in any number of inauspicious containers including horse buckets, trash cans and Bacchus only knows what. Your choice of punch bowl may say a lot about you, or not, but it is our opinion that if you are a punch artist aligned with the trash can school, there is no shame in that. Just be sure whatever you use is non-reactive and large enough to accommodate a decorative ice wreath and you're good.
Be aware punch has been both blamed and praised for many a celebration at which revelers have, shall we say, over indulged. After all, it is, by its nature, a large bowl of booze designed for self-service. The fact that the delightful addition of sugar and fruit can disguise punch's inherent strength makes it all the more likely that some innocent soul will go a ladle too far. So, have yourself a ball but please always practice safe ladling. Happy New Year, Binn-landia!
Peace, love and understanding,
This Mixologist
Fruited Ice Wreath
INGREDIENTS:
pomegranate arils
4 large strawberries, hulled and sliced
1 blood orange, thinly sliced
½ small pineapple, skin and core removed, sliced
12 mint leaves
water
DIRECTIONS:
In an 8-9" ring mold or Bundt cake pan, layer fruits and mint in a decorative and artful manner.
Make a fifty-fifty solution of pineapple juice and water, the amount needed will vary depending on mold size. Gently pour into pan, trying not to disturb the fruit too much. Do not fill to the top, leave at least ½" of head space for expansion and so you don't spill while transferring to freezer.
Place in freezer on a flat surface, freeze at least 6 hours but preferably overnight.
When it is time to use the wreath, remove mold from freezer. Place it in a pan of cool water to loosen ice. Water will rise when the mold goes in and should reach up the outside of the mold to about the same level as the ice. When loose, put a plate over the mold and invert ice onto plate. Gently place in punch bowl.
BBB-OCP
INGREDIENTS:
2 bottles chilled Brut Champagne or Sparkling Wine, 750ml
1 large bottle chilled Perrier sparkling water, 25 oz
8 oz. VSOP Cognac or Brandy
1 cup freshly squeezed lemon juice
1 cup superfine sugar
12 large strawberries, hulled
2 blood orange, sliced with rind
1 package pomegranate arils, 4 oz.
½ small pineapple, skin and core removed, sliced
5 sprigs fresh mint
DIRECTIONS:
Add strawberries and sugar to a bowl, muddle well, let macerate for 15 minutes.
Add Rum, Cognac, Solerno, lemon juice. Stir well, cover and refrigerate until well chilled.
When ready to build punch, gently add ice wreath to punch bowl.
Add chilled strawberry mixture.
Add Champagne and Perrier. Stir gently.
Garnish with sliced orange, pomegranate arils, sliced pineapple, and plenty of fresh mint.
Serve in punch cups by the ladleful.
Footnotes
Some believe the word punch can be traced back to the Hindi word for five, as in five ingredients. Obviously that limit has never been strictly adhered to.