Main Content Starts Here
Confessions of a Mixologist: Batch Cocktails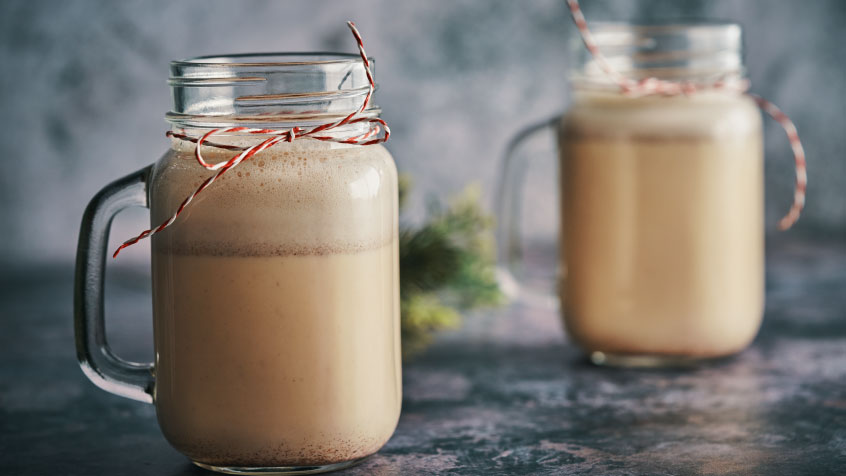 Rich, creamy eggnog is a delicious holiday tradition but some worry about consuming raw eggs. This recipe was designed to deliver the finest cup of holiday cheer imaginable in a safe and easy way. Sure, there are good examples of premade eggnog, but nothing beats homemade. Now you can rest assured that you have a "safe" version for carefree enjoyment. There is no sacrifice in flavor, in fact it is likely to be the best eggnog you've ever had. Feel free to play with the alcohol component to create different flavor profiles. Chris likes to add Sherry or Madeira and flavored liqueurs can also add a delicious twist. He also added some coffee liqueur (Mr. Black) on the podcast and it was incredible! Check out this recipe, along with recipes for Alicia's Killdevil Punch and Roger's Remember the Maine.
CHRIS' EGG NOG
INGREDIENTS:
12 large eggs

6 cups half and half

1 1/2 cups sugar

2 tbsp vanilla extract

1 cup heavy cream

freshly grated nutmeg
SIMPLE STEPS:
Separate egg yolks from the whites being careful not to break the yolks. If any yolk ends up in the whites it will prevent them from whipping properly. Save whites refrigerated in an airtight container for later use.

Bring half and half to a simmer over medium-high heat in a heavy bottomed pan. Turn flame to low.

While the half and half is heating, whisk together 1 cup of sugar with the yolks until they are pale, and the sugar is dissolved. A stand mixer is best, but it can be done by hand.

Temper the egg yolks by slowly adding hot half and half a ladle at a time while whisking vigorously. When you have ladled half of the liquid into the yolks, they should have come up in temperature without scrambling. Now whisk the mixture back into the remaining half and half. Continue whisking and check temperature with an instant read thermometer. When it hits 160, remove from heat. If your yolks set into scrambled eggs you will need to start over so be careful.

Pour mixture through a fine mesh strainer just in case you have any little lumps of cooked egg (no big deal).

Cool for a bit then add nutmeg to taste, vanilla and spirit. A pinch of salt here doesn't hurt but can be omitted. I used Martell V.S.O.P. Cognac on the podcast but good aged rum, bourbon or a combination thereof are all great.

Transfer to an airtight container and refrigerate.

Once chilled you can move straight into the next step, but I recommend a mellowing period of at least a couple of days. Two weeks is even better. This is very strong eggnog and will benefit from a longer rest. If you don't have the time, consider using half the quantity of spirit. .

On the day you plan to serve – Bring egg whites to room temperature. (If you are doing this within a few days your refrigerated whites are fine. If it is weeks, freeze the whites until ready for use or use fresh whites.)

Make an Italian meringue – In a heavy pan combine remaining ½ cup of sugar with ¼ cup of water. Bring to boil over high heat and cook until a candy thermometer reads 240 (softball stage).

Meanwhile whip egg whites in a stand mixer until soft peaks form. With the mixer running, slowly pour the 240-degree sugar into the whites. Whisk until stiff peaks form and the meringue is glossy.

Whip heavy cream until soft peaks form.

Fold egg whites and whipped cream into the eggnog base.

Transfer to a punch bowl and top generously with nutmeg.

Enjoy!
ALICIA'S KILLDEVIL PUNCH
INGREDIENTS:
6 oz Appleton Estate Rum

12 sugar cubes

15 raspberries

3 oz club soda

3 oz lime juice

3 oz pineapple juice
SIMPLE STEPS:
In a pitcher, muddle sugar cubes and raspberries in club soda. Add rum, pineapple juice and lime juice. When ready to serve, pour over large cube of ice and dilute with 3 oz (or more to taste) with sparkling wine or champagne.
ROGER'S REMEMBER THE MAINE
INGREDIENTS:
SIMPLE STEPS:
Mix whiskey, vermouth, cherry liqueur and vermouth in large mason jar. Stir with ice before serving, then add a few dashes of bitters to your glass.