Main Content Starts Here
Binny's Home Bartender: Barrel to Bottle New Orleans Cocktails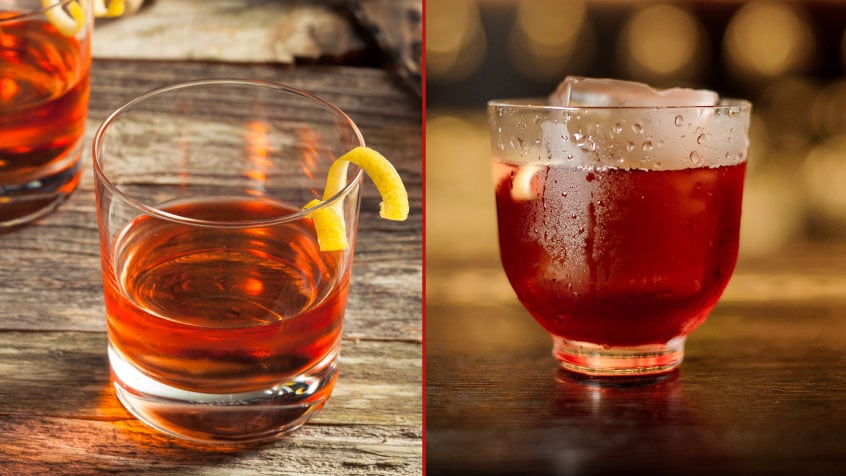 Mardi Gras is right around the corner. Are you ready to celebrate? Looking for something to serve besides Abita beer? How about the official cocktail of New Orleans – The Sazerac. Pairs quite nicely with Cajan/Creole BBQ Shrimp or Jambalaya.
SAZERAC
INGREDIENTS:
SIMPLE STEPS:
Pour absinthe or Herbsaint into a cocktail glass and slowly swirl to coat the glass. Discard any excess. Place sugar cube in a mixing glass (or rocks glass) and cover with bitters. Add a tiny splash of water and muddle until well mixed. Add ice to fill, and top with 3oz of rye whiskey and stir well. Strain into absinthe rinsed cocktail glass. Garnish with a strip of lemon peel.
Thirsty for another New Orleans classic? How about one that's named in honor of the French Quarter – the Vieux Carré. You can think of it as an "improved Manhattan". For background on both of these delicious cocktails, download the New Orleans Cocktails episode of Barrel To Bottle – The Binny's Podcast.
VIEUX CARRÉ
INGREDIENTS:
SIMPLE STEPS:
Add all ingredients to a mixing glass. Fill with ice and stir well. Strain into an ice filled rocks glass. Garnish with a lemon peel.