Main Content Starts Here
Bourbon County Stout 2022 Preview - Barrel to Bottle Samples the Full Slate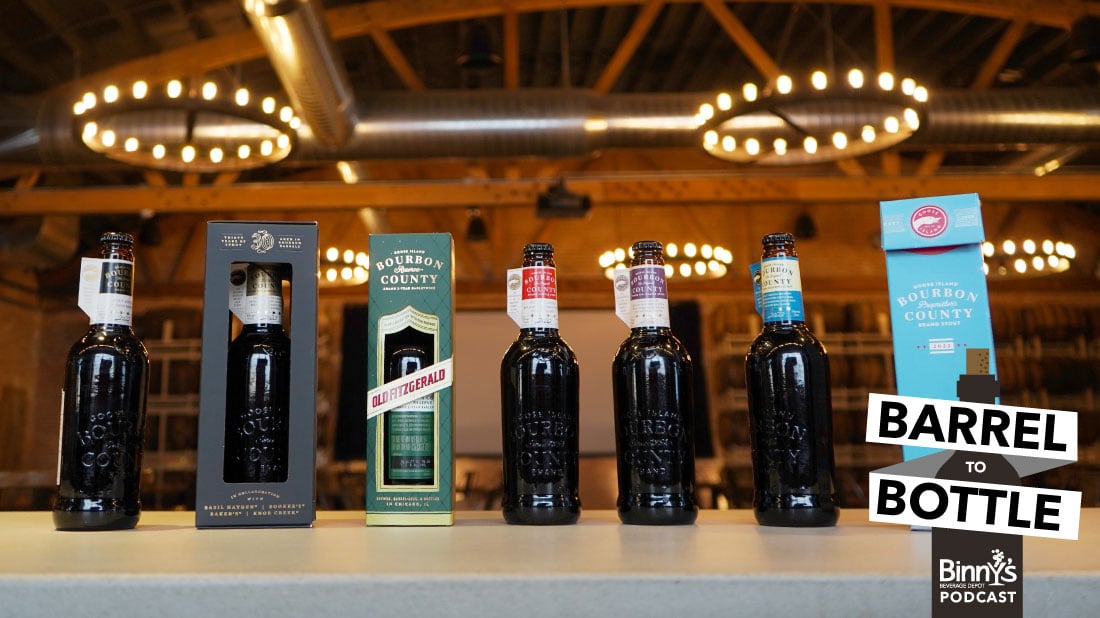 It's the end of October, which means it's time to taste some Bourbon County Stout. Our friends at Goose Island were good enough to invite the Barrel to Bottle crew to their Barrel House and taste through the 2022 line-up. We took copious notes and then raced back to the Barrel to Bottle Studios to record this episode.
You can find all the information about this year's drawing to purchase Bourbon County Stout allocations on our blog.
Goose Island Bourbon County Stout – The original always changes slightly and this year, like last, it was a mixture of Heaven Hill, Wild Turkey and Buffalo Trace barrels, but they also added Four Roses barrels to the mix. This is still the defining beer for the category, and it will be plentiful. And also, some of it will be in four packs!
Goose Island Bourbon County 30th Anniversary Reserve Stout ­­– It's the 30th anniversary of Bourbon County Stout and this one returns to where it all began. Greg Hall was talking to Booker Noe, which led to putting stout in Jim Beam Small Batch Bourbon Collection. They used a variety of Booker, Knob Creek, Basil Hayden and Baker's barrels that were then purposefully blended.
Goose Island Bourbon County Two-Year Barleywine Reserve – It's hard to tell from looking at it that this is a barleywine and not a stout. Two years in the barrel have made it darker, but it tastes like a barleywine. It's aged in Old Fitzgerald Bottled in Bond Decanter Series barrels.
Goose Island Bourbon County Coffee Stout – Coffee is back! Greg couldn't be happier for this one, the original BCBS variant that returns after a 5-year hiatus. This was once again brewed with Intelligentsia coffee. Goose used a liquid coffee concentrate as well as whole beans from Burundi for this beer.
Goose Island Bourbon County Sir Isaac's Stout – This beer is inspired to Fig Newton cookies. Figs can be sweet, sometimes too sweet. Goose's solution was to go with dried figs, specifically Black Mission. Roger loves these figs for beer pairings. The beer was circulated through 10,000 pounds of figs, then the beer sat on those figs for two weeks. After that they added graham cracker flavoring.
Goose Island Bourbon County Biscotti Stout – *Italian finger pinch gesture* This one went a little heavy-handed on the anise, and there are a lot of other Italian cookies that have even more anise, such as pizzelles. The anise is balanced though, with almonds and cocoa nibs.
Goose Island Bourbon County Proprietor's Stout – This beer was inspired by the Jungle Bird cocktail and features banana, coconut, lime and pineapple. Roger got hung up on the missing Campari, although he's also not sure how that would work in a beer.
But wait, there's more! Two years ago, Goose released Bourbon County Kentucky Fog, which featured tea and honey. Greg was a big fan, Pat was not. We should have drank this 18 months ago, but Greg never did.
If you have a question for the Barrel to Bottle Crew, email us at comments@binnys.com, or reach out to us on Facebook, Twitter or Instagram. If we answer your question during a podcast, you'll get a $20 Binny's Gift Card!
If you like our podcast, subscribe wherever you download podcasts. Rate and review us on Apple Podcasts.