Main Content Starts Here
Blind Tasting Celeb Tequilas - Barrel to Bottle B2B TMZ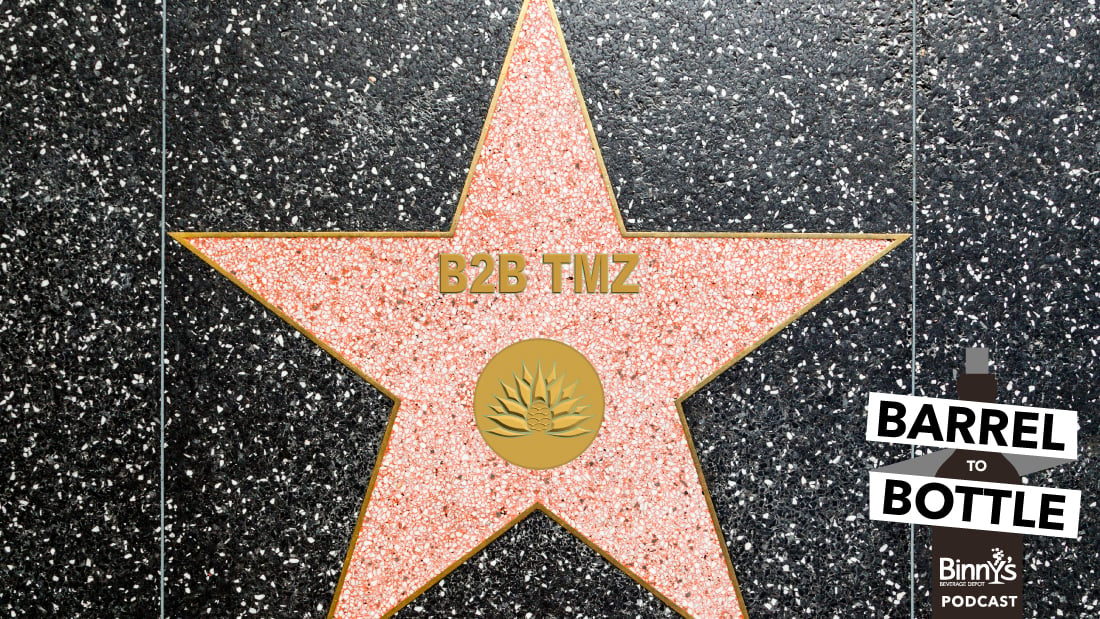 Celebrities, they love tequila just like you! They love tequila so much in fact that they started their own brands of tequila! Sixteen to be exact, or at least that's what we have today, in our blind tasting of 16 celebrity tequilas. Blind is best, that's what the Whiskey Hotline always says. It's the only honest way to taste anything, so leave your preconceived notions at the door!
As the Barrel to Bottle crew tastes along at home, blind, Future Pat will tell you the listener which tequila we are sampling.

Drink along at home with the following celebrity tequilas:
Jaja Reposado – Strong dill notes, with honey-roasted agave notes. It has some recognizable vegetable notes but it's balanced and round. (F**k Jerry and The Chainsmokers)
Gran Coramino Reposado Cristalino Tequila – Mild on the nose with some background richness. A round, plush mouthfeel makes Chris think wood was involved. (Kevin Hart)
Lobos 1707 Reposado – We're back to something aged, with a straw-yellow hue. There's some dill in this one also. It's similar to the first one, but there's more oak in the finish. (LeBron James)
818 Blanco – This one smells like cotton candy. It tastes like it too, with a fatter mouthfeel. (Kendall Jenner)
Teremana Reposado Tequila – This one smells real, compared to the last couple of tequilas. It has a lot of notes found in lowland tequilas, but Pat won't totally pigeonhole it as that. (The People's Champ)
Flecha Azul Añejo – This one is way more of what Pat would characterize as a lowland tequila, with the green pepper and asparagus notes common to that variety. Normally, Pat doesn't like the age of Añejo but this is much more judicious. (Mark Wahlberg)
Casamigos Reposado Tequila – This is another cotton candy/bubblegum tequila. You're allowed to add a certain amount of sweetener to tequila without having to note it on your label. Sometimes it's to hide flaws, but sometimes it's just because Americans love sweet things. (Cloon Dog)
Santo Fino Blanco Tequila – This one is grassy and soft, with a somewhat shy nose. This could be one example of why some tequilas add more sugar. (The Mayor of Flavortown)
La Gritona Reposado – This one has the faintest bit of color. There's just a little bit of oak on the nose, but it's very subtle. (Andy Coronado)
Cincoro Anejo Tequila – This tequila is sweet, like cake. They're like those gas station hexagonal prepackaged cakes. It's not offensively sweet like some of the other tequilas we've tried today though. (Michael Jordan etc…)
El Bandido Reposado Tequila – A very pale straw color. There's a bit of vegetal character and also some citrus. It has a nice green pepper and white pepper finish. (Chris Chelios)
Calirosa Tequila Añejo – This looks like and tastes like chocolate liqueur. Why is it so chocolatey? It's like chocolate Twizzlers. (Adam Levine)
Codigo Reposado – This one is really fresh and grassy, with some citrus also. Greg is picking up some mint/butterscotch that reminds him of Buffalo Trace. This one wears its barrel on its sleeve. (George Strait)
Don Ramon Tequila Reposado – This one is very citrusy, with a grassy hot finish. There's a surprising amount of vegetal flavor on the finish. (Pierce Brosnan)
DeLeón's Reposado Tequila – This nose on this is not great; it's like iron and spray chemicals. (Diddy)
Dos Primos Blanco Tequila – This one is kind of cheesy or lactic. It also seems loaded up with sweeteners. It's better than the last one but not by much. (Thomas Rhett)
If you have a question for the Barrel to Bottle Crew, email us at comments@binnys.com, or reach out to us on Facebook, Twitter or Instagram. If we answer your question during a podcast, you'll get a $20 Binny's Gift Card!
If you like our podcast, subscribe wherever you download podcasts. Rate and review us on Apple Podcasts.