Main Content Starts Here
Binny's x Pollyanna Brewing Company Collaboration: Bourbon Barrel Aged Imperial Fun Size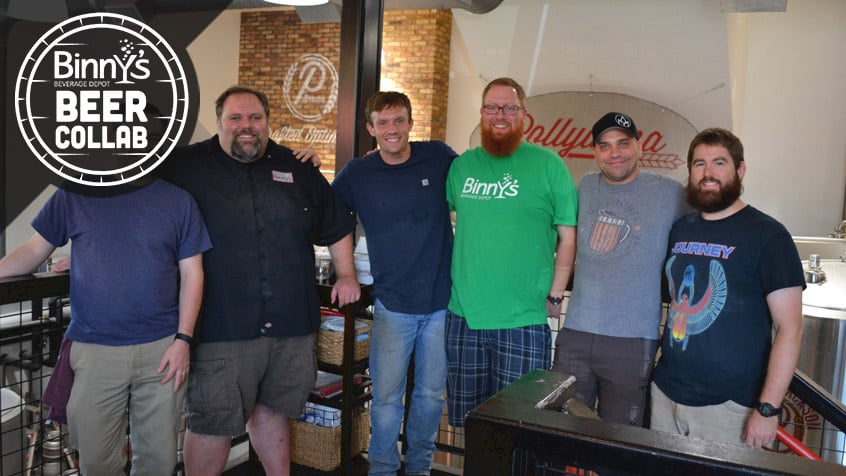 When you hear Fun Size, candy comes to mind, but unlike so many other dessert inspired stouts, the Fun Size lineup is not cloyingly sweet. The adept balance of roasted malts, salt and lactose results in paradoxically drinkable decadence. We fell in love with Fun Size at first taste and its ramped up imperial cousin left us speechless. Eager for a glimpse at the magic behind this remarkable beer, we took a trip to Pollyanna to brew a batch.
Imperial Fun Size is a BIG beer. (the finished brew clocks in at 13.5% ABV!) We took turns dumping bag after bag of malted barley into the mash tun. Oats help add to its silkenly smooth mouthfeel. Being a milk stout, Fun Size incorporates lactose, the unfermentable milk sugar that adds sweetness to the finished stout. When you're adding it to such a big batch it seems like a lot of sugar. We could rest assured that Brian (Pollyanna's Head Brewer) had done the hard work and calculations – assuring that perfect balance between roasty, salty and sweet.
After mashing, lautering, boiling and cooling the beer is left to ferment and once it's done conditioning, it's ready for the bourbon barrel treatment. Knob Creek bourbon carries a 9 year age statement. We rolled up with freshly dumped Binny's handpicked barrels that held the 11-13-year-old juice. The smell of beer rushing into freshly dumped bourbon barrels – indescribable. Now, all we had to do was wait.
Ten months later, it was time to taste. How to describe it… Many a bourbon distillery tour concludes with a taste of a famous Kentucky confectionary – the chocolate covered bourbon ball. This batch of barrel-aged Imperial Fun Size delivers very similar flavors - rich dark chocolate and vanilla sweetness, accented by a touch of salt. Cap that with some delicious peanut butter richness and there you have it – a liquid confectionary that's simply irresistible.
A big thank you to our friends at Pollyanna. Their creativity and brewing prowess continue to impress. Being a part in this beer's journey from start to finish was an honor and an experience we'll never forget.