Main Content Starts Here
Binny's Home Bartender: Side Slice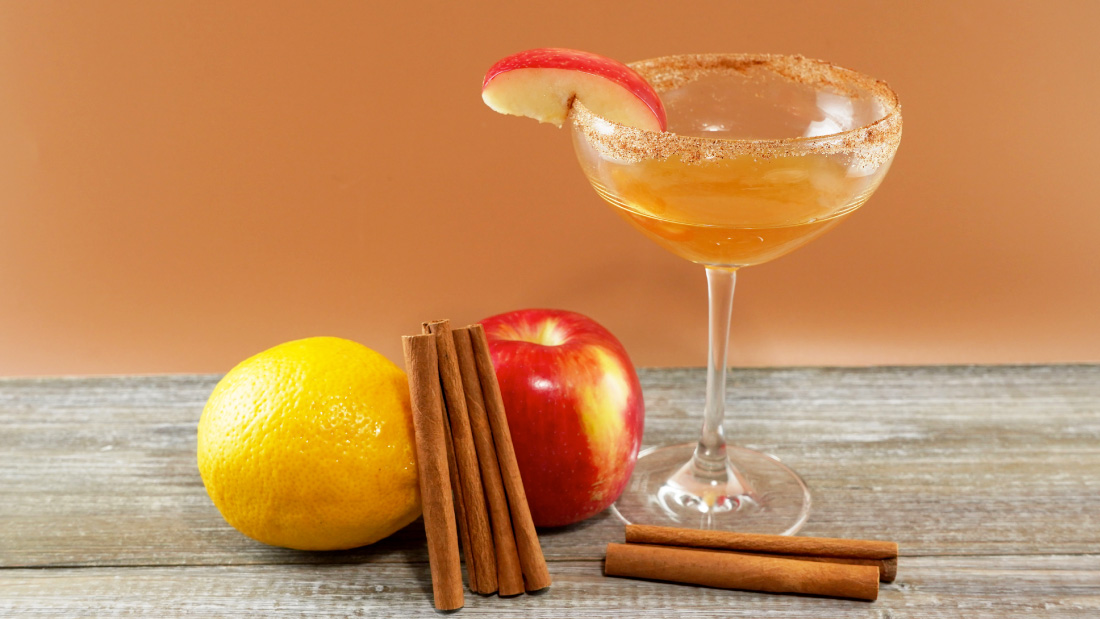 Well folks, we hope you have had your share of fun with Binny's Summer of GOOD Frozen Cocktails but as they say; all good things must come to an end. Even so, no one is telling you to put the blender away, but Binny's Home Bartender is falling straight into autumn with an appley riff on the Sidecar that we are calling the Side Slice.
The classic Sidecar recipe of Cognac, Cointreau, and lemon juice (in either the modern 2:1:1 or the old school 1:1:1 ratio) served in a sugar crusted glass has been cycling around for over 100 years. It's a cocktail that every home bartender should have in their hip pocket and qualifies as an excellent fall sipper in its own right. However, we have decided to up the ante on fall flavors by subbing in apple brandy and adding the genuine, sweet apple character of a German apple liqueur like Berentzen or Flimm.
We happily use Laird's Bonded Apple Brandy, but we also encourage the use of an older Laird's expression or a fine French Calvados. And because we can't get enough of those warm baking spices that are so strongly associated with both fall and apples, we have added ground cinnamon to the sugar rim.
The resulting cocktail is delightfully balanced between sweet, sour, fruity and earthy. The overall impression is purely autumnal without being aggressively spiced or cloyingly sweet. It's an adult introduction to the cooler months that calls to mind hayrides through apple orchards, warm blankets and the fiery beauty of sugar maples in full fall regalia.
So, after you have finished slicing up apples for the kids' school lunches (be sure to save a slice or two), or when you are enjoying a cozy fireside evening with your own side slice, treat yourself to the sophisticated side of fall flavors.
Cheers!
Side Slice
INGREDIENTS:
SIMPLE STEPS:
Combine equal amounts of sugar and ground cinnamon on a plate.
Rub the outer rim of a cocktail coupe with lemon and dip into the cinnamon-sugar mixture to coat.
Add the apple brandy, Grand Marnier, apple liqueur and lemon juice to a shaker with ice. Shake until well-chilled.
Strain into the prepared coupe.
Garnish with an apple slice.