Main Content Starts Here
Binny's Home Bartender: Saturn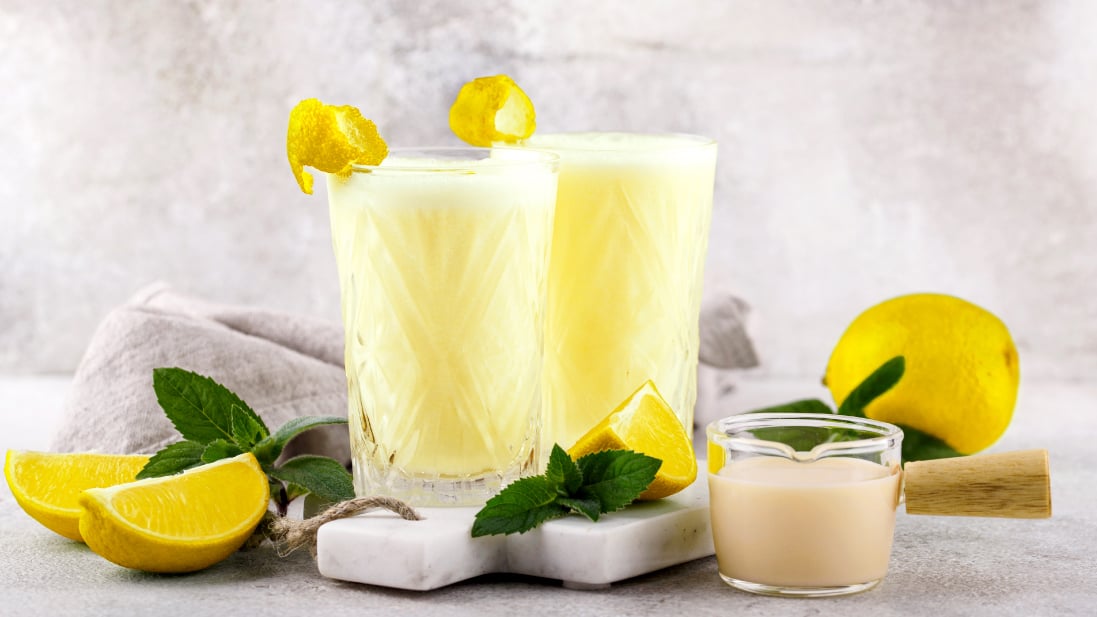 Feeling a bit saturnine? The Binny's Home Bartender is here to lend an ear and lift your spirits off the ground. Way off the ground with a quick trip to the ringed planet and back. No need to leave Earth's comforts, we'll do the hard work of going to the source for an out of this world gin-based tiki drink, the Saturn. Yes, it's the next edition of Binny's Summer of GOOD Frozen Cocktails, in spaaaace...
That's right, we jumped on a rocket, cranked up some Bowie and sped across the solar system to shake hands with Saturn's most respected emissary, Sun Ra. In a classic clandestine maneuver, he discreetly slipped this recipe into our hand. We made the mothership connection just for you and now we are back in the comfort of our own home, recipe in hand and it's a go for countdown.
Where did Sun Ra get this recipe for a fruity blended frozen drink packed with terrestrial ingredients? Right here on earth. This space age concoction was originally named for the experimental X-15 hypersonic rocket-powered aircraft that shattered aviation records for speed and altitude in the 1960s. A fatal crash caused bartender J. "Popo" Galsini to rename his award winning cocktail, Saturn, for the rockets that powered the famous Apollo missions.
If you know from tiki, many of the ingredients will be familiar, otherwise they may seem a bit alien. Here is a quick countdown:
5. Aviation Gin is a modern American iteration that checks all the right boxes on the white lab coated scientist's clipboard of botanicals for this tropical delight.
4. Chinola, a truly delicious passion fruit liqueur from the Dominican Republic, stands in for the traditional passion fruit syrup and why not? A little alcohol based booster rocket is never a problem in the world of tiki. The natural fruit flavor is spot on and a little less sweet than syrup.
3. Orgeat is the almond syrup that lends its distinctive nutty note to other famous tiki drinks, most notably, the Mai Tai. Essential!
2. Falernum is a syrupy rum-based liqueur containing ginger, lime, almond and spices that often plays a part in tiki and Caribbean cocktails as a sweetener with considerable complexity. We use John D Taylor's Velvet Falernum.
1. This has a particularly cool fruit based representation of Saturn that should be used as a garnish if you are feeling ambitious. Simply cut a ¼" slice from the center of a lemon and a lime. Cut out the flesh and some pith from the center leaving intact circles of relatively sturdy peel. Lay them down on a cutting board with the larger lemon encircling the lime. Place a Luxardo cherry in the center and carefully run a cocktail pick from the outside of one side of the lemon peel straight through the lime peel and the cherry all the way to the opposing side of the lemon peel. Now you have your ringed planet.
We have lift off!

Saturn
Ingredients:
Simple Steps:
Add Aviation gin, Chinola, lemon juice, orgeat, falernum and ice to a blender. Blend until smooth.
Pour unstrained into a tiki mug or highball glass.
Garnish with a cherry, lemon and lime "Saturn"