Main Content Starts Here
Binny's Home Bartender: Salty Dog Blues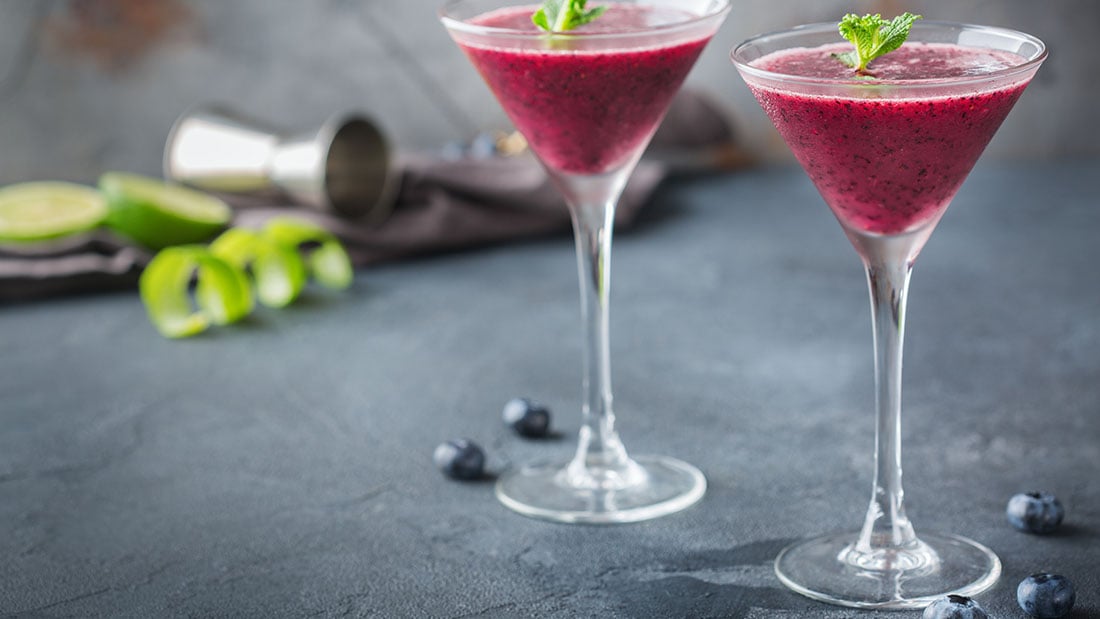 Wow! Binny's resident mixologist took a little time off and the next thing you know – kicked to the curb! We guess that's what happens after a missed confession or two – you feel the wrath. We really must confess to being pleased to be rid of that verbose inconnu, but we will never unmask that incognito mixologist. (Incognita? Incognitx? We'll never know.) The mixologist's confessional remains sacred. Anyway, the mixologist is dead, long live Binny's Home Bartender!
Our first act as Binny's Home Bartender will be to throw off the pious shackles of the confessional and jump right into the bawdy side of life with a cocktail named for an American folk classic – Salty Dog Blues. This raw little ditty has been kicking around for 100 years or so and has been recorded by everyone from blues legend Mississippi John Hurt to bluegrass all-stars like Flatt and Scruggs. In fine folk fashion you can draw lines from the earliest versions through the Dillards (playing a rousing rendition as the Darlings, with Andy sitting in, on the Andy Griffith Show) to influences on Rev. Gary Davis to the Grateful Dead to Leiber and Stoller's Hound Dog to PJ Harvey's lyrical riffing on Down by the Water.
The lyrics morph over time and artists take what they want and make it their own but the one thing that remains the same (not necessarily the song in this case, sorry Led Zeppelin) is that the Salty Dog in question is a person on the lookout for a no strings attached rendezvous. A little Victrola and chill, or the equivalent of a Tinder hookup or the old friends with benefits arrangement. Hey mixologist! Take that to the confessional!
Making new cocktails is just like folk music. Make a faithful version of the classic or make it your own. That's what we are doing here with Salty Dog Blues. It's just a step or two removed from the Salty Dog, a simple blend of freshly squeezed grapefruit juice and gin or vodka served in a salt rimmed glass (see the Early Adopter). Skip the salt and you get to the root of the matter, the two-ingredient classic the Greyhound. In deference to continuity, we are taking this into frozen cocktail territory. Yes, you guessed it, this is the next installment in Binny's Summer of GOOD Frozen Cocktails (that old mixologist wasn't all bad).
So, what makes this Salty Dog blue, other than the fact that it is frozen? (Reason enough, perhaps.) The addition of fresh, sweet, in season blueberries. That's right a handful of peak season berries takes this tart and lightly bitter refresher into the realm of a fun and fruity cocktail for the dog days of summer. But Siriusly, the balance tips only slightly toward sweet but amps up the fruitiness in a very pleasing way. If you want it extra cold, freeze the juice in an ice cube tray and freeze the blueberries too. Either way, it's delicious and easy on the eye, as any salty dog should be.
Stay cool people and remember – Only mad dogs and mixologists go out in the midday sun. Consume under the influence of Canis Majoris with your favorite dog (salty or not) by your side.
Cheers!
Your humble Home Bartender
Salty Dog Blues
INGREDIENTS:
SIMPLE STEPS:
Wet the rim of a large wine or margarita glass with a slice of grapefruit. Roll the outer rim in salt.
Add vodka, grapefruit juice, blueberries and ice to a blender.
Blend until smooth.
Pour into prepared glass and garnish with a few fresh blueberries.