Main Content Starts Here
Binny's Home Bartender: Porto Flip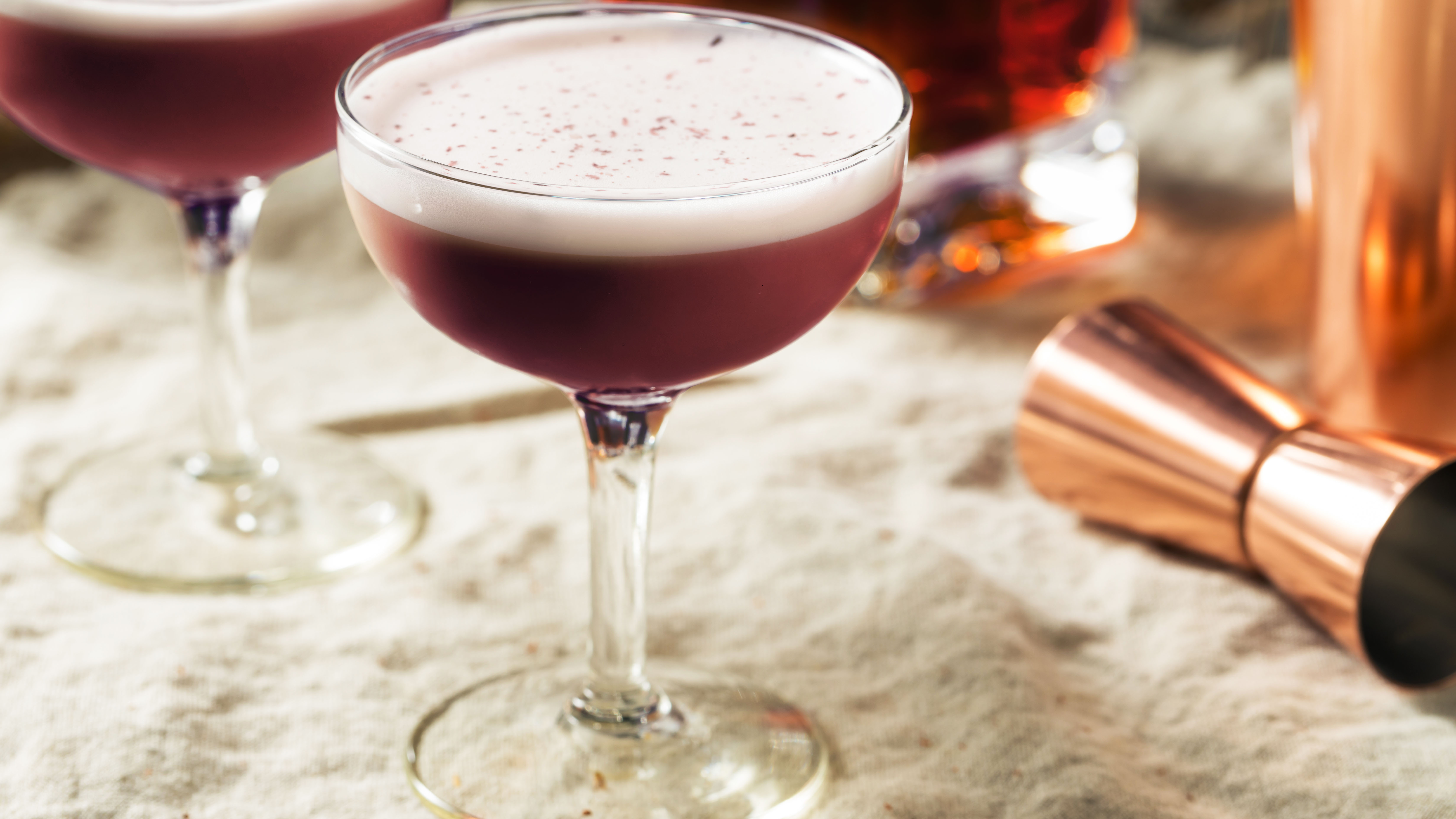 The Porto Flip is undeniably old school but that's one of the things that makes shaking them up so cool. It's the perfect drink to have while watching old Christmas movies, particularly A Christmas Carol, since they both have a decidedly Victorian aesthetic. Binny's Home Bartender knows it's a stretch in this busy world, but one might even consider unwinding after dinner by reading Dickens' 1843 classic from a real book while enjoying a velvety, sweet and spicy Port Flip.
It's only a novella, not Bleak House, after all. Worst case scenario, it remains unopened on your lap while you inhale the heady aromas of Port and brandy and the invigorating, nose tingling scent of freshly grated nutmeg. You will certainly appear contemplative, as if mulling over the major themes of the story, even though you are simply lost in a Port induced flight of fancy.
The same goes for all of you steam punk enthusiasts and cos players. Really get into the season with a drink that transports you to another place in time. Read Verne or Wells instead of Dickens, throw a Victorian Christmas party, or shake up a batch for your parents in an attempt to explain your anachronistic fashion choices. There are so many reasons to make Port Flips, but the delightful seasonal flavors, warming richness and incredible textural appeal of luxuriously frothy and silken egg will always top the list.
That's right folks, flips call for whole eggs. Before you lose your modern mind, realize that eggs in drinks were very common at the time and were no cause for hysteria or a bout of dementia praecox. If a mug of homemade eggnog sounds delightful or you are a fan of whiskey sours (no yolk in sours, of course, but you are already halfway there) then there is no reason to look askance at the Port Flip or flips in general.
Sure, there is risk attached to consuming raw eggs but it's small these days. There was little concern when this recipe first appeared in print in the 1860s. At the time it was known, strangely, as a Coffee Cocktail, presumably due to its dark and frothy appearance. By that time flips had already been commonplace for centuries and folks had more pressing health concerns than knocking back the occasional boozy egg drink. If you have a particularly intractable idée fixe regarding raw egg consumption, use pasteurized eggs. You can even pasteurize them yourself if need be. In any case, nothing else can produce the decadent textural experience that a whole egg provides.
We are calling for Clark & Sheffield 10-Year-Old Tawny from Croft because it is loaded with ripe red fruit, nutty almond notes and suggestions of baking spices all for a very, very retro, if not quite Victorian, price. We pair that with Croft Port Finished Brandy for a match made in heaven that won't have you cinching up your whale bone corset too tightly so you can enjoy a lovely Christmas Eve, or really, any cold and snowy winter night, drinking well while only spending like old unreformed Ebeneezer himself.
One note on preparation – Please don't skip the "dry shake" step. That is, shaking without the ice first. This is when the proper texture and foam is created. If you really want to froth it up, try removing the coil from a hawthorn strainer, then add it to the shaker. It will act like a little whisk as you shake like mad.
To your health, egg lovers! And the rest of you too, we suppose.
Now that kind of inclusion is the epitome of the spirit of Christmas, mixed with a little egg, of course.

Porto Flip
INGREDIENTS:
¾ oz. heavy cream
1 egg*
2 tsp. confectioner's sugar
Garnish: freshly grated nutmeg
SIMPLE STEPS:
Add all ingredients to a shaker without ice. Shake vigorously.
Add ice to the shaker. Shake again until well-chilled.
Double strain into a chilled cocktail glass.
Grate nutmeg on top.
*Warning – consuming raw eggs can be dangerous... and dangerously delicious.