Main Content Starts Here
Binny's Home Bartender: Kiwi Chilly Bin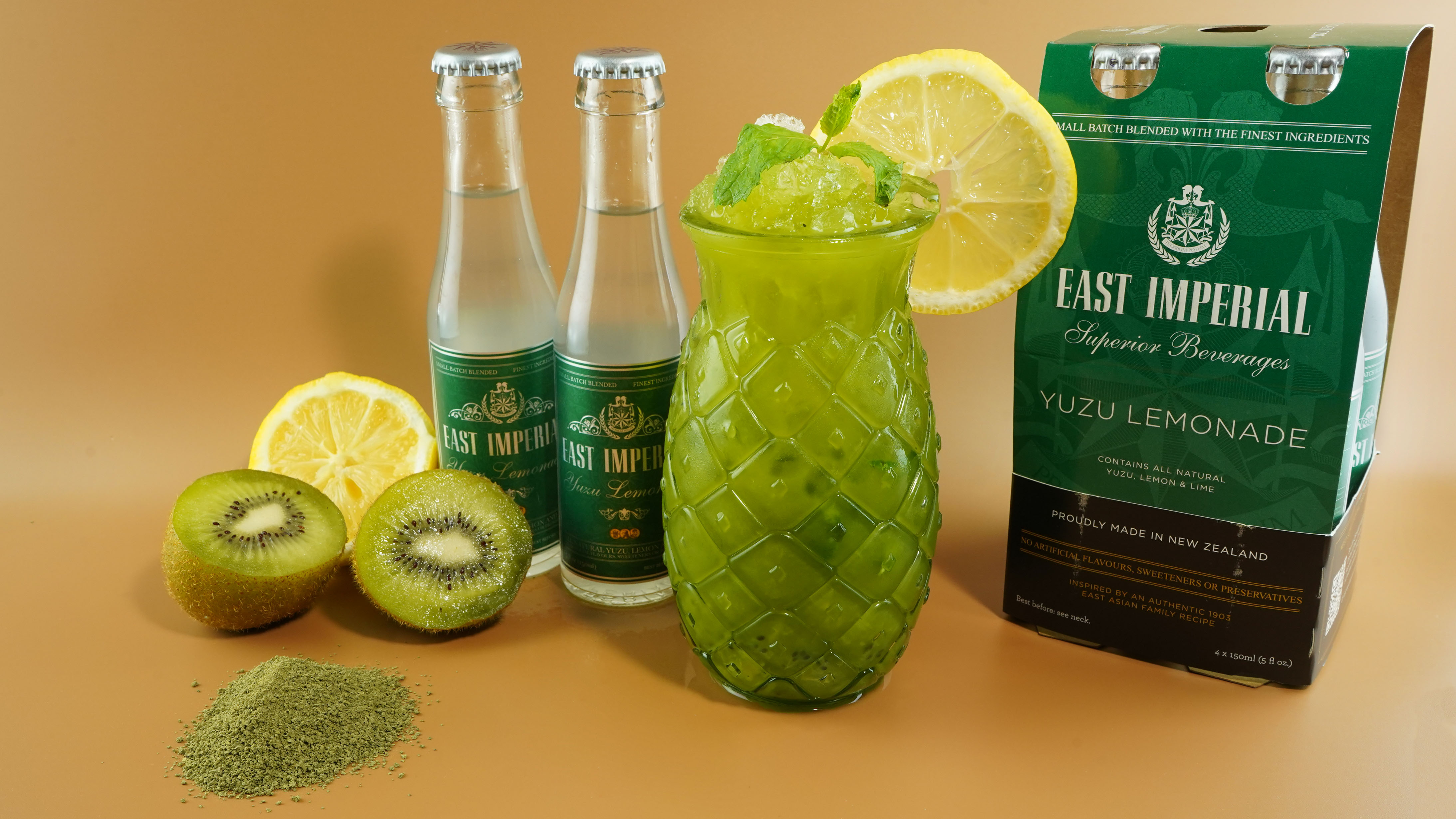 East Imperial small batch tonics and mixers are now on Binny's shelves for your home bartending pleasure. These ultra-premium mixes are made on New Zealand's North Island with the purest ingredients sourced from Africa and Asia. Sugar levels are kept to a minimum allowing the quality ingredients to shine without becoming cloying. This approach yields fresh, clean flavors that will enhance any cocktail. Binny's Home Bartender had the pleasure of tasting through a number of these carefully crafted products and found some inspiration along the way.
While the tonics are excellent and provide a serious pop of intense quinine character, the ginger beer has a bold zesty spice and the grapefruit soda sings of tart but fruity grapefruit character, it was the yuzu lemonade that got our gears turning. The dry, crisp starburst of pan-citrus yuzu flavor had us thinking of a gin-based fruit cup right off the bat.
After a few trials, this recipe emerged, and it is complex, layered and really leans into New Zealand meets Asia in a most delightful way. Fresh kiwi, New Zealand's signature fruit, takes a starring role next to the super refreshing yuzu lemonade. We then layered in a few ingredients that enhance but never overwhelm the base flavors.
Mint, kiwi, lemon and pineapple juice are relatively self-explanatory, but when it came to adding a hint of sweetness, we chose New Zealand's fascinatingly complex Manuka honey. It's not only delicious but well known for its antiseptic properties. Matcha powder is the, now ubiquitous, finely ground green tea, with deep roots in tea ceremonies, that finds its way into all manner of foods and beverages. It tastes like green tea, which is nice, but also provides a beautiful emerald color to the cocktail. We upped the yuzu ante by choosing Japan's Nikka Coffey Gin, which is straight up fantastic. It is all topped off with East Imperial's Yuzu Lemonade for a bright citrusy note and gentle fizz.
Leaving the muddled fruit in the drink rather than straining it out makes for a tasting journey of endless twists and turns that changes with every sip. Bright and refreshing, yuzu, mint and tea accented at the outset, the drink slowly morphs into a fruitier profile as the kiwi steeps in the cocktail. A joy from start to finish.
BTW a chilly bin is a cooler in New Zealand, as in "fetch me a beer from the chilly bin." But a cooler can also be a tall, refreshing, and fizzy cocktail. So, there you have it, a kiwi cooler – the East Imperial Chilly Bin. QED.
Cheers!
East Imperial Kiwi Chilly Bin
INGREDIENTS:
SIMPLE STEPS:
Add mint, kiwi, lemon wedge, honey and matcha to a hurricane glass and muddle thoroughly.
Add gin and pineapple juice, stir, fill glass with crushed ice.
Top with yuzu lemonade, stir gently.
Mound with crushed ice, garnish with a sprig of mint and a lemon wheel.