Main Content Starts Here
Binny's Home Bartender: (Like a) Hurricane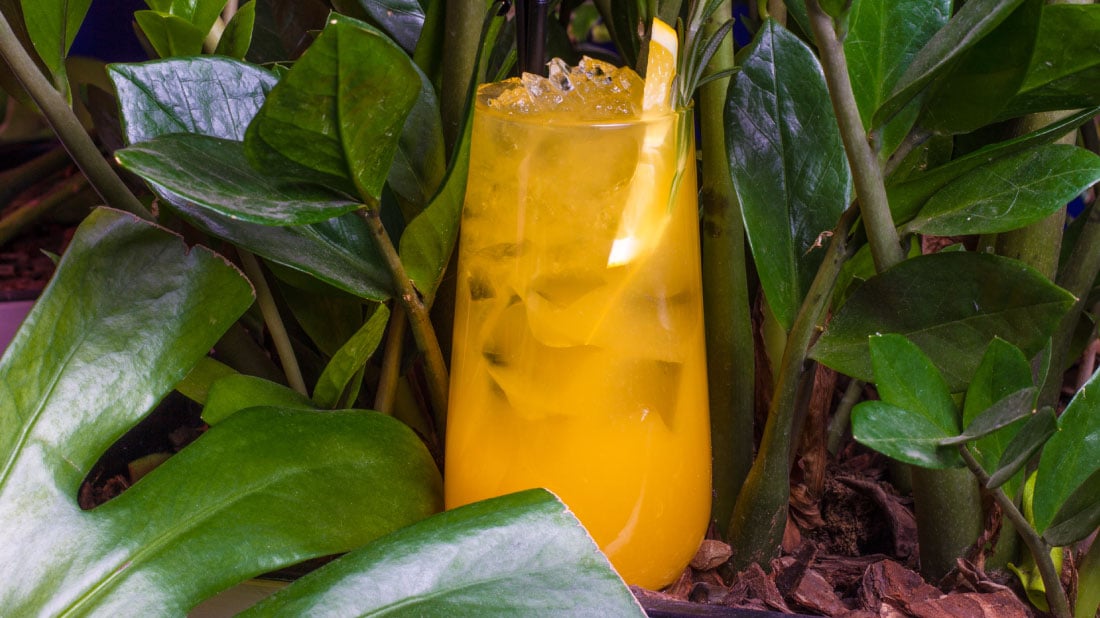 "Storm's brewin'!" - those were the magic words that foreshadowed the introduction of the hurricane cocktail and granted one entry into the prohibition era New Orleans speakeasy, Mr. O'Brien's Club Tipperary. No doubt it was a hot time in the Big Easy when spending the evening at Mr. O'Brien's. Patrons were likely treated to hot jazz and any number of prohibition era elixirs. And, one hopes, versions of some New Orleans classics, albethey mixed up using fiery locally made hooch. Or, if you were lucky, maybe the genuine article, mixed using some good bootlegged liquor from overseas. One thing you could not have gotten would have been a hurricane, at least not as we know it today.
The sweet, fruity, rum fueled, high octane, gaudily red, tropical fruit punch that Mardi Gras revelers so greedily and imprudently suck down had yet to come into existence. But it was at Mr. O'Brien's legally licensed sequel to Club Tipperary, the now legendary Pat O'Brien's, that this tempest in a hurricane glass first took shape and gained momentum. And did Mr. O'Brien ever brew up a storm; the hurricane cocktail is a real wolf in sheep's clothing – so easy to drink and so very easy to overconsume.
Even though Pat O'Brien's opened almost immediately after the repeal of prohibition in 1933 it wasn't until the 1940s and the WWII era that Mr. O'Brien unleashed a mighty wind by introducing his version of the hurricane. As the story goes; whisky, particularly scotch, was scarce due to the war, but rum was plentiful. Some sources claim that to get just one case of scotch, a purchase of up to fifty cases of rum would have been required. Clearly a very stout rum drink was a must, if only to keep bar owners from drowning in a virtual Lake Pontchartrain of rum while the Mississippi of whisky rivers was running dry.
As to the original recipe, it's somewhat obscure. Like much of cocktail lore, memories seem to be fuzzy for some reason. There were undeniably drinks that preceded the O'Brien version that used the hurricane name. One that seems to have been just lemonade with an absurdly large measure of rum had a key role in a late 1930s movie. The O'Brien version, although similarly loaded with rum, may have relied on Fassionola syrup1 for its bright red color and exotic flavor profile. Even the original nature of Fassionola is up for debate but most agree that the key ingredient was passionfruit, along with other fruits, spices and perhaps even hibiscus. So, it should come as no surprise that many modern recipes rely on passionfruit syrup for their explosive fruitiness.
The version we are making today is Blowin' In From Chicago2 with hurricane force winds but is firmly rooted in the New Orleans classic. This isn't just a Chicago recipe, or a Binny's Home Bartender riff though – this is a Roger recipe. Roger, as heard on Barrel to Bottle: The Binny's Podcast. Roger, our very own beer expert, author of Binny's Beer Buzz, Fruit King, cocktail enthusiast, excellent practitioner of Cajun and Creole cuisines and a man who will never forget to care about his other beloved city, NOLA3.
Roger recklessly pushes up the alcohol in an already recklessly high alcohol drink by using Chinola Passion Fruit Liqueur instead of a sweet nonalcoholic syrup. And because that fine product is so authentically and tartly passionfruity he had to add some sugar to achieve the proper balance (did we forget Sugar King in our list of attributes?) Anyway, you'll discover all of that and more when you whip up a batch for Mardi Gras.
It may not be a classic Pat O'Brien's hurricane exactly, but dare we say, it may be an improved hurricane (what comes after category 5?) In any case it is certainly Like a Hurricane and to paraphrase that great Neil Young composition -
Once I thought I saw you in a crowded hazy bar...
Before that moment you touched my lips
That perfect feeling when time just slips away...
Sounds like Neil really fell for this cocktail or are we misinterpreting? Either way, be careful out there - a storm's brewin' and lost time can definitely be a side effect.
Cheers! And remember-
You only live but once and when you're dead you're done
So let the good times roll!
Laissez les bons temps rouler, Ya'll!
Hurricane
INGREDIENTS:
4 oz Dark rum
2 oz Chinola passion fruit liqueur
1 oz Demerara sugar syrup
1 oz Fresh lemon juice
1 oz Fresh lime juice
SIMPLE STEPS:
Shake until well chilled.
Strain into ice filled hurricane glass.
Footnotes:
Straight out of the Don Beach tiki playbook. Interestingly Beach grew up in New Orleans, so the hurricane is bringing the use of Fassionola, that Beach featured in several tiki drinks, full circle back to the Crescent City.
New Orleans is the birthplace of traditional jazz. Just as Fassionola may have sprung from the flavors of Beach's N.O. childhood, Blowin' in From Chicago and Chicago jazz in general represents a brilliant branch of NOLA jazz's family tree. It's a classic Hard Bop recording featuring tenor saxophonists Clifford Jordan and John Gilmore trading solos in an incredible cutting session. They are backed by Horace Silver, Curly Russell and Art Blakey, if you need more convincing that this is an unbelievable listen.
We are, admittedly, putting words in Roger's mouth, but we believe Chicago is second to no city in Roger's eyes. NOLA has a lot going for it but doesn't even have a Binny's - enough said.