Main Content Starts Here
Binny's Home Bartender: Empyrean 75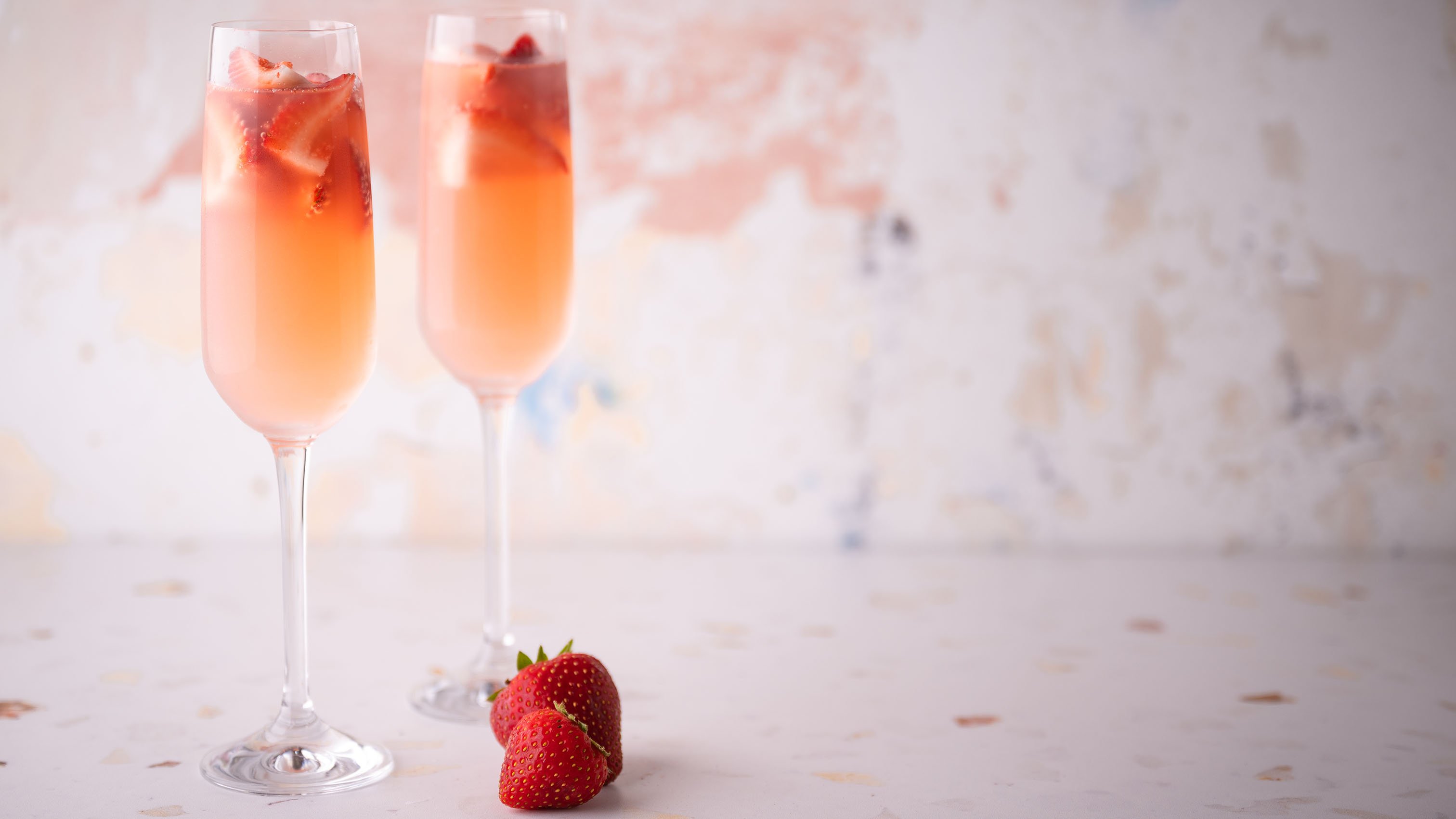 The Empyrean 75 is a heavenly riff on a classic Champagne cocktail, the French 75, with a tip of the old coppola to the Italian spritz tradition. It's also a veritable nectar of the gods, a drink fit for Dante's Beatrice, the welcoming aperitivo one is handed upon entering Paradiso, the preamble to ambrosia and the postscript to feasting in Valhalla, a vernal verisimilitude in liquid form. It smells to high heaven of spring in the Midwest and Milan, with its mélange of strawberry, rhubarb, juniper and gentian. A potent potable paradise.
The French 75 is named for its explosive power – the metaphorical equivalent of a WWI era 75 mm cannon. The Empyrean 75 is, likewise, a dynamite drink. But of what use are cannons in the highest heaven? As an angelic Edwin Star might ask and also answer - "War! Huh! What is it good for? Absolutely Nothin'!"
At least one hopes that is the prevailing wisdom amongst the Cherubim and Serafim. But who can say? If the Empyrean 75 is a part of our eternal reward, we'll just have to bite the bullet and sing out like that famous WWII sky pilot - "Praise the lord and pass the ammunition!" As long as that ammunition has the kick of an old 75 mm shell, comes in a flute and is passed on a silver tray, because there is no room on the celestial plane for anti-aircraft weapons.
This miraculous mix is as easy as strawberry rhubarb pie to make and will enhance your every post equinox endeavor. Easter Brunch or really any brunch. Yes! As a pre-prandial potation, of course! A beautiful spring day on the porch or patio? Aperitivo time? Vespers? In the gloaming? Elevenses? Low tea? Midnight toast? A morning corpse reviver? (Dig, Lazarus, dig!) Yes! Yes! Yes! So good that everyone in the room will say - "I'll have what she's having."
Empyrean 75
INGREDIENTS:
SIMPLE STEPS:
Add the gin, aperitivo and lemon juice to a shaker with ice and shake until well-chilled.
Strain into a flute. Add strawberry slices
Top with the Champagne.
Garnish with an orange twist.