Main Content Starts Here
Binny's Home Bartender: Chang'e and the Cherry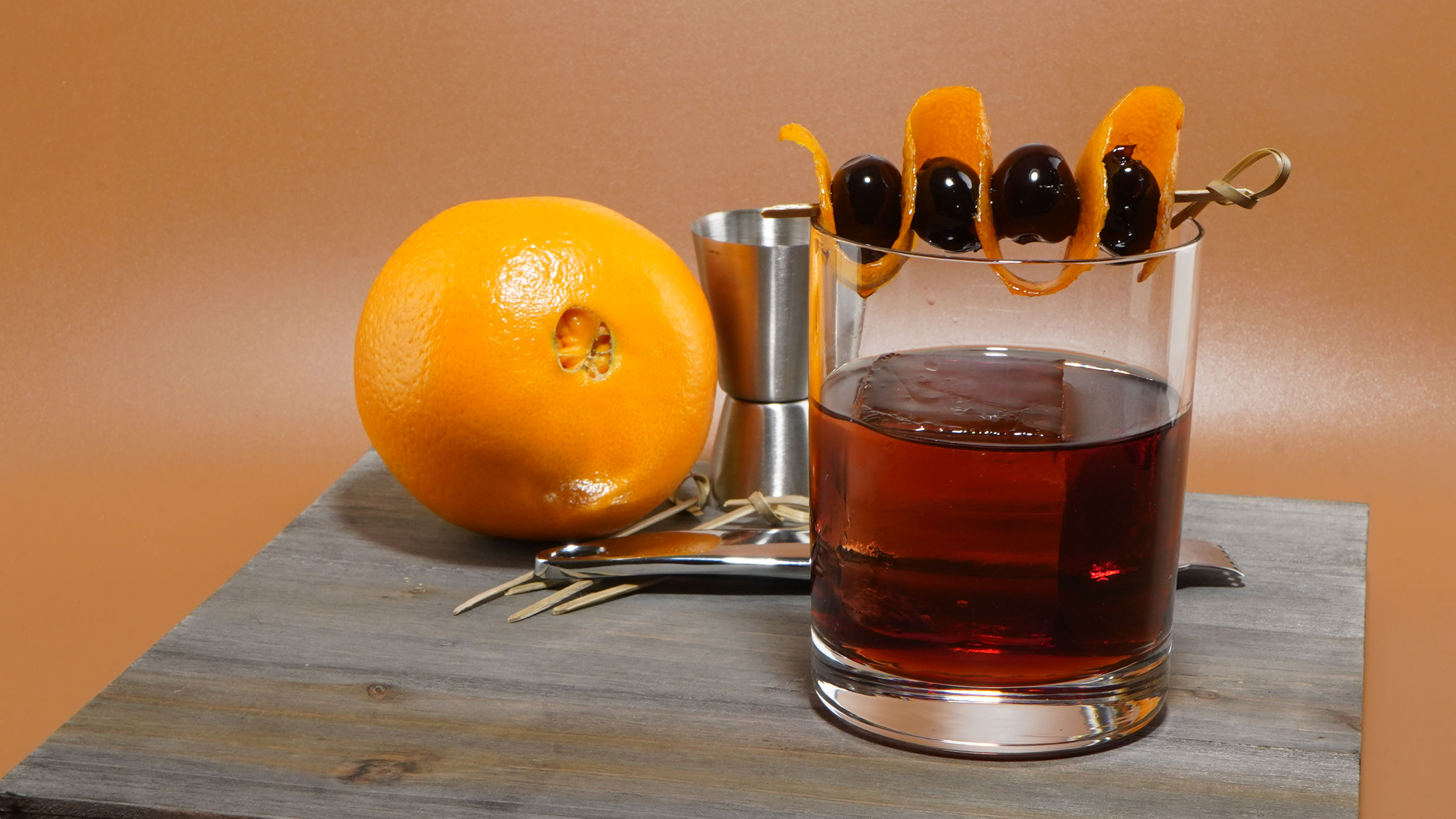 Chang'e and the Cherry
The Elixir of Immortality
A Year of the Rabbit Cocktail
Chang'e, as legend has it, was a beautiful woman who famously drank the Elixir of Immortality and floated off with her white rabbit to become the Chinese Goddess of the Moon.
What a deal! When Alice was cavorting around with her white rabbit, she was also tempted by an elixir contained in a bottle with a label suggesting (or was it a command?) – "drink me". But all she got for her trouble, in the words of Steve Martin, was to "get small". Martin, coincidentally(?), wore white rabbit ears on the cover of his famous 1977 comedy album, Let's Get Small.
Jefferson Airplane boiled it down on their 1967 psychedelic masterpiece White Rabbit - "One pill makes you larger and one pill makes you small and the ones that mother gives you don't do anything at all. Go ask Alice, when she's ten feet tall." Come on Mom! We can't even get a good placebo effect from your stuff? Dry January has officially gone too far!
It's really a cake labeled "eat me" that makes Alice grow. She also eats a mushroom at the behest of the hookah smoking caterpillar. Curiouser and curiouser, indeed!
Anyway, none of that is here nor there and, in some ways, neither is our reference to Chang'e. Although she is the Moon Goddess, her story is closely associated with the Mid-Autumn Festival that falls on the 15th day of the eighth lunar month when mooncakes, made of red bean paste, are a traditional treat (some serve them at the New Year too). We have no word as to their effect on a person's size or mortality.
Nevertheless, we will borrow her name and identity as Moon Goddess for the name of this secret Lunar New Year elixir. Besides, we are entering the Year of the Rabbit, making Chang'e and her companion even more relevant.
Chang'e and the Cherry may not provide immortality or shrink your body, but you may feel momentarily invincible when tasting this bittersweet and cherry scented cocktail for the first time. It also wears an appropriate red robe to symbolize prosperity and has delightful orange and cherry flavors; fruits that are traditionally given as Lunar New Year gifts.
We don't think cherries or oranges played a role in the Elixir of Immortality that transformed Chang'e from mortal to goddess, but some say her white rabbit worked hard, diligently pounding out medicinal herbs to make it. And this cocktail is, indeed, full of complex botanical notes as well. Our recommendations are as follows – choose a nice Baijiu or sub in Gin if you prefer. We like Campari for the bitters, Cocchi Vermouth di Torino and Luxardo Sangue Morlacco cherry liqueur.
Choose high quality cherries to garnish, such as our brand-new Binny's Amarena Cherries. These are the real deal - Italian cherries that equal the quality of the best in the market at a low, low Binny's price. A must for this cocktail and any cocktail that deserves the finest garnishes, which in the Binny's Home Bartender's humble opinion is every cocktail you make.
Alice claimed her elixir tasted of cherry tart, which is a good start. But also, custard, pineapple, roast turkey, toffee and hot buttered toast. Sounds like the Binny's Home Bartender has some work to do to match that for next Thanksgiving, but for now, here is the perfect elixir for the Lunar New Year, the Mid-Autumn Festival, and every day in between.
If you want to discover Chang'e and the Cherry's mysteries, just mix one for yourself. You will then experience its out of this world flavors and what, if any, supernatural effects it has. We believe you will love it to the moon and back.
Happy Lunar New Year! Ganbei!

Chang'e and the Cherry
INGREDIENTS:
SIMPLE STEPS:
Add the baijiu, vermouth, cherry liqueur and bitters to a mixing glass filled with ice. Stir until well-chilled.
Strain into a double old fashioned glass over a large ice cube.
Garnish with cherries and orange peel.