Main Content Starts Here
Binny's Handpicked Barrels: Patron Reposado & Anejo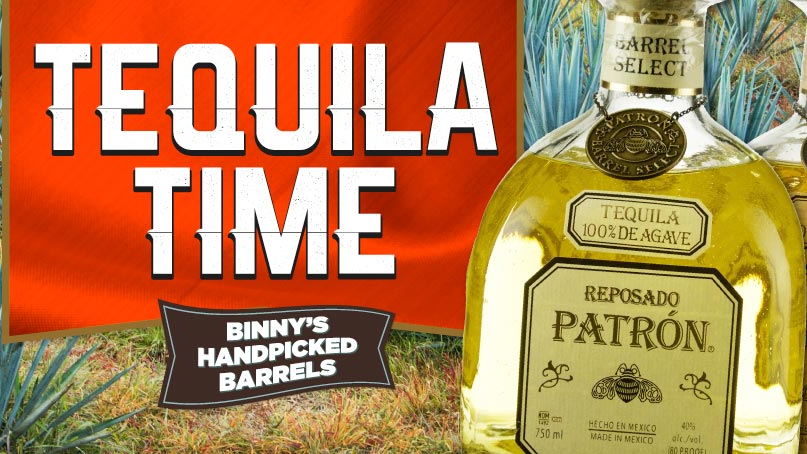 With summer finally starting our minds have turned to more refreshing aged spirits and tequila certainly fills that role. Reposado and Anejo tequilas (aged at least 2 months and 1 year respectively) offer an elegant balance of sweet, citrusy and honeyed agave and sweet and spicy oak. Both styles provide versatility in cocktails, are enjoyable as a cool refresher on the rocks, and will satisfy even the most hardened whiskey drinker. Our newest handpicked single barrels from Patron have just arrived and hit all the marks of brown spirits complexity and flavor while still maintaining a light and refreshing character.
Patron Reposado Single Barrel #10 Binny's Handpicked
This lovely Reposado was aged in Hungarian Oak. On the nose roasted agave, black pepper, vanilla, toffee, dark cacao, citrus blossoms and tropical fruits abound. The taste shows more of the classic Patron citrus fruit, pepper, sweet vanilla oak, honey, and soft fruit. The finish is quite lengthy with peppery spice and clove-spiked citrus fading slowly. A dangerously drinkable tequila.
Patron Anejo Single Barrel #19 Binny's Handpicked
The nose shows citrus in the form of lemon zest, lime and blood orange. Creamy vanilla, buttery oak, cacao nibs, and roast agave lay behind the citrus. On the palate, French oak becomes more apparent with a touch of dry spice accompanying sweet citrus and vanilla, toffee, and cardamom. The finish is rich and round with spice winning out over lovely sweet toffee and vanilla soaked citrus. Wonderfully balanced and delicious.
Patron Anejo Single Barrel #13 Binny's Handpicked
More creamy vanilla on the nose here with some orange blossoms, roasted honey, and toffee with a dose of peppery spice. The taste has big, chewy candied orange segments, vanilla, toffee, sweet agave and lime. The finish is warming with lime, candied orange, butterscotch and vanilla fading slowly into a lingering baking spice. Absolutely gorgeous. Perfect with a cigar on a hot summer night.