Main Content Starts Here
Beer Buzz: Liberty Sandwich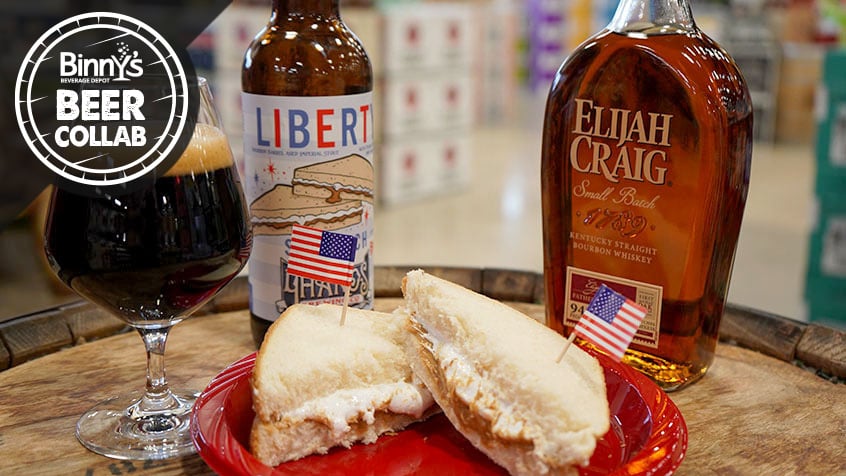 Liberty Sandwich? Chances are you've had one of these deliciously fluffy and nutty sandwiches, you just knew it by a different name. Marshmallow crème hit the market during World War I and the combo of spreadable marshmallow and peanut butter between two slices of bread was dubbed the Liberty Sandwich. In the 1960's a group of marketing ad-wizards renamed it the Fluffernutter. Beloved in its home state of Massachusetts, this tasty treat quickly spread across the country, inspiring a slew of similar tasting desserts.
Dessert and pastry inspired stouts are all the rage these days, so an homage to the Liberty Sandwich seemed like a no brainer. Our friends at 4 Hands filled a batch of our hand-picked Elijah Craig bourbon barrels with their famous imperial milk stout. After a long rest in oak and some blending with vanilla beans and peanut butter, we're proud to introduce our salute this classic American treat.
When you pop a bottle of this delicious stout, you of course need to enjoy it with the sandwich. The ingredients are pretty simple - white bread, marshmallow cream and peanut butter. Lots of variations have sprung up over the years. We suggest you experiment with some of the following ingredients to kick this classic up another notch.
-Bananas
-Pineapple
-Pears
-Chocolate hazelnut spread
-Cashew Butter
-Bacon
-Oat Bread
Another trick – butter the bread and heat it up in a skillet or panini press. #AMERICA