Main Content Starts Here
Be A Baller This Holiday Season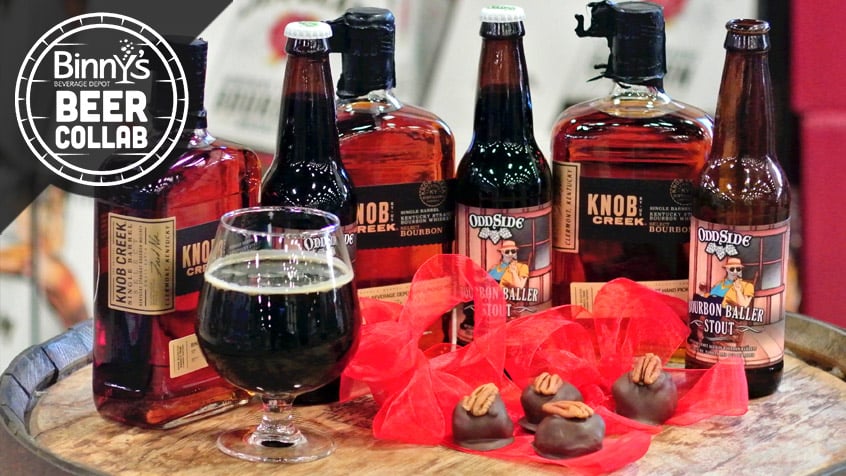 Specialty beers are Odd Side's speciality. Thirsty for something different, we shipped up eleven freshly dumped handpicked Knob Creek bourbon barrels to Odd Side and quickly got to work designing a pair of stouts.
If you've been down to Kentucky for a whiskey distillery tour, there is a good chance your tour concluded with a taste of bourbon and a bourbon ball. These chocolate covered vanilla cream candies are often made with pecans, and of course a splash of bourbon. (Check out our recipe below). So we asked our friends at Odd Side to transform these tasty treats in liquid form. When Odd Side does a beer with pecans, they use real pecans, not a bottle of pecan flavor. It's a laborious process, but it makes a world of difference. Pop a bottle, kick back and live large, you'll see what we mean.
BOURBON BALLS
INGREDIENTS:
1 cup chopped pecans

1 stick salted butter (softened)

4 oz bourbon (Bourbon Baller Stout was aged in our hand selected Knob Creek barrels, so we used Knob Creek)

1 teaspoon pure vanilla extract (optional)

1 box (about 4 cups) of confectioner's (aka powdered) sugar

1 heaping tablespoon coconut oil

1 bag (about 2 cups) of semi-sweet chocolate baking chips

Around two dozen pecan halves
DIRECTIONS:
Combine chopped pecans and bourbon in a mason jar. Screw on lid and give a shake. Let sit at room temperature for 1 hour.

Beat softened butter with an electric mixer and gradually add in powdered sugar. Once smooth, beat in vanilla extract. Add pecan bourbon mixture and stir with a spoon until well incorporated. Cover with plastic wrap and chill in freezer for 15 min.

Using a melon baller or spoon, scoop approximately 1-inch balls onto a parchment or wax paper lined cookie sheet. Place in freezer and chill for 15 minutes.

Melt chocolate chips and coconut oil in microwave at 50% power for 1 minute. Stir mixture and repeat. After three minutes total, chips should be melted.

Using a toothpick or wooden skewer, dip chilled bourbon ball into melted chocolate and place on parchment lined baking sheet. Top each ball with a pecan half, which conveniently covers the toothpick hole. Repeat until finished and return finished candies to the fridge for 15 minutes to allow chocolate to set.

Serve at room temperature or chilled. Store any extras in a closed container in the fridge.
Wait, there's more...
Now that you've had your dessert, it's time for A Bluegrass Breakfast. Fans of the Hipster Brunch series will find some similarities here, but once again we wanted to incorporate pecans into the mix, this time dreaming of a big stack of pecan pancakes topped with maple syrup and candied pecans. Add bacon and coffee to the mix and you have a complete breakfast. As seemingly decadent as this all sounds, the stout is well fermented, and the acidity of the coffee provides a nice foil to the maple sweetness. Amazingly layered and remarkably balanced, this is a breakfast we could enjoy any time of day.