Main Content Starts Here
Barrel to Bottle's Picks of 2022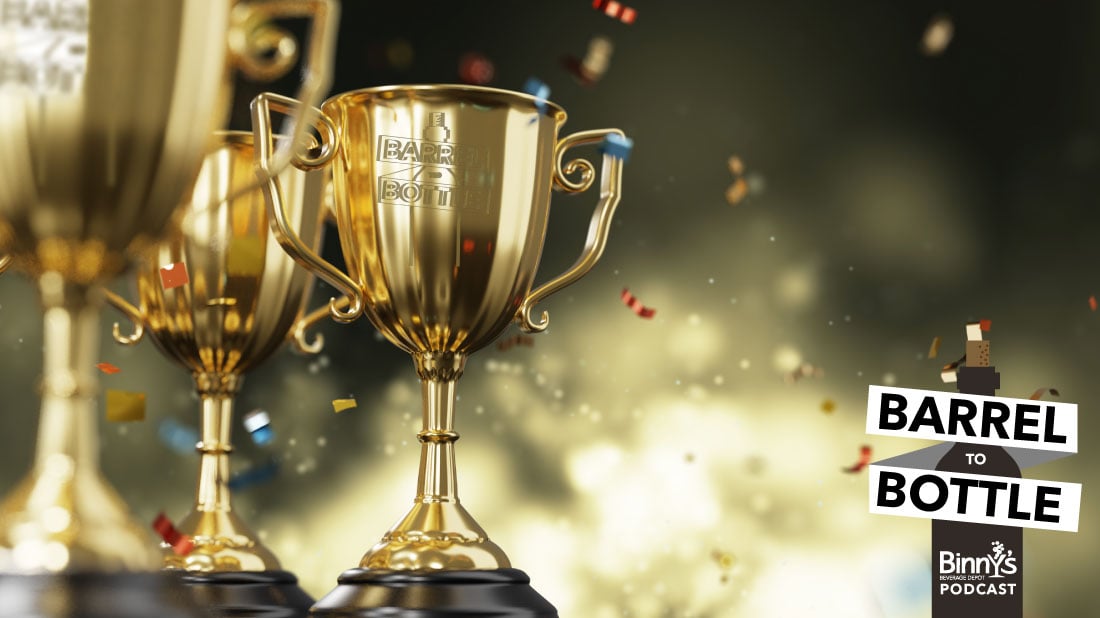 And now for the epic conclusion of Barrel to Bottle's Picks of the Year 2022.
Part 2
Alicia's Pick
Chateau Beychevelle Saint Julien 2018 – In addition to this wine, Alicia wanted to highlight 2018 in Bordeaux. This vintage really stood out at this year's UGC tasting. Alicia has also been impressed with Beychevelle's wines over the last few years.
Pat's One and Only Pick
Pinhook Vertical Series Bourbon War 7-Year-Old Bourbon 2022 – Pat has talked about this bottle multiple times on the podcast this year. That's why it's his pick of the year!
Jim's Second Pick
Destihl Wild Sour Series Elima Hua – Jim drank a lot of this beer over the summer, it's an easy-drinking sour with pineapple, coconut, mango, passionfruit and guava. It's not the full POG, sadly.
Greg's Second Pick
Field Recordings Aqua Pazza Organic Pink Sparkling – Two years ago Greg was dragged for picking something too expensive. Last year he was dragged for picking something that was both too expensive and not available. This year, Greg brought pet-nat. Alicia is not happy.
Jenna's Third Pick
André Cluet Brut Grand Reserve – Andre Cluet is always a favorite among wine buyers and managers at Binny's. It's a great value in champagne.
Pat's One and Only Pick
Bordiga St. Hubertis Amaro Reserva – Unfortunately, this is a pick that you can't have (at least right now). You might not know this, but Pat went on holiday in Italy this year and he brought back a ton of amaro.
Honorable Mentions
Part 1
It's time for the Barrel to Bottle's Pick(s) of the Year. For the first time ever, we have seven people on mics, so it should be obvious why we had to split this into two episodes.
Pat's One and Only Pick
Penrose Fantasy West collaboration with More Brewing – "Thiols" was probably the Barrel to Bottle Word of the Year, it's all Chris and Roger have talked about this year. This beer used cryo hops heavy in thiols and Sauvignon Blanc must powder that is heavy in thiols.
Jenna's First Pick
Michter's US 1 Single Barrel Straight Rye – This is a delicious, affordable, nicely proofed rye. It's soft and buttery, perfect for someone looking to get into rye.
Jim's First Pick
Off Color Beer for Lounging – No, this isn't a Roger pick surprisingly. Jim is a huge Off Color fan also, both of their beer and their merch. Beer For Lounging is their tribute to Sierra Nevada Pale Ale.
Pat's One and Only Pick
Benromach 9-Year-Old First Fill Sherry Hogshead #719 Binny's Handpicked/Benromach 11-Year-Old First Fill Bourbon Barrel #595 Binny's Handpicked – We've tasted the 9-Year on the podcast before. First fill sherry is still a buzz word for some Scotch drinkers. There is a lot of sherry here, almost covering up the peat. A fun side-by-side is the 11-Year bourbon barrel handpicked.
Greg's First Pick
Surly Abrasive – This beer never left, but now it's $12.99 a four pack. This is a big, bitter beer and it tastes great. This is an old school, resinous beer even though it also has Citra hops.
Chris' First Pick
Trimbach Riesling Cuvee Frederic Emile 2011 – Why is this 11-year-old wine Chris' pick for 2022? It's because it's a so drinkable and it's still not even the best example he's ever had of this wine. Great vineyards and producers turn out great wines all the time, regardless of points, reviews or other hype.
Roger's First Pick
Boulevard Barrel Aged Wheat Wine collaboration with Firestone Walker – Boulevard and Firestone Walker brewed two different wheat wines and combined them for this collaboration. The Boulevard component was aged in rye barrels, the Firestone component was aged in wheat whiskey barrels with white wine grapes.
Pat's One and Only Pick
Signatory Glenlivet 15-Year-Old First Fill Sherry Butt #900788 Binny's Handpicked – You might recall a previous episode where we talked about a Benromach in a Sherry Hogshead. It's 63.8% abv, which is very high at that age. If you love sherried scotches, this is your dream bottle.
Jenna's Second Pick
Goose Island Neon Beer Hug – This is a hoppy beer that still goes down easy. Roger is all in favor of fruity, aromatic IPAs that aren't weighed down by lots of wheat and oat.
If you have a question for the Barrel to Bottle Crew, email us at comments@binnys.com, or reach out to us on Facebook, Twitter or Instagram. If we answer your question during a podcast, you'll get a $20 Binny's Gift Card!
If you like our podcast, subscribe wherever you download podcasts. Rate and review us on Apple Podcasts.