Main Content Starts Here
Barrel to Bottle: Would You Rather?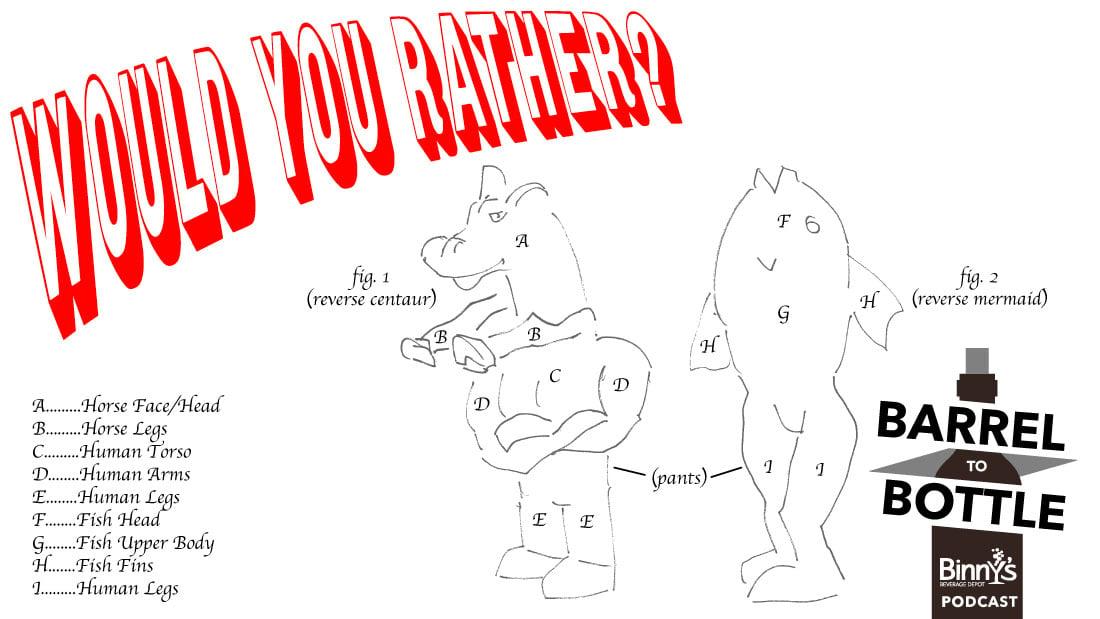 Just how much more do you want to learn about the Barrel to Bottle Crew? If the answer is "lots" then this episode is for you. This is a Greg Episode, so he has compiled the list of questions both shallow and deep, alcohol-related and not.
Bad lager or bad vodka? Bad Pinot Grigio or good Gruner-Veltliner? Great beverage with an OK meal or OK beverage with a great meal? One bottomless OK drink or one teeny, tiny life-changing drink? Unlimited international first class tickets or never have to pay for food and drink at a restaurant? Crappy punk rock or perfect orchestral music? Would you rather be a reverse centaur or a reverse mermaid? All these questions and more, plus a lightning round!
If you have a question for the Barrel to Bottle Crew about wine, spirirts or beer or the next "Would You Rather?" episode, email us at comments@binnys.com, or reach out to us on Facebook, Twitter or Instagram. If we answer your question during a podcast, you'll get a $20 Binny's Gift Card!
If you like our podcast, subscribe wherever you download podcasts. Rate and review us on Apple Podcasts.