Main Content Starts Here
Barrel to Bottle: Woody Creek Distillers with William H. Macy and David Matthews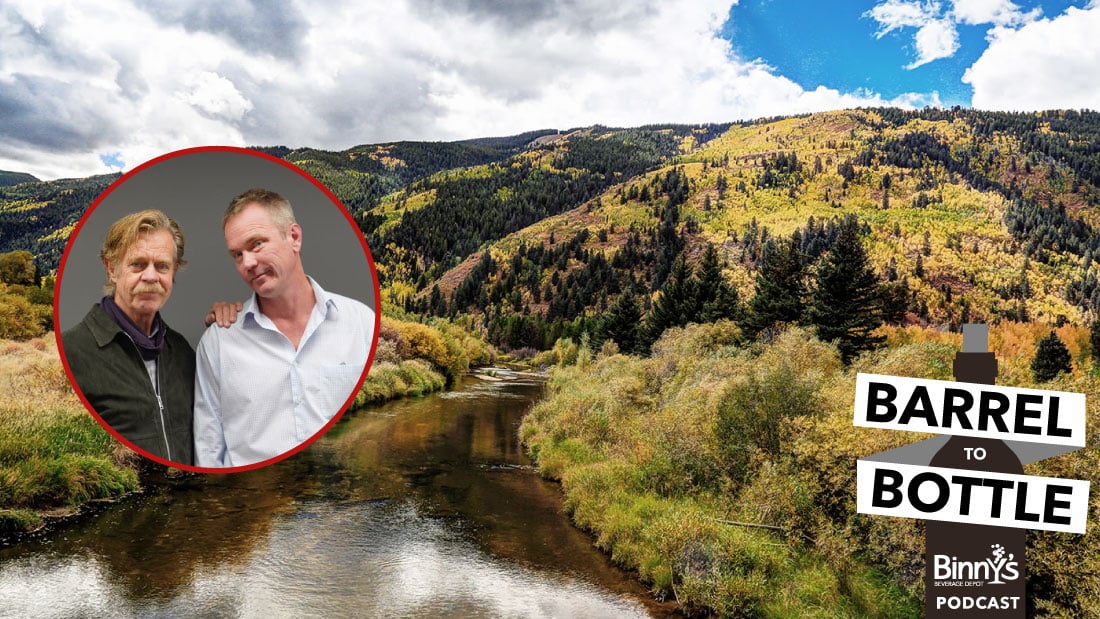 Acclaimed actor William H. Macy is a bourbon fan. Luckily his neighbors are a distillery, specifically Woody Creek. They used one of his fields to grow potatoes for their vodka and that's how Bill became their spokesguy. David Matthews, master distiller at Woody Creek had a goal to make to make the best potato vodka in the world. Since then they've been able to get some aged whiskey out into the market.
Distilling in Colorado presents some unique problems to overcome, which is why they have a giant German still with 42 plates in it. But it also allows them to only distill the vodka once. Their potato vodka put them on the map back in 2013 at the San Francisco World Spirit's Competition. Normally Pat makes it a point to not compliment vodka, but this one will earn a compliment from him. It's round and plush, unlike some lesser vodkas.
Woody Creek's gin is made from their potato vodka. A lot of distilleries buy neutral grain spirit and have it shipped in, then they run it through a pot still with a bunch of botanicals and call it handmade. They grow the potatoes in Colorado, they use that vodka to make the gin, then they use local botanicals in the gin.
You can tell Woody Creek's rye is a rye because the label is green. It has to be green. The rye from Woody Creek is about 4 ½ years on average, with one type of rye. It's citric and butterscotch with just a little pepper. Most people think of ryes as being lean and punchy but that's not the case here. Rye is Bill's favorite expression from Woody Creek and he uses it in a cocktail he invented, A Life Without Fear.
Finally, today, the bourbon. It's the same proof as the rye (90) and about the same age profile as well. It's all Colorado-sourced ingredients too. David doesn't go lower than 90 proof for a brown spirit and he doesn't chill filter, which we appreciate here at Barrel to Bottle. If you have a high-proof spirit, you can drink it with ice. Drink it however you want it, but ice is fine. Just make sure it's good ice.
A Life Without Fear
INGREDIENTS:
2 oz Woody Creek Rye
½ lemon, juiced
1 tsp maple syrup
Club Soda
SIMPLE STEPS:
Add rye, lemon juice and maple syrup to rocks glass.
Stir
Top with club soda
If you have a question for the Barrel to Bottle Crew, email us at comments@binnys.com, or reach out to us on Facebook, Twitter or Instagram. If we answer your question during a podcast, you'll get a $20 Binny's Gift Card!
If you like our podcast, subscribe wherever you download podcasts. Rate and review us on Apple Podcasts.