Main Content Starts Here
Barrel to Bottle: Wine & Music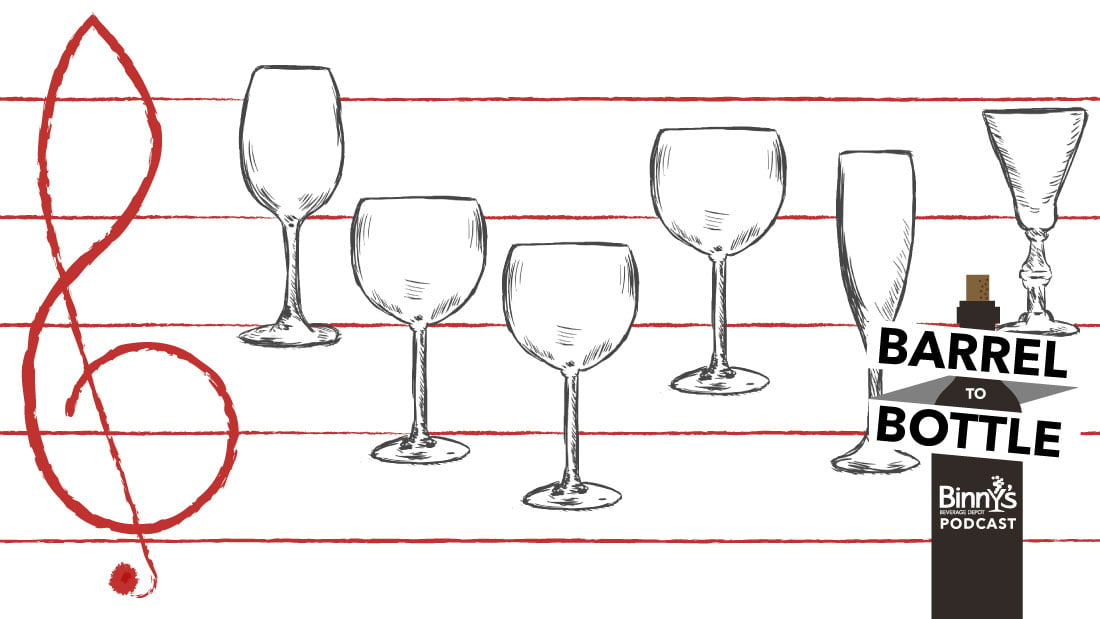 The last time Binny's wine consultant Emily visited the Barrel to Bottle studios, she brought snacks. Her pitch for that episode was pairing wine with junk food, which eventually spun off into a second episode with classier wine pairings and popular Asian takeout foods.
Today's episode pitch from Emily is pairing wine and music. It might seem like it's too abstract to make any sense, but the more we thought about how music and wine are made and experienced, the more it made sense to tackle this topic.
This is a weird episode, so we're starting off with orange wine. Winemakers in this category, along with rap musicians, are always pushing the boundaries of the status quo. They're also both often social conscious and often get a bad…rap. Orange wines are fermented from white grapes with the skins on, which tends to give it an orange color. Field Recordings Skins Orange is particularly orange in color, even for this category. This actually could have been a flavor-blasted wine.
Rock music can be loud, aggressive, polarizing, but also powerful and bold. For this pairing, Emily picked Casa Silva Carmenere. You can smell this wine from across the room and it can be a little polarizing.
Sticking with rock, we're headed back a little further to the classic rock scene…Led Zeppelin, Rolling Stones, Metallica. This is right in Roger's wheelhouse. Pairing up with classic rock is Gnarly Dudes Two Hands Shiraz. This wine used to be radical and now it's basically in the mainstream. It's the Red Hot Chili Peppers of wine.
This next pairing might be a little too on the nose. It's a bourbon-barrel aged wine in a squatty, clear, medicine-style bottle and it's called Buck Shack. So it only makes sense to pair this with country music. Buckshack is a Zinfandel, which is often called America's grape.
Prosecco is a wine that you drink when its young, it's trendy, its affordable, people use it for weddings and other big events. The next pairing partners Syltbar Prosecco with pop music.
For the encore today, this was the enticement to get Roger into the room. alvear Pedro Ximenez 1927 Solera is sherry adjacent.
If you have a question for the Barrel to Bottle Crew, email us at comments@binnys.com, or reach out to us on Facebook, Twitter or Instagram. If we answer your question during a podcast, you'll get a $20 Binny's Gift Card!
If you like our podcast, subscribe wherever you download podcasts. Rate and review us on Apple Podcasts.