Main Content Starts Here
Barrel to Bottle: Whisky Advocate's Top 20 of 2021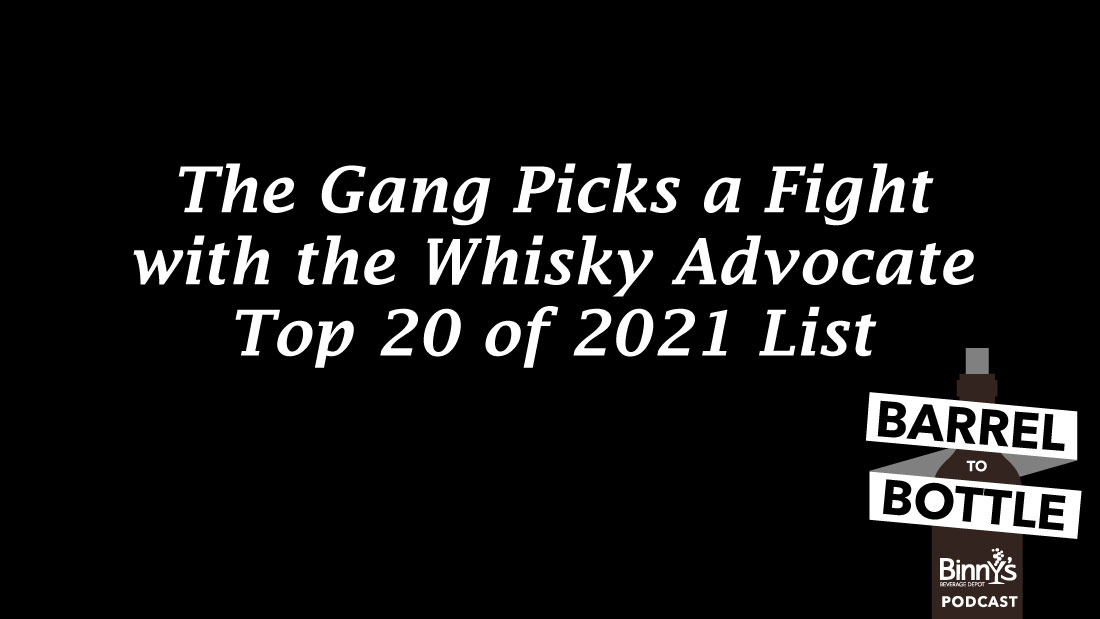 Every year, Whisky Advocate releases their list of the Top 20 Whiskies of the Year. Invariably, we get many customers coming in looking for bottles on the list and unfortunately, we have to tell them "You can't have this", because we never had the bottle, or had six bottles months ago. This year is different. For the first time Pat can remember, we have half the items on the list still available in our stores. From the home office in Lincolnwood, IL:
20.) Andalusia Striker: Pat's never had this one and we can't get it. No comment.
19.) Wheel Horse Straight Bourbon is right in Greg's wheelhouse. It's 101 proof, it's around $30 and it's made in Kentucky. Roger has been lamenting the trend in bourbon where everyone thinks $50 is the starting point for good bourbon. The bourbon world is your oyster right now, you can get great stuff for $50 or less. The message is: trust your spirits consultant.
18.) GlenDronach PortWood is a $90 bottle with no age statement. It's non-chill filtered and 100% port finished. And it tastes like it. Pat found it a little one-dimensional when he first tried it, but it is first and foremost a fruit cocktail of a Scotch.
17.) Kentucky Owl The Wiseman is their first release after kicking their founder out of the company. Pat couldn't find his sample bottle and he's always found their stuff to be overpriced and overhyped. We'll get back to you on this one.
16.) Old Fitzgerald 11-Year-Old is sadly a "you can't have this" bottle. At 11 years and a very high wheat-content, it's a soft, easy-drinking bourbon.
15.) Nikka Taketsuru Pure Malt is kind of an everyday whisky in our stores. It starts light and floral like most Japanese whisky, but then it finishes more like a Scotch. To Chris, this whisky is like walking through a garden of flowers and fruits and a mile away, someone is smoking bacon and you're just catching a whiff of it. It's a vivid mental image.
14.) Bib & Tucker 6-Year-Old Small Batch is widely available, and we have it, but Pat didn't bring a sample. It's typical Tennessee bourbon, with the Flintstones Vitamin character. Pat likes it, but he's not sure it's a top 20.
13.) Arran Barrel Reserve: we don't have this one but we are trying to get it in.
12.) Ardnamurchan (AD/03.21:02) is something we tried on the Barrel to Bottle 2021 Picks episode. Roger didn't care for it, he was getting a lot of that Iodine/Band-Aid flavor that sometimes comes from peat. For whatever reason, that is not presenting now for him though. It is available at most Binny's locations, but it's starting to sell out.
11.) Port Charlotte PAC:01 2011 is a limited release, heavily peated cask strength Scotch aged in red Bordeaux wine casks. It is available but selling out quickly. Sadly, Pat doesn't have a sample today.
10.) Wild Turkey Master's Keep One is sadly another "you can't have this". Pat hasn't tried every Master's Keep offering, but the ones he's had are usually pretty damn good. If you like Wild Turkey, you should try to hunt this one down.
09.) Compass Box No Name No. 3 just came out and Pat doesn't have a sample. He does have No Name No. 1 though. No. 3 is probably going to have more of that iodine/Band-Aid that Roger wasn't a fan of from the Ardnamurchan. No. 1 is excellent so if No. 3 is anything like it, then it has a well-deserved spot in the top 10.
08.) Kentucky Peerless Double Oak came and went but will be back. After a few distillery-only releases and a lot of hype, they released it to the public. It's definitely a top 20 release but Pat's not sure about top 10.
07.) Rampur Asava is a whisky we typically do carry but unfortunately it has been out of stock for a while. It's finished in Indian Cabernet Sauvignon barrels and is typical of Sub-Continent single malt meaning it's very tropical, fruity and juicy.
06.) High Coast Hav is a Swedish single malt. Pat has not tried it, we cannot get it, you can't have this.
05.) Dickel 8-Year-Old is labeled as bourbon, unlike the other Dickel releases. It's fruity and a little Flinstone-vitaminy. That's typically the calling card of the Dickel distillery. It's a nice bourbon, but is it a top 20? It is good whisky for $35 though and Tennessee Whiskey fans will like it a lot.
04.) Jack Daniel's 10-Year-Old is another "you can't have this". Pat has never tried a Jack this old, but don't sleep on their single-barrel selections. We just got some in recently.
03.) Teeling Blackpitts is an Irish single malt. Because it's Irish, that means it's triple-distilled but htat also means it's very heavily-peated. Then it's finished in bourbon and sauternes casks. Pat is a big fan and he's glad it made the list. For $70 it's a tremendous whiskey.
02.) Maker's Mark Wood Finishing Series 2021 FAE-201 was available earlier in the year but has since sold out. So unfortunately, "you can't have this' but luckily Pat still has a sample bottle. This is the best Maker's Mark product Pat has ever tasted and it definitely belongs at #2 on the list. This was designed to make Pat gush about it on a podcast.
01.) Lagavulin 11-Year-Old Offerman Edition: Guinness Cask Finish has come and gone from our stores, but it was widely available for a while. Luckily Pat bought a bottle and he's opening it now. Despite the celebrity tie-in, it is superb.
If you have a question for the Barrel to Bottle Crew, email us at comments@binnys.com, or reach out to us on Facebook, Twitter or Instagram. If we answer your question during a podcast, you'll get a $20 Binny's Gift Card!
If you like our podcast, subscribe wherever you download podcasts. Rate and review us on Apple Podcasts.