Main Content Starts Here
Barrel to Bottle: What The Hell Does That Taste Like? Vol. 2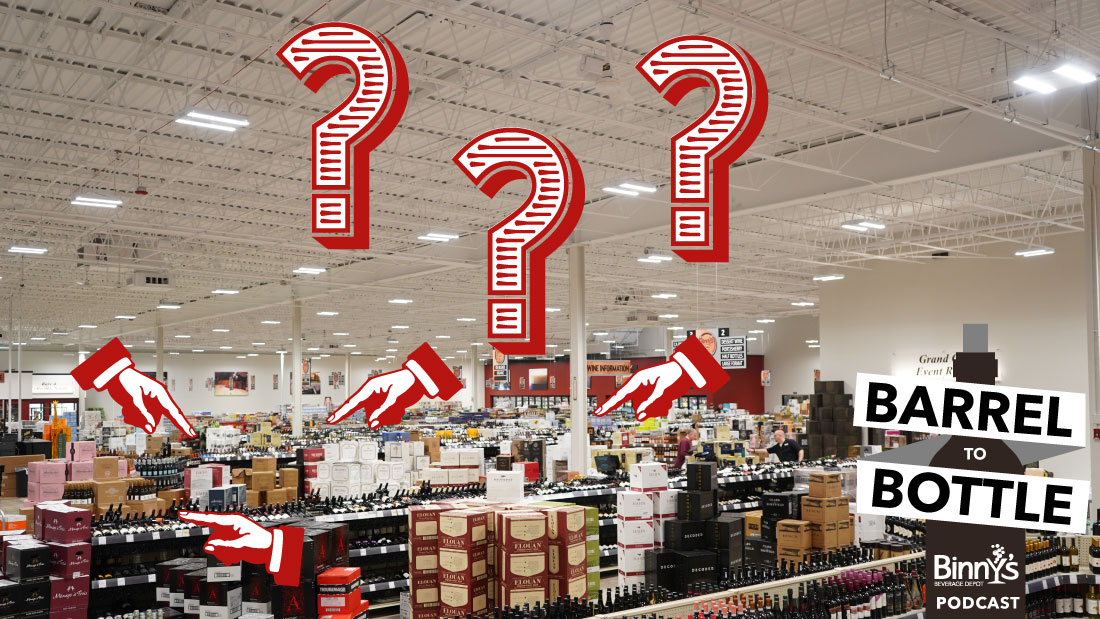 It's been nearly two years since we answered the question "What the Hell Does That Taste Like?" For every Jack Daniels, Bud Light or Apothic Red, there are even more products in our stores that most customers aren't familiar with. Another Lithuanian beer, German bubbly with gold flakes, a Mexican corn whisky and most importantly: Smooj.
We're starting off today with a little Calvados-looking bottle with a glop of yellow wax. Domaine Maire Vin Jaune is from the Jura region of France, which does not produce or export a lot of wine, so this is a fairly rare bottle.
The next bottle is something that has been brought up on the podcast before. Specifically, Greg got mad at Roger because he's never tried Luxardo Morlacco Cherry Liqueur. This is very different than the Luxardo Maraschino liquor in the straw basket bottle.
Without further ado, it's Smooj time. What is Smooj? Think of it as a sparkling smoothie with alcohol. Despite the name, the viscosity, and the mouthfeel, it is made will real fruit. It's also been a very popular product in our stores.
Blue Nun is something that has intrigued Alicia for some time. They make Rieslings, specifically today is the 24 Karat Edition, which has gold flakes floating around in it. Roger could see this with a floater of Goldschlager
Pat reaches into his Santa Bag for Abasolo el Whisky de Mexico. It is made from nixtamalized corn, which involves cooking corn in a lime water solution. It's a very popular cooking method in Mexico. It's also the only kind of Mexican whisky made using this method.
Alright, let's go to Lithuania and try some Dragon Lady. The label is a straight up steal from Dungeons & Dragons or Conan the Barbarian. Even though it says doppelbock, it is actually bright yellow in color.
Whenever Alicia shows Greg a wine off the beaten path he takes a drink, makes a face and then says he doesn't like it. She wanted to bring in Croatian wine to see if she might be able to change his name. Zlatan was the second private winery after Croatia declared it's independence.
Once again, Pat has brought too many things but to be fair no one said a number. Zhumir Aguardiente (fire water) is a sugar cane distillate from Ecuador, they are normally flavored with anise and can range from 27% to 40% alcohol.
While perusing the gimmicky Lithuania booze bombs, Roger noticed that we got in a case of Baltika Russian Imperial Stout. Baltika is basically the only Russian brewery we carry, which means this is a Russian Imperial Stout from Russia.
On the opposite side of the Latin American sugar cane distillate is Paranubes, a rum from Oaxaca, Mexico. It's made like other Rhum Agricoles, which means it's going to have that estery, dundery flavor that Greg is on record as hating quite a bit.
Finally is Barrell Seagrass, an independent bottler that buys stock, blends it and sometimes does a barrel finish in something interesting. In this case it's a rye whiskey finished in a blend of Martinique Rum, Madeira and Apricot Brandy barrels. It's the spirit of Roger's dreams.
If you have a question for the Barrel to Bottle Crew, email us at comments@binnys.com, or reach out to us on Facebook, Twitter or Instagram. If we answer your question during a podcast, you'll get a $20 Binny's Gift Card!
If you like our podcast, subscribe wherever you download podcasts. Rate and review us on Apple Podcasts.