Main Content Starts Here
Barrel to Bottle: Top 5 Episodes of 2018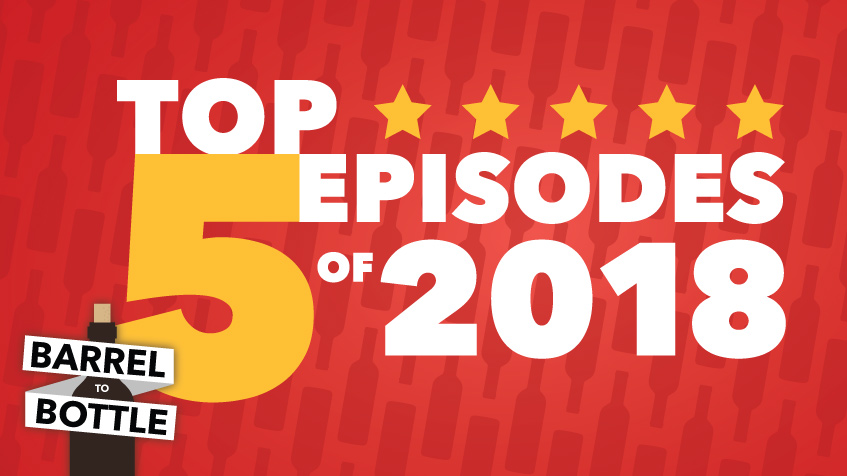 It's been a great year for the Barrel to Bottle team. They've covered pilsners to stouts, cabernet to Champagne (a couple times), whiskey to... well... whisky. And they've interviewed a ton of big names in the industry: Sam Calagione, Wes Henderson, Garrett Oliver, Randy Mosher and Nick Williams, Chris Benziger and John Concannon, Mike Siegel, Jimmy and Eddie Russell, Binny's very own Wine Buyer Barbara Hermann... and that's just off the tops of our heads. We asked Kristen and the team to take a look back and share their favorite episodes of the year. Check them out - and if you haven't already, download and listen!
#5 - Roger's Pick: 2018 BCBS Preview
Black Friday in Chicago means heading to Binny's Lincoln Park for the annual release of one of the most collectible and desirable beers out there: Goose Island Bourbon County Brand Stout. This year's release includes eight unique versions: Original, Wheatwine, Reserve, Midnight Orange, Coffee Barleywine, Proprietor's, Vanilla and Bramble Rye. The Binny's crew got a sneak preview of the full lineup, and they run through their tasting notes, insider info and more in this episode of Barrel to Bottle.
Episode 55: Sneak Peek: 2018 Goose Island BCBS
#4 - Greg's Pick: Cans
Cans aren't just for beer! These days, innovative wineries and distilleries are joining breweries in packaging their beverages in this portable, lightweight and environmentally friendly aluminum container. The Barrel to Bottle crew breaks convention and tastes a collection of wines, cocktails and more from cans. Things get weird.
#3 - Pat's Pick: Islay Part 1 & Islay Part 2
(Okay technically this is two podcasts, but if you listen to them both in one sitting it's like one extra long podcast.)
Scotland's Islay makes some of the most distinctive and immediately recognizable whisky in the world, from graceful and honeyed to richly peated, smoky and briny. The Barrel to Bottle crew teams up with the Whiskey Hotline in a guided tasting of all eight active distilleries on the Island, with lots of fun facts and Islay info along the way. Part I covers the less peaty distilleries: Bruichladdich, Bunnahabhain, Bowmore and Kilchoman. Part II covers the more peaty distilleries: Lagavulin, Caol Ila, Laphroaig and Ardbeg. Also silly hats.
Episode 56: All the Islay Part I
Episode 57: All the Islay Part ll
#2 - Kristen's Pick: What did the Framers of the Constitution Drink?
The Barrel to Bottle Crew celebrated the 4th with a special episode. What did people drink in revolutionary times? From rum to rye... from cider to sherry, you might be surprised at the variety of drinks the founding fathers enjoyed. Plus, Roger brings you revolutionary cocktail secrets. America!
Episode 41: What did the Framers of the Constitution Drink?
#1 - Fan Favorite: All About Rye
You guys really liked this episode. Like a lot. 'All About Rye' received the most podcast downloads this year. Which makes sense since craft whiskey is so hot, but it turns out there's still a lot of confusion surrounding rye. From rye whiskey to high-rye bourbon, The Barrel to Bottle Podcast team covered the basics of this hot category. Kristen, Pat and Roger taste several examples from Whiskey Acres, High West and Rittenhouse (plus Pat's favorite everyday high-rye bourbon from Old Forester) plus two different versions of the classic Old Fashioned cocktail side by side.