Main Content Starts Here
Barrel to Bottle: Thanksgiving Pairings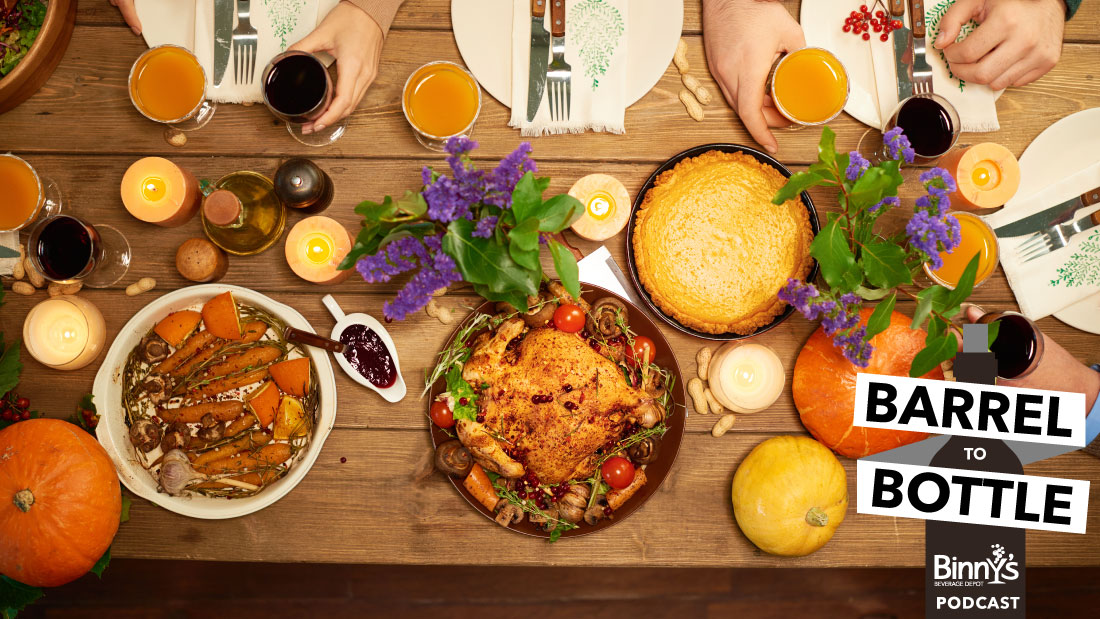 This year for Thanksgiving, the Barrel to Bottle crew wants to make it simple to buy beer, wine, and spirits for your feast. Instead of pairing individual drinks with dishes, we've selected some items that pair with nearly everything you might eat on Thanksgiving.
First up, the beer. The lay-up choice is a pumpkin beer, but Roger is going outside the box with his options for today. The three beers today will appeal to a large audience and work with a lot of different dishes.
Unibroue has always been focused on pairing their beer with food, or even cooking with their beer. Their beers are food beers. Don de Dieu is a Belgian-style Imperial Wheat Ale, brewed with spices. It works with everything from turkey through dessert. It's also a great value in a $10 four-pack.
The second beer is specifically for Pat Brophy, who is always thirsty for a crispy boy. Vienna Lagers are popping up all over the place lately, their closest in style to an Oktoberfest, which you might have leftover still in the fridge. Dovetail is one of several local breweries making Vienna Lagers. It's not quite as rich as an Oktoberfest, but it can be quite refreshing. Vienna Lagers are a Swiss Army Knife food pairing beer. They go with almost anything.
Rodenbach Classic is now in 16 oz cans, which we've been asking for for years. This is a beer that takes years to make, as it is aged in oak foedres for two years. These treasured vessels impart sweetness, acidity, and fruitiness to the beer. This is another beer that can go with almost anything on your plate at Thanksgiving.
Up next, the Thanksgiving wines. And not a Pinot Noir among them. The last time we had a Lambrusco, Pat remembers making fun of it a lot. It's not a protected name, which means there's a lot of high-volume, uninspired offerings out there. This is not one of those. La Luna Lambrusco is a much drier example of the style so don't write off the entire category. This wine is going to cut through any rich, fatty food on Thanksgiving.
While Rieslings are a traditional Thanksgiving wine, it's likely that a lot of your guests have not had many wines from the Finger Lakes. Dr. Konstantin Frank's Dry Riesling has the minerality and florality found in German Rieslings, along with citrus and stone fruit.
Pinot Noir or Beaujolais are the classic recommendations for turkey, but not today. Chris chose Bonny Doon's Le Cigar Volant, which is similar with a Pinot Noir or a Beaujolais. It's medium-bodied, aromatic, and herbaceous and spicy. It's an easy-going wine.

Roger is very excited to talk about Madeira today. If you're going to show off Madeira to people who aren't familiar with it, Rare Wine Company's Historic Series is perfect. Plus, it has a perfect historical tie-in to Thanksgiving and Colonial America.
Pat will preface his spirit selections today by saying that he thinks pairing spirits and food usually feels forced. If he's having liquor with food, it's usually in cocktail form. But it can still be interesting to pair spirits with Thanksgiving good, if you do it right. Also, Roger twisted Pat's arm.
The Clark & Sheffield Single Barrel is a great, inexpensive option for a turkey pairing but also with sweet potatoes. But it would also work great with a pecan pie dessert too.
If you don't like turkey, maybe you'll be serving ham on Thanksgiving? The classic cured, smoked meat pairing is a slightly smoky Scotch Whiskey. Pat chose Bruichladdich's Port Charlotte 10-year-old to pair with your Thanksgiving ham.
We've covered turkey and ham pairings, but for a wide variety of sides, Pat would pair it with Rittenhouse Bottled in Bond Rye. It's a low-rye recipe so all the corn gives it a rich fatness and sweetness. It works great with stuffing, cranberry sauce and even sweet potatoes.
Finally, you've had your dinner, you've politely asked your guest to leave and now it's time to get your stomach in order before you go to sleep. That's when you reach for an Amaro. Not everyone is into the super bitter Amari like Pat, so he chose Amaro Montenegro. It's very gentle and citrusy. Pat drinks it over ice, of course, but you could also mix it into a Black Manhattan or a Negroni.
Drink well this Thanksgiving! Have fun and don't make it scientific. You don't always need to go with the classic pairings to have a great pairing.
BONUS EPISODE
If you have a question for the Barrel to Bottle Crew, email us at comments@binnys.com, or reach out to us on Facebook, Twitter or Instagram. If we answer your question during a podcast, you'll get a $20 Binny's Gift Card!
If you like our podcast, subscribe wherever you download podcasts. Rate and review us on Apple Podcasts.