Main Content Starts Here
Barrel to Bottle: So It's Come to This: A Barrel to Bottle Outtakes Show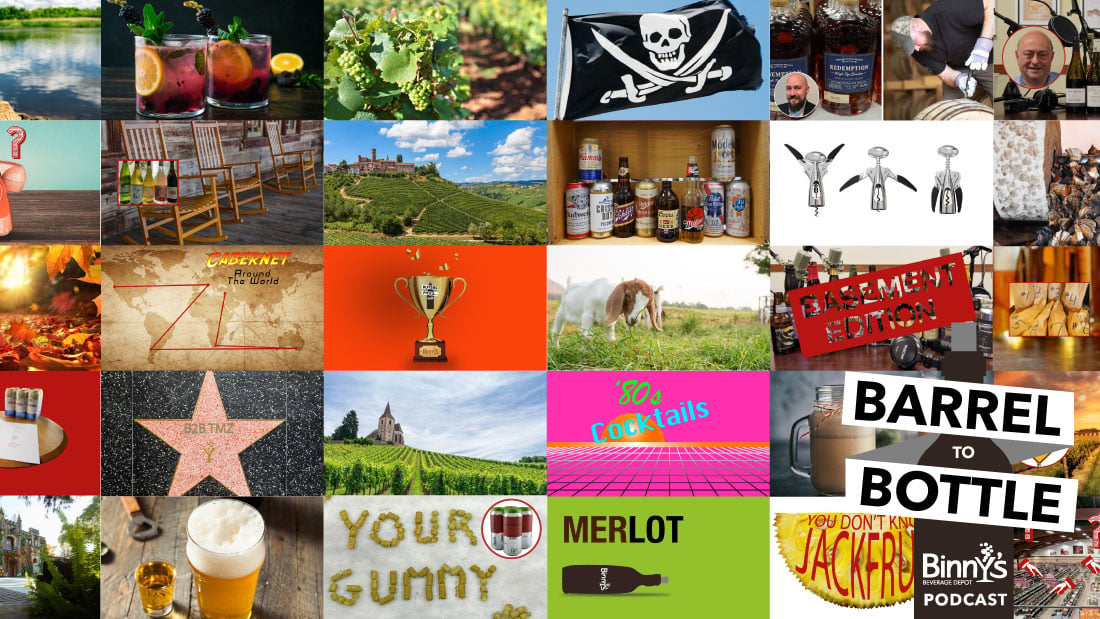 We all knew that at some point, Producer Jim would need to take a vacation. We ended up with a bunch of outtakes from over the years, and he compiled them in one place for your listening pleasure.
The Barrel to Bottle podcast always has a lot of content in every episode. Sometimes we get a little off topic and we have to cut a tangent or two or five from the episode.
Highlights include:
You might have noticed that Roger enjoys the…older things in life. He's an old man at heart, really. So much so that AARP is chasing him for membership, even though he's nowhere near 55.
Also in our clip show, enjoy the genesis of the term "Flavor Blasted" for our flavored beer and spirits episode. It's extreme, to the max and not just for junk food.
Maybe you're wondering how the Barrel to Bottle Crew feels about the latest Bob Dylan album? We had to cut it from the episode, this is the very definition of a tangent. We saved it for the outtakes episode though.
Are you from the Western US or have you ever visited? Have you seen giant sprinklers spewing out brown water? Pat Brophy, our resident expert on trees, meats and the Western US, has the answer for you. It's pretty gross.
In the spirit of the episode, we've got some solid outtakes too. It might seem like Greg flawlessly reads the intros and outros but sometimes it takes a few takes to get through them.
It's no secret that Pat has some favorites that he constantly talks about. Roger finally calls him out for his shameless promotion of his favorite brands.
Pat Brophy wears many hats at Binny's and Jim has compiled a montage of Pat's various job titles over the years.
Did you hear our Amaro episode? It's a classic and you should go back and check it out. But in the meantime, check we have a montage of Roger graphically complaining about all the amari he tries in the episode. Needless to say, he is not a fan.
It's hard to believe Pat getting out-memed by Chris and Roger, but it happened. Then we cut it out of the episode.
We've done a lot of virtual tastings over the last year with the wine team and the Whiskey Hotline. Have you ever wondered why Brett always does his with a fake background?
A couple of years ago, we inexplicably had a Chili Cook Off during the summer. Greg is still angry about losing out to Roger's chili, which is basically just a pot roast.
Roger has a lot of fans. He's probably the most popular character on the podcast. But Pat isn't bitter about it, he promises.
A while back, Pat went viral on Reddit. It was very exciting, but this tangent had to get cut from the episode.
How do you prepare hot dogs when you're in a rush? What condiments do you add if you're in a rush? Would you ever use ketchup if you didn't have time to slice up tomatoes?
Last month, Pat was shaken to his core during the Macro Lager Blind Tasting. The one where he couldn't pick Hamm's out of a line-up. He's still bitter about it.
If you have a question for the Barrel to Bottle Crew, email us at comments@binnys.com, or reach out to us on Facebook, Twitter or Instagram. If we answer your question during a podcast, you'll get a $20 Binny's Gift Card!
If you like our podcast, subscribe wherever you download podcasts. Rate and review us on Apple Podcasts.