Main Content Starts Here
Barrel to Bottle: Savory Cocktails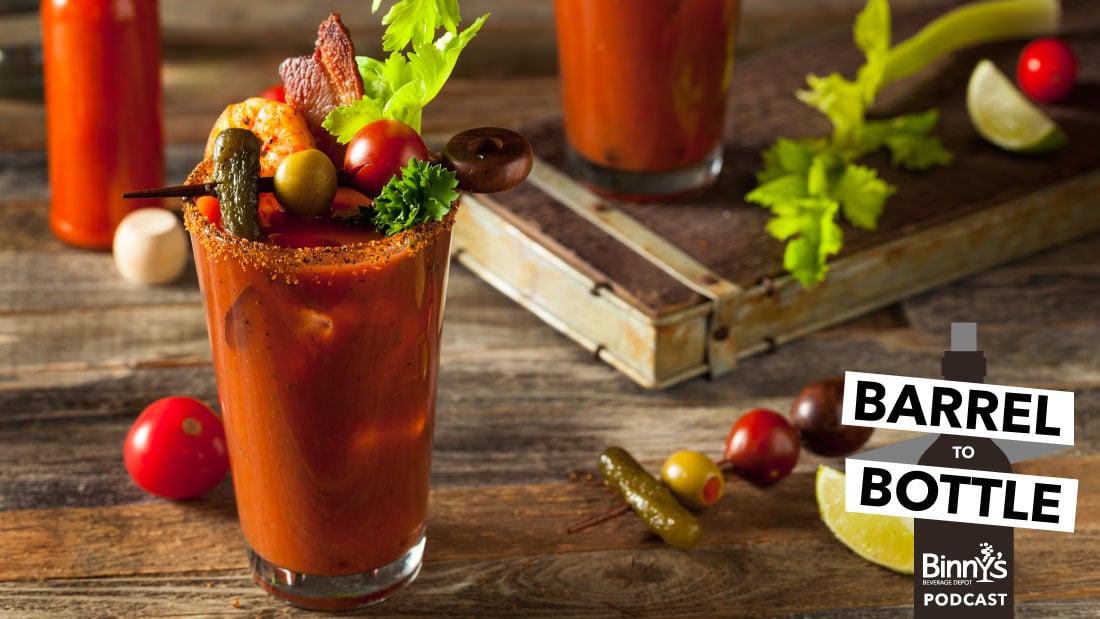 When you think savory cocktails, the Bloody Mary is probably the first thing to pop into your mind. But there's more to Bloody Mary's than just the standard brunch fare with a giant garnish, and there's more to savory cocktails too! This week, our resident Fancy Mixologists Roger and Chris, along with our Lazy Mixologist Pat, are whipping up some umami bombs.
Check out all the cocktail recipes below:
CHRIS' CAESAR COCKTAIL
Chris has the time and patience to make complex cocktails, so he starts things off today with the Caesar, a popular Bloody Mary riff from Canada that uses Clamato. But he's not going to settle for some thin, store-bought stuff. He's going to make his own:
CLAMATO INGREDIENTS:
3 ½ oz homemade tomato puree or good quality jarred like Mutti Passata

2 oz bottled clam juice

½ oz lime juice (or to taste)

1 ½ tsp sugar (to taste)

Worcestershire sauce

celery salt

salt

black pepper

garlic powder

onion powder

cayenne pepper
SIMPLE STEPS:
Combine tomato puree and clam juice then season to taste with remaining ingredients. It should be slightly sweet, savory, and tangy.
COCKTAIL INGREDIENTS:
2 oz

Vodka

6 oz

Clamato

or homemade tomato/clam juice

3 dashes

Worcestershire sauce

2 dashes

Tabasco

lime juice

horseradish

celery salt

salt

black pepper

Celery salt to rim glass

skewer of canned smoked clams and

garlic stuffed Spanish olive

leafy celery stalk

cucumber spear

lime wedge
SIMPLE STEPS:
Rim a highball glass with lime juice and celery salt. Fill with ice. In a mixing glass combine Clamato and Vodka, season to taste with remaining ingredients. Pour into prepared glass and garnish with clams and olive, celery stalk, cucumber spear and lime wedge.
PAT'S EDSEL COCKTAIL
Pat got his savory cocktails today from The Punch, one of his favorite cocktail websites. The Edsel is named after the infamous car of the same name.
INGREDIENTS:
SIMPLE STEPS:
Build cocktail in highball. Top with Cava. Add ice.
ROGER'S TEA PUNCH
Roger loves tea, especially whole-leaf tea. None of that bag crap full of leftover tea leaf dust for him. This riff on a grogg cocktail features Oolong tea that Roger brewed ahead of time.
INGREDIENTS:
1 Demerara sugar cube
½ oz Lemon juice
4 oz Oolong Tea
SIMPLE STEPS:
Brew tea ahead of time and let it cool to room temperature. Muddle sugar cube and lemon juice in a tea mug. Add ice to fill. Add rum and stir. Top off with tea and stir to combine.
CHRIS' RESURRECTION MARY
Chris thought he had something original in a fresh summer version of a Bloody Mary made with tomato water, but it turns out it's been done. He refrained from reading recipes to keep the concept pure. Add a few springs of saffron to the tomato water if you want to really want to lean into the Spanish ingredients in this drink. Add clam juice to taste to make a Great Ceasar's Ghost.
TOMATO WATER INGREDIENTS:
3 large tomatoes, roughly chopped
1 large spring of basil
1 celery stalk
2" piece of English cucumber
1 shallot
1 clove garlic
lime juice
1 tbsp Thai fish sauce
salt
black pepper
red pepper flakes (or fresh chiles)
SIMPLE STEPS:
Combine all ingredients in a blender and puree. Taste for seasoning, it should be relatively aggressive in the spice/salt/umami balance. The lack of additions to the cocktail means the drinks flavor profile will be set here so consider carefully. If you want more of anything or to add something like horseradish, now is the time to incorporate it into the puree. Line a fine mesh sieve with cheesecloth and place over a large bowl. Pour puree into sieve and let sit for about two hours. You should end up with 4-5 cups of clear tomato water. Chill.
COCKTAIL INGREDIENTS:

1 oz Tio Pepe Fino Sherry
1 oz Vodka
6 oz homemade tomato water
Smoked paprika and celery salt to rim glass
1 spring basil
1 lime wedge
1

Padr

ó

n pepper
SIMPLE STEPS:
Rim a highball glass with lime juice and a combo of smoked paprika and celery salt. Fill with ice. Add Fino, Vodka, and tomato water. Stir. Garnish with basil sprig, lime wedge, and pepper.
PAT'S OLD POET'S SMOKE
The Old Poet's Smoke is a riff on the Penicillin, which is itself a riff on a Gold Rush.
INGREDIENTS:
½ oz Amaro Montenegro
¾ oz lemon juice
½ oz honey syrup (3:1 ratio of honey to water heated until combined)
Soda water
SIMPLE STEPS:
Build in highball glass with ice. Top with soda water.
ROGER'S SAVORY PIMM'S CUP
Pimm's Cup is considered the first RTD (ready to drink cocktail). Normally it's garnished with berries or apples, but Roger has a riff that is vegetal and herbaceous. Usually people enjoy the low-alcohol nature of Pimm's Cup, but he is going to kick it up a little bit with some gin.
INGREDIENTS:
1 oz Plymouth Gin
Lemon wedge
Fresh cucumber slice
Fresh herb sprigs (Roger used basil, thyme, rosemary and dill)
SIMPLE STEPS:
Add Pimm's, gin, and ice to a coffee/tea mug and stir to combine. Top off with ginger ale and stir gently. Garnish with lemon, cucumber, and herbs of your choice. For an extra kick of ginger, sub in Ginger Beer for Ale. For an extra herbaceous cocktail, begin by muddling a sprig of your favorite herb(s) with the lemon wedge, then build cocktail as above.
PAT'S OAXACAN OLD FASHIONED
Pat's brother used to work at the South Loop Binny's Bar. He made a Mezcal Old Fashioned. This is a riff on that with a mix of tequila and mezcal. If you're looking to add savory flavor to any cocktail, mezcal is an easy way to do it. Plus it's just a really easy drink to make.
INGREDIENTS:
1 ½ oz tequila
½ oz Mezcal
2 dashes Angostura
Agave nectar
SIMPLE STEPS:
Build in cocktail glass over ice. Add agave nectar to taste, at least a spoonful.
CHRIS' SAVORY CHERRY SHERRY COBBLER
Roger had asked Chris to do a cocktail with a shrub, which is not just another giant garnish for your drink. A shrub is a way to preserve fruit in a syrup with vinegar. It's a great way to make sharp and tangy drink without using citrus.
CHERRY SHRUB INGREDIENTS:
4 cups fresh cherries
1 cup sugar
½ cup sherry vinegar
½ cup apple cider vinegar
1 spring rosemary
2 bay leaves
3 green cardamom pods
3 hearty springs of thyme
6 black peppercorns
A few threads of saffron
SIMPLE STEPS:
Pit cherries if desired, if not be sure not to smash or break open the pits. Smash cherries in a large nonreactive bowl with a potato masher or fork. Add remaining ingredients stir well and let macerate refrigerated at least 24 hours. Strain through a fine mesh strainer. Keep refrigerated.
COCKTAIL INGREDIENTS:
3 oz Amontillado
2 oz cherry shrub
Orange slice
Fresh cherries
Sprig of rosemary
Sprig of thyme
SIMPLE STEPS:
Place orange slice in a goblet, fill to overflowing with crushed ice. In a mixing glass combine chilled Amontillado and chilled shrub. Stir, then pour into prepared glass. Garnish with cherry and herbs.
If you have a question for the Barrel to Bottle Crew, email us at comments@binnys.com, or reach out to us on Facebook, Twitter or Instagram. If we answer your question during a podcast, you'll get a $20 Binny's Gift Card!
If you like our podcast, subscribe wherever you download podcasts. Rate and review us on Apple Podcasts.