Main Content Starts Here
Barrel to Bottle: The Red Wine Drinker's Pairing Dilemma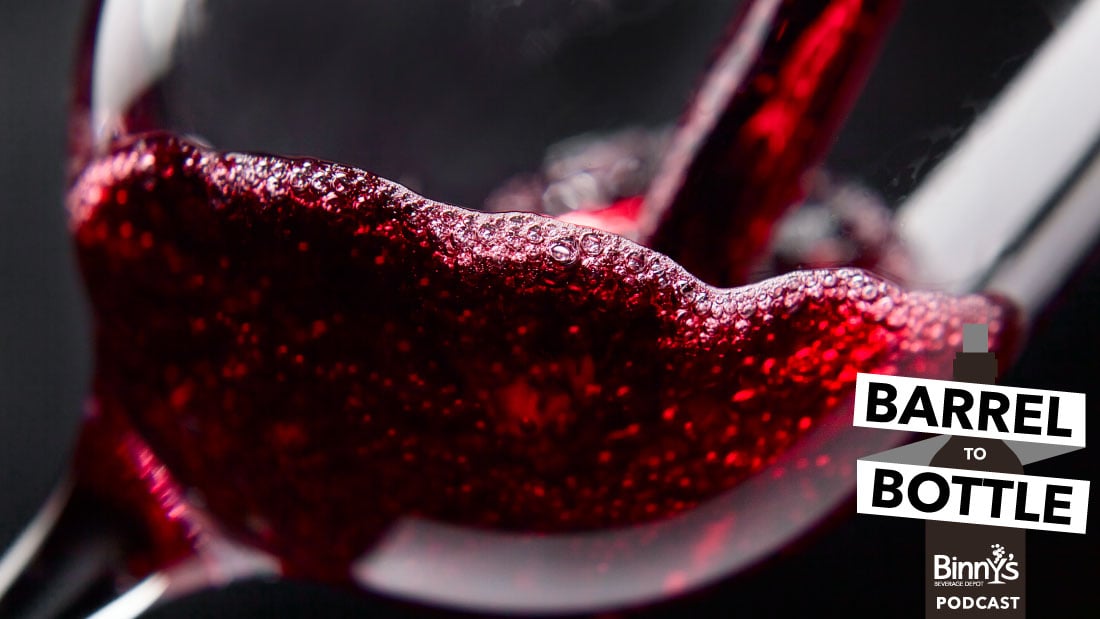 A few weeks ago, Binny's wine manager Emily joined us for a junk food and wine pairing. The Barrel to Bottle crew was floored by the way these inexpensive wines elevated these inexpensive foods. But when Binny's Wine Director Barb Hermann heard about that episode, she wanted in on the action. Barb is fundamentally a red wine drinker, especially when she's sitting down with food. But very often, white wine is the standard recommendation for her favorite Thai, Indian and Chinese dishes. Today, she'll help solve this dilemma. We're also joined by wine manager Scott Becker, a classically trained chef in a previous life.
First up, we'll be pairing Pad Thai with the 2018 Ridge Lytton Springs Zinfandel. Barb might be a bit of a Ridge superfan, as another one of their wines was her Buyer's Pick for 2020. It's a spicy Zin with some refreshing acidity and it pairs with a medium-spiced, nutty Pad Thai with an oily sauce. You can see why a white wine would pair up with this as compared to traditionally heavier red wines. But in this case, the wine is not heavy. There are many philosophies for food and wine pairings, and here Scott likes the weight and intensity of the food along with a fuller-bodied, higher ABV wine.
Next up are classic dumplings with veggies and mushrooms, paired with the 2018 Crossbarn Pinot Noir. This wine has a smoky, underbrush quality, which is enhanced by the mushrooms in the dumplings. The earthiness goes very well with the mushrooms. On the surface it might not seem like pairing dumplings with Pinot Noir would work, that's why whenever Scott recommends wine pairings, he likes to dig deeper into the dish being paired. It's not just chicken or beef, what kind of preparation? What other ingredients are in the dish?
Our third pairing today is both beef and seitan bulgogi with kimchi, salted and fermented vegetables with a spicy, sour flavor. We'll be pairing this with the 2018 Domaine de Piaugier Gigondas. The kimchi draws out more of the earthy, peppery flavors of the Gigondas. Barb actually finds this full-bodied wine to be quite quenching when you're eating the kimchi and beef/seitan bulgogi.
Finishing up our pairs for today is the 2015 Baron de Brane Margaux with Chana Masala, which is chickenpea curry with saffron and turmeric rice. This Margaux smells very much like an Indian spice box to Barb, so that was her line of thinking for this pairing.
The one pairing approach we did not take today is "If it grows together, it goes together", which fundamentally doesn't work today. At least in the American market, there is a big shortage of wine from Asia and India. For the most part these kind of pairings work.
If you have a question for the Barrel to Bottle Crew, email us at comments@binnys.com, or reach out to us on Facebook, Twitter or Instagram. If we answer your question during a podcast, you'll get a $20 Binny's Gift Card!
If you like our podcast, subscribe wherever you download podcasts. Rate and review us on Apple Podcasts.