Main Content Starts Here
Barrel to Bottle: Q&A vol. 5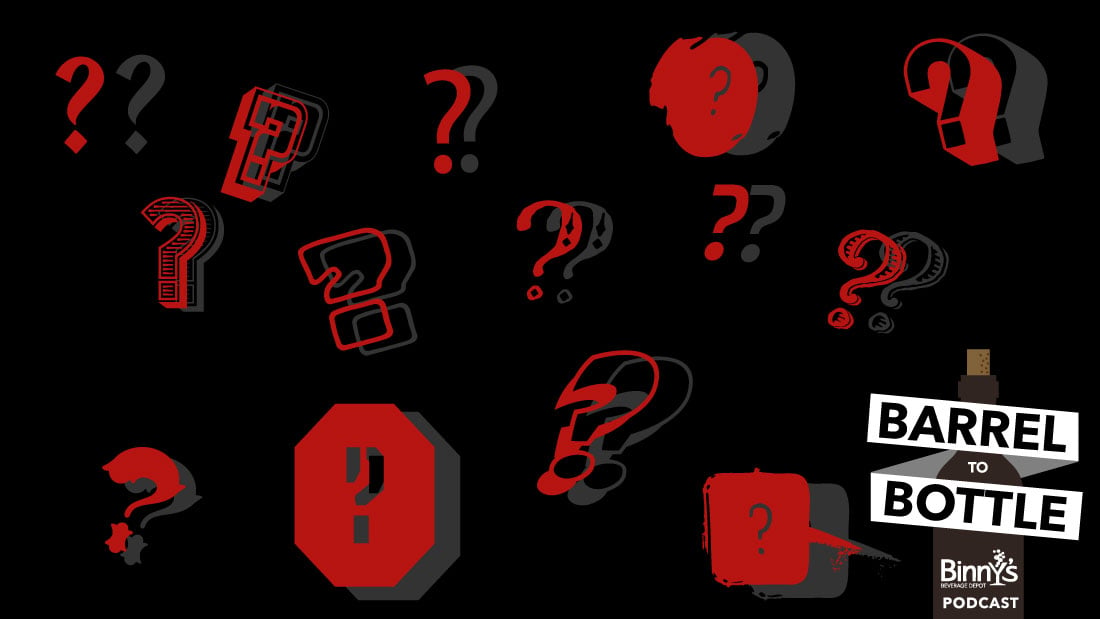 We've assembled our wine, beer and spirits experts for another Q&A episode. No, we aren't out of ideas! We still get questions from listeners all the time, but our episodes always run too long and we can never fit them in. So we're dedicating an entire episode to getting to the bottom of some of your queries.
Listen to the full episode for answers to these burning questions:
How long does it take for a Binny's Handpicked barrel to get bottled and arrive on Binny's shelves?
What is the best beer Binny's sells, and why is it PBR?
Is it bad to place spirits in the fridge or can you leave spirits in a decanter for years?
What is sediment in wine?
What are some good low-carb craft beers?
What is a barrel-finish that the Whiskey Hotline would like to see in the future?
Is the global pandemic and the war overseas affecting hop availability?
Bourbon has exploded in popularity, what is the next spirit to take off?
Where does the smoky flavor in Mezcal come from?
What's a good double-oaked bourbon?
What does light refraction do to alcohol and why do some breweries choose brown bottles while others choose green?
Is it possible that pot still whiskey could cause your tongue to feel dried out?
Why is the neck pour frowned upon?
Do you think Natural Wines will become more popular with the average wine drinker?
Why do some bottles of bourbon state that they are wheated on the label and some don't?
What is the newest hop variety that is taking the beer industry by storm?
What is your desert island beverage?
As you can imagine, we at Barrel to Bottle are unable to introduce brevity to this episode. You're not getting one word or one sentence answers here! We are digging deep into these topics to get you the answers you're looking for as well as some answers you didn't even know you wanted.
If you have a question for the Barrel to Bottle Crew, email us at comments@binnys.com, or reach out to us on Facebook, Twitter or Instagram. If we answer your question during a podcast, you'll get a $20 Binny's Gift Card!
If you like our podcast, subscribe wherever you download podcasts. Rate and review us on Apple Podcasts.