Main Content Starts Here
Barrel to Bottle: Long Drinks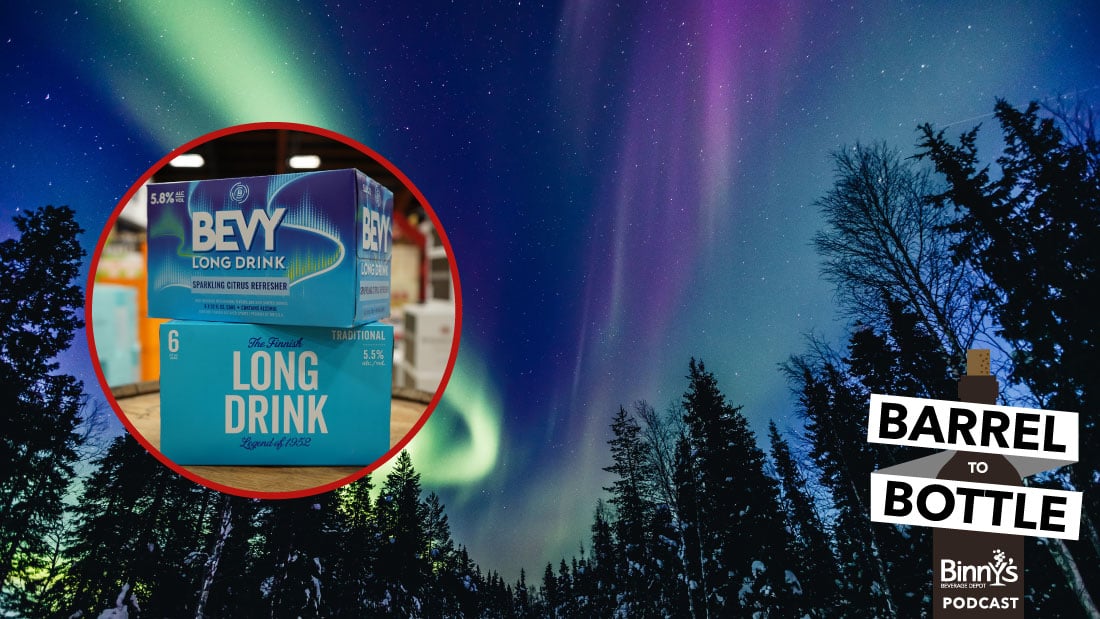 Barrel to Bottle is your weekly dose of alcohol esoterica, and the Long Drink is a very deep dive into esoterica. The Long Drink, or Lonkero, was invented for the 1952 Summer Olympics in Finland. You might have first heard mention of Long Drinks in the 2021 Binny's Buyer Picks episode, or maybe you've been drinking them for decades. Or maybe you're just really confused because you think long drinks were anything served in a Collins glass with a good amount of mixer with the spirits. You could even argue that a Ranch Water is a long drink.
When prohibition gets lifted in your country, and then you get the Summer Olympics, you scramble to come up with a signature cocktail because guests are coming. Long Drinks are very easy to make, it's just gin and grapefruit soda. You can add lemon juice, or cranberries (or Roger's cranberry simple syrup), but at its simplest, the Finnish Long Drink two ingredient cocktail. It's also one of the earliest ready-to-drink cocktails.
First up, we're going to make a Long Drink from scratch. Roger had Pat pull samples of our only Finnish gin, Kyro. In typical Northern European fashion, it is distilled from rye because that is what they can grow up there. It's a punchy gin, made with four locally foraged botanicals and then traditional gin botanicals. We're going to make two Long Drinks, one with Fever Tree Grapefruit and one with Squirt.
When Ranch Water was big over the summer, there was specifically a brand called Ranch Water. The same thing is happening with Long Drink. We're drinking Long Drink brand Long Drink right now, although it's made in Utica, New York (not Albany). So, we're starting with the original Long Drink Company The Finnish Long Drink with citrus.
The Long Drink Company also makes a Zero Sugar, because these are actually RTDs and do have a good amount of calories. Strong is more of the flavor made for Greg, at 8%. It's the one that probably tastes most like grapefruit. Finally, we've got Cranberry, which is probably the most traditional Long Drink add-on in Finland.
Bevy comes from The Boston Beer Company, so it's a malt beverage. Despite not being made with gin, Roger thinks it delivers pretty good juniper flavor. Greg is getting a lot more nose than the Long Drink versions, which had almost no nose. Sparkling Berry is the other flavor, and it has a very strong nose.
This week's listener question comes from Mike, who loves Laurent Perrier's Gran Ciecle 23, which he is presently also cellaring. He would like some recommendations on other similar champagnes and other champagnes that are good for laying down. Good think Chris is here to answer this question.
If you have a question for the Barrel to Bottle Crew about wine, spirirts or beer email us at comments@binnys.com, or reach out to us on Facebook, Twitter or Instagram. If we answer your question during a podcast, you'll get a $20 Binny's Gift Card!
If you like our podcast, subscribe wherever you download podcasts. Rate and review us on Apple Podcasts.