Main Content Starts Here
Beer
|
September 17, 2021
Barrel to Bottle: IPAs for Pat and Greg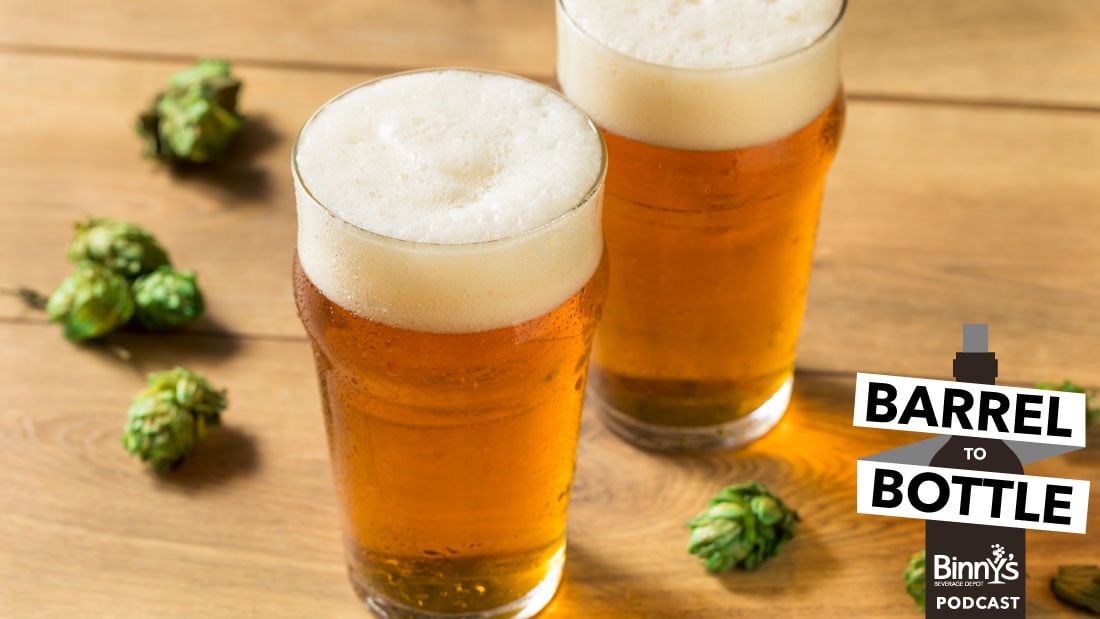 After three years of asking Roger to do IPA episodes, he finally acquiesced. To be fair, Pat and Greg always make fun of the current state of craft beer, because it's kind of easy to do. Particularly with IPA, they'll often either say the beer is new and shouldn't be on our shelves because the kids only want to drink fruit punch or they'll criticize Roger for having old man tastes.
Roger comes out swinging with Crom's Beard from Three Floyd's. It's only a little hazy, but it's very juicy courtesy of Strata hops, the new hop hotness. This is one of the only times Three Floyd's has actually divulged what hops they're using in a beer.
The second beer is another "old school" brewery that has taken on the new beer styles and evolved in their own unique way. Revolution was dragged kicking and screaming into the hazy IPA game, but they finally got there with their Double Dry Hopped series. Cashmere Hero is a beer that is available, at a great price.
Most beers, especially IPAs, don't really come in bottles any more but Lagunitas is still going strong in that container. Stereohopic is not a hazy beer, but it's juicy and aromatic.
We couldn't do a podcast about IPAs without talking about Half Acre. They brew some of the most consistent and interesting IPAs in Chicago. Like many breweries, a lot of their releases are one-offs but for this one, Roger wanted to select a year-round beer, Hallow.
Roger is 4-for-4 so far, can he keep this up? Southern Tier is the Oppenheimer of the pastry stout movement. Before that though, they were known for super resinous IPAs. It used to be an ESB, but as Pat constantly reminds Roger, no one cares about those any more. They completely changed Harvest's recipe to make it more like an IPA.
Beer number 6 is Elysian's Space Dust. If you're looking for bang for your buck, it doesn't get much better than one. Roger wanted to judge the beer for the beer, without worrying about which company owns the brewery. It's a clean, throwback IPA. It's actually bitter!
Inexplicably, Roger managed to cram a seventh beer into the six pack he brought along. For the final beer, desert. Roger normally despises milkshake IPAs. They're usually cloyingly sweet and thick. But Brickstone's MilkShake Strawberry Rhubarb is one of the only milkshake IPAs Roger will drink. The average milkshake fan would probably scoff at it, but it achieves creamy mouthfeel and real fruit flavor, plus shelf life.
The Q&A segment is back after a long hiatus. Listener John makes it worth it though with a doozy of a question, wondering why he doesn't keep spirits bottles in the freezer to avoid watered-down Manhattans? This is a very hot topic, so hot that we might have to make it into an entire upcoming Barrel to Bottle episode.
If you have a question for the Barrel to Bottle Crew, email us at comments@binnys.com, or reach out to us on Facebook, Twitter or Instagram. If we answer your question during a podcast, you'll get a $20 Binny's Gift Card!
If you like our podcast, subscribe wherever you download podcasts. Rate and review us on Apple Podcasts.